Respawn will be a part of EA's big E3 press conference in some way, but details are still nebulous.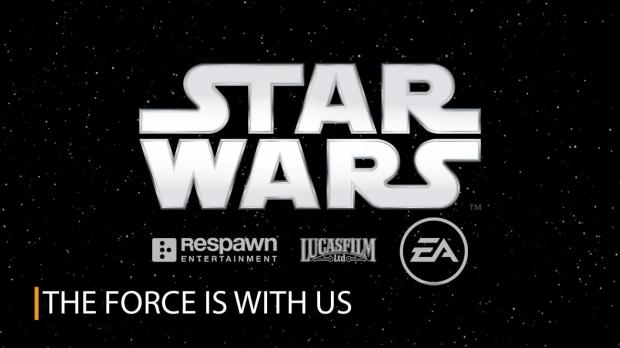 New information on an upcoming project will be teased at tomorrow's EA Play, Respawn's Vince Zampella today confirmed. Respawn, now owned by EA after being acquired for $315 million, is currently developing three major games: a new war-based VR game, a narrative-driven third-person action Star Wars game, and Titanfall 3. Which one could be teased? We're hoping for the middle one.
Following Battlefront II's big lootbox controversy and Visceral Games' closure and the cannibalization of its interesting-sounding Star Wars project (aka Project Ragtag) the Star Wars gaming market has been pretty slim. EA's exclusive license to make Star Wars games has been stretched out now that the timeline has been disrupted. Project Ragtag was to release in 2018, and Respawn's game was to launch in 2019 or 2020 (EA's FY2020 and FY2021, respectively). Considering the Star Wars game is Respawn's highest profile game in development it's possible we could get more concrete info about it at E3 2018. However the VR war game is to release in 2019...so it could be that too.
It's been a while since we last heard about Respawn's Star Wars game.
We know that it's a third-person action game with very heavy emphasis on characters, and that it'll follow true to the Star Wars universe while also exploring brand new territory.
"I would sacrifice visual fidelity for gameplay experience. It has to feel good. It has to play right. It has to be fun," Respawn Entertainment co-founder Vince Zampella told Glixel in 2016.
"It doesn't matter if it's in first person. The Star Wars game is a third-person action game. It's going to be more about the character and their experiences. You can see them and identify with them a little differently than you can in a first-person game where it's all about seeing it through your own eyes. But it still has to be about feel and fun."
Respawn had this to say about the game, as per its announcement post:
But it's not all fun and games - we promise to pay respect to the Star Wars legacy at all times, a fact that will be constantly reinforced and honored as a central game design tenet. Fans should expect the exemplary level of quality first established at Respawn with Titanfall, a game that epitomizes our studio's dedication to slick, larger-than-life action and fun, groundbreaking mechanics.

Moving forward, we couldn't ask for a better universe in which to continue this journey, and although I would love to share all of the exciting places we are going, we have the following piece of information to divulge with you all today:

We'll be making a third-person action/adventure game set in the Star Wars universe.
As a huge Star Wars fan I'm itching to play some quality narrative-driven RPGs...and I hope Respawn can deliver sooner than later.
EA's big E3 showcase starts at 2PM EST tomorrow. Be sure to tune in for new info on something Respawn-related, Anthem, and Battlefield V (among others).