Opera update stops sites from mining crypto on your CPU
Opera's latest web browser update stops sites from hijacking your CPU and mining cryptocurrency.

Published Thu, Jan 4 2018 9:42 PM CST
|
Updated Tue, Nov 3 2020 11:53 AM CST
Opera has just pushed out a new browser update, with v50 of its popular browser coming out in the next few hours that will stop sites from hijacking your CPU to mine cryptocurrency.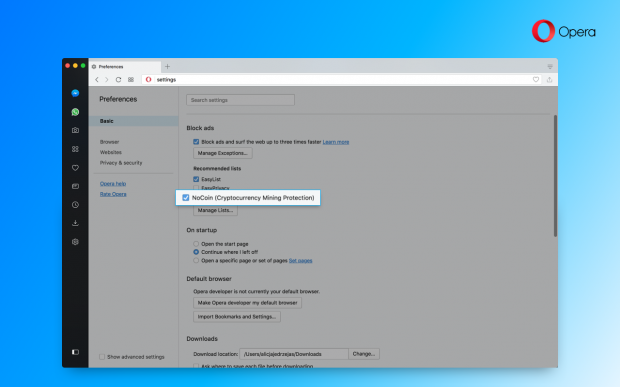 There are already extensions released for both Chrome and Firefox that block hijacking scripts, but Opera is the first to block cryptomining within its built-in ad blocker. Impressive stuff, especially as Opera is my browser of choice (I'm all-in with Google for everything else).
More Crypto News/Content:
Ripple (XRP) sets a new all-time record price of $3.17
Ethereum closes in on $1000, momentum isn't stopping
Ethereum reaches new record all-time high price of $870
Ripple (XRP) value blows up, bypasses Ethereum's market cap
Crypto expert kidnapped, had to pay $1 million BTC ransom
UnikoinGold is now available on Bittrex
Bitcoin could be worth $0, according to Morgan Stanley
Facebook Messenger malware mines Monero on users' PCs
Using 'blockchain' in new name, company shares rise 500%
MiningSky 8-GPU Mining Rig V1 Review
French dominatrix pimps clients out in 'Crypto Slave Farm'
North Korea hijacking cryptocurrency industry workers
Analyst: Bitcoin on its way to $400,000 - will happen soon
Related Tags