Nintendo Switch price may rise due to parts shortage
High component demand and rising parts cost could interrupt Nintendo's huge Switch production contract, and drive up the retail price of the system.

Published Thu, Jun 1 2017 11:27 AM CDT
|
Updated Tue, Nov 3 2020 11:55 AM CST
Nintendo could hike the price of its new Switch system past $299 to offset increasing parts costs, and the company may have troubles keeping up with massive consumer demand.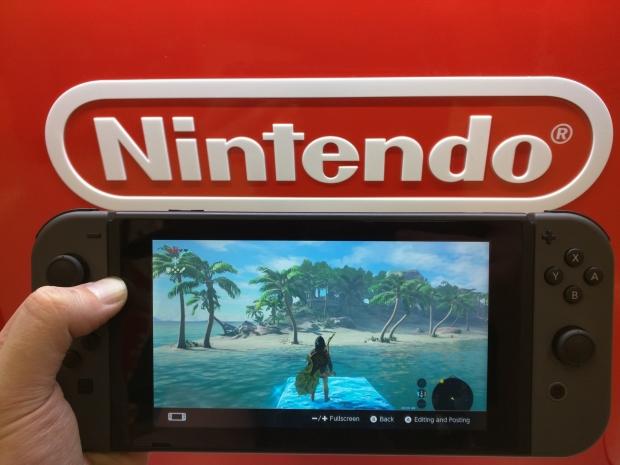 Nintendo is fighting other tech titans like Apple for critical mobile components to power its new Switch handheld-console hybrid, which could trigger a price hike for the new machine. Nintendo's Switch system uses many parts and components that are currently in high demand by smartphone makers, including its LPDDR4 RAM, NAND flash memory, and LCD panels--all of which are crucial to make mobile devices like Apple's popular iPhones tick.
Demand for traditional 2D NAND flash memory, which is used in mobile devices and Nintendo's Switch system, has steadily risen as more companies push out new notebooks, tablets, smartphones and the new Internet of Things sphere of devices, and as semiconductor fabrication facilities owned by key companies such as Toshiba transition over to new premium high-end 3D NAND storage.
Toshiba supplies the storage chips used in the Nintendo Switch, whereas Samsung supplies the LPDDR4 RAM. This has caused a feeding frenzy of sorts as key suppliers and device-makers grab up contracts for flash memory, and consequently squeezing supply and driving up part costs.
"Demand for our NAND flash memory has been overwhelmingly greater than supply, and the situation is likely to stay for the rest of this year," a Toshiba spokesperson told The Wall Street Journal.
Reports indicate that Nintendo plans to produce 18 million consoles this fiscal year, but based on The Wall Street Journal's reports, the components shortage may interrupt Nintendo's roadmap. If Nintendo does pay extra for key parts to make its Switch systems, it's possible the console could raise beyond its $299 retail price, as President Tatsumi Kimishima affirms that the Switch won't be sold at a loss.
Despite the huge 18 million production order, Nintendo says it only plans to sell 10 million Switch units this fiscal year, indicating the Japanese console-maker is well aware of the component shortage.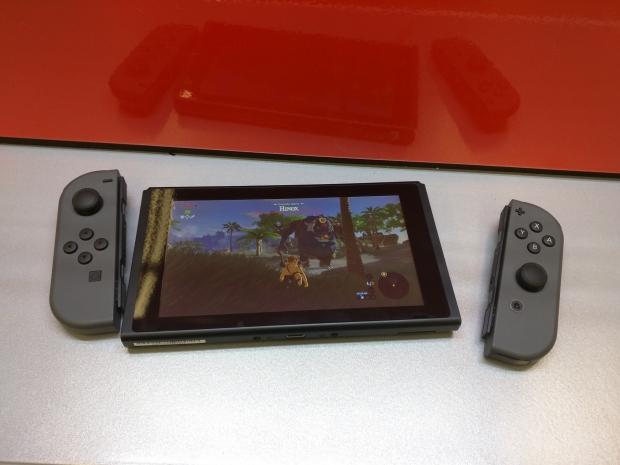 However, the Switch may have a saving grace: GlobalFoundries, the world's second-largest contract chipmaker, plans to double its revenue from Japan over the course of many years by offering cheaper chips to the region in a bid to pull contracts away from the world's leading chipmaker, TSMC (Taiwan Semiconductor Manufacturing Corporation).
It's possible that Nintendo may switch its production contract over to GlobalFoundries, however NVIDIA's Tegra processors, which power the Nintendo Switch, are made by TSMC facilities.
The Nintendo Switch's core processor is powered by an NVIDIA Tegra SoC, so the company faces no major competition for its processor outside of NVIDIA, which uses the Maxwell-based Tegra chip in its Shield TV line of microconsoles. In comparison, Android mobile phones are typically powered by Qualcomm's Snapdragon line of processors, whereas Samsung and Apple makes their own chips to power their respective iPhones and Samsung Galaxy devices.
NVIDIA has signed a multi-year partnership with Nintendo to help facilitate the Switch system's lifespan.
Read Also: Nintendo shares skyrocket to 8-year high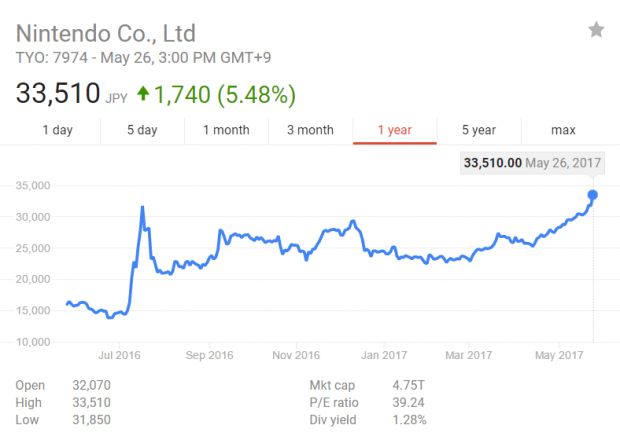 The unique Switch console-handheld hybrid has had a tremendous effect on Nintendo's performance, selling 2.74 million units in the first month of availability.
As a result of significant console sales and strong software growth, Nintendo reported a mighty 521% profit hike of $922.5 million (102.5 billion yen).
The huge momentum for the new Switch console has had a tremendous affect on Nintendo's share price as well. Nintendo's stock rose by 5.48% to its highest point since 2008 immediately following the announcement of Monster Hunter XX's release on the platform, increasing Nintendo's market cap valuation by $2.2 billion and raising its total market valuation to an impressive $45 billion.
Everyone in the world wants a Nintendo Switch console, and it will be interesting to see if the company can keep up with demand. Company president Tatsumi Kimishima says that a surplus of Switch consoles will be arranged to ensure the 10 million unit sales goal.
"We are planning to ship 10 million units this fiscal year, and this figure takes into account the fantastic response we have received from consumers. Planning to ship 10 million units means that we actually plan to produce more than that including units in our warehouse and in-transit product. We are not currently producing this full amount all at once."

"We expect that the number of consumers who want to buy the hardware will increase as we release titles such as ARMS, Splatoon 2 and Super Mario Odyssey, so our current production model takes that into account."
Related Tags