Thanks to strong Switch console sales and the company's diverse portfolio, Nintendo's bottom line profits have surged by over 500% from April 1, 2016 to March 31, 2017.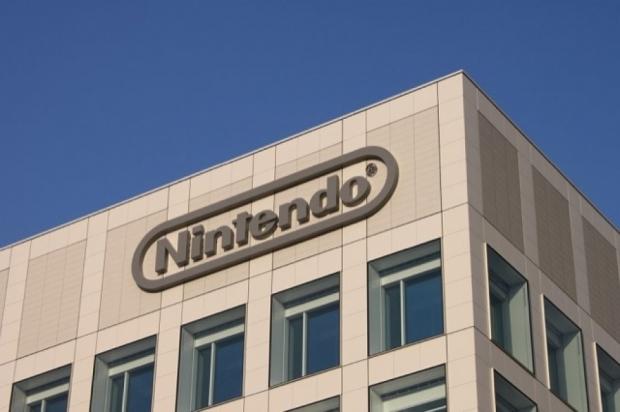 Nintendo has just reported its Fiscal Year 2016 earnings and it's fair to say the Japanese console-maker is back in the game. The company made an incredible 102.5 billion yen ($922.5 million) in profit attributed to parent (total profit gains) in its last year of operations, up by 521.5% from last year's 16.5 billion yen. It's worth noting, however, that this total profit represents Nintendo's complete portfolio of investments, sales, owned subsidiaries, share trades, etc after taxes and other deductions.
Net sales hit 489 billion yen ($4.39 billion), down by 3% year-over-year, and operating profit--profits earned from Nintendo's operations before deducting taxes, interest, investment gains/losses etc--is at 29.36 billion yen ($264,113), down 10.7% YoY.
Ordinary profit is also up by 74% to 50.3 billion yen ($452.8 million) from FY2016's 28.7 billion yen ($258.8 million).
What's even more impressive is how valuable Nintendo's shares are now. We've reported that Nintendo's shares have skyrockted in price after the Switch launched.
Nintendo reports its profits per share for FY 2016 are at 853.87 yen ($7.68), up by an incredible 521.44% from last year's 137.40 yen ($1.24). At the time of writing Nintendo's stock sits at 27,460 JPY.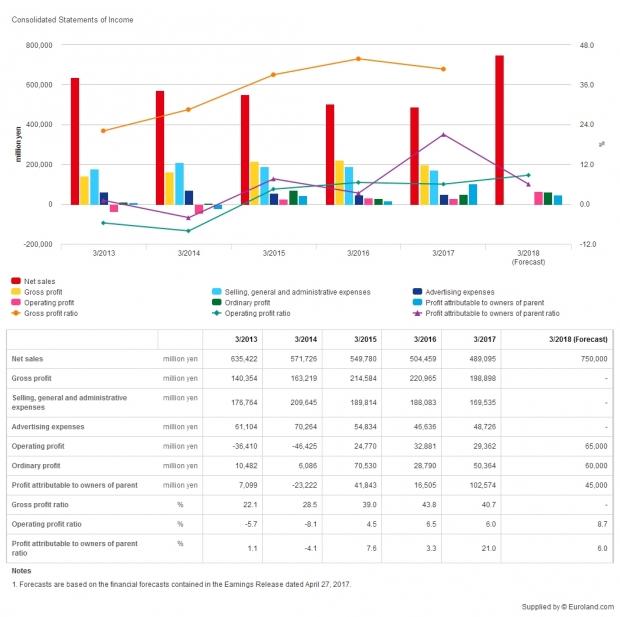 The Japanese console-maker expects its current fiscal year (FY 2017) which is held from April 1, 2017 to March 31, 2018 to be even better.
Net sales for FY 2017 are predicted to increase to a hefty $6.74 billion (750 billion yen), up 53.3% over the current year. Operating profit is also expected to hike up considerably to 60 billion yen ($539,704), representing a 121.4% year-over-year increase.
Nintendo has also officially confirmed its new Switch handheld-console hybrid has sold 2.74 million units in its first month, over-shooting the company's initial projections by 740,000 units.
Regarding Nintendo Switch, we will maintain buzz about The Legend of Zelda: Breath of the Wild and 1-2-Switch, which are off to a phenomenal start, and release Mario Kart 8 Deluxe in April and ARMS in June worldwide.

We will release Splatoon 2 in July. Splatoon 2 exemplifies the concept of Nintendo Switch, enabling consumers to play anywhere, anytime, and with anyone, and will bring competition between consumers to new levels of excitement. In addition, we will maintain favorable conditions surrounding Nintendo Switch by providing a continuous stream of appealing third-party titles across varying genres. We aim to stimulate the platform and expand sales going into the holiday season this year.

Total sales volume for the Nintendo 3DS hardware worldwide has surpassed 66 million units and it has developed into a platform that we can rely on for software sales. We will release Fire Emblem Echoes: Shadows of Valentia overseas in May (April in Japan) and plan to release Ever Oasis and Hey! Pikmin in June and July.

Furthermore, this year is Kirby's 25th anniversary, so we are planning to release downloadable titles and a new multiplayer action game for Nintendo 3DS. Third-party developers have also announced major titles for Nintendo 3DS. During this period we will continue striving to maintain the momentum of the platform and to reach a broader audience, including females and children, across the world.

In the smart-device business, we released three game applications during this period, each with different playstyles and profit models. We were able to present opportunities for consumers who had never played Nintendo games before and those who live in regions we had previously been unable to reach to experience Nintendo's intellectual property (Nintendo IP) and the different worlds featured in Nintendo games.

Going forward we will endeavor to expand our smart-device business by making use of the experience we have gained so far to provide new game applications, while also focusing on continued operations for our released applications so that consumers can enjoy playing them for a long time.

Based on these efforts, we project a net sales of 750.0 billion yen, an operating profit of 65.0 billion yen, an ordinary profit of 60.0 billion yen and a net profit attributable to owners of parent of 45.0 billion yen. Unit sales of the major products used for the forecast are listed on page 15 under the heading of "(4) Consolidated sales units, number of new titles, and sales units forecast" in the "Others" section. Exchange rate assumptions for the major currencies used for the forecasts are 105 yen per US dollar and 115 yen per euro.