Nintendo has once again increased its production order for more Switch console-handheld systems to meet strong demand, sources indicate.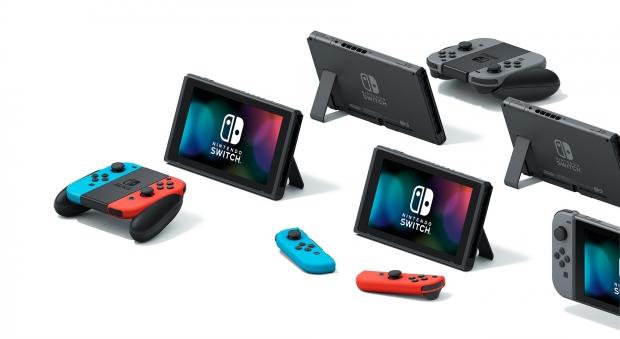 Japanese console-maker Nintendo is preparing for a storm of sales of its new Switch handheld-console hybrid this fiscal year, primarily during the holiday season which should be driven by its next big-name Mario game. As a result of strong Nintendo Switch sales and massive demand, the company has again substantially raised the production of its Switch console by 12.5%.
Sources tell Financial Times that Nintendo is set to produce 18 million Switch consoles during its fiscal year ending March 2018. This marks the third time Nintendo has upped Switch production: the company first produced an extra 1 million units to meet demand during the Switch's launch, enabling the strong 2.74 million global sales; the second time was shortly after Nintendo announced its fiscal year estimates and doubled the console production contract from 8 million units to 16 million units. This latest increase sees Nintendo producing a whopping 2 million more units over its revised 16 million plan.
The huge momentum for the new Switch console has had a tremendous affect on Nintendo's financials and share price. Nintendo's stock rose by 5.48% to its highest point since 2008 immediately following the announcement of Monster Hunter XX's release on the platform, increasing Nintendo's market cap valuation by $2.2 billion and raising its total market valuation to an impressive $45 billion.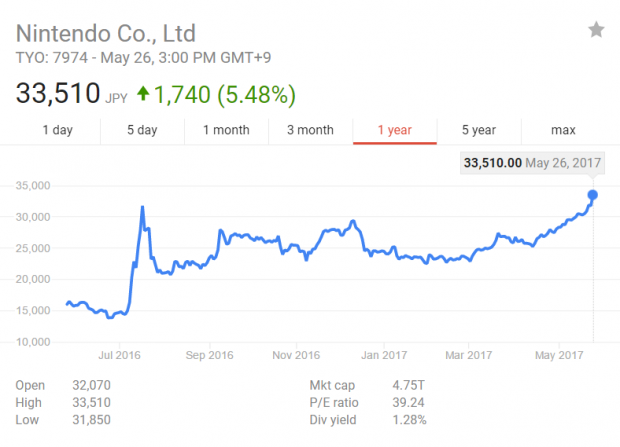 Read Also: Nintendo shares skyrocket to 8-year high
The Switch has had a strong effect on the company's financial earnings as well. Nintendo reported a mighty 521% profit boost for its last fiscal year, which was buoyed strongly by the Switch's 2.74 million units sales milestone in its first month of availability.
Nintendo expects the Switch to continue having strong momentum throughout its current fiscal year, but its massive production contract dwarfs its Switch sales projection by 80%, or 8 million Switch consoles.
In fact, Nintendo officially says it expects to sell 10 million Switch consoles in its fiscal year ending March 2018, but analysts predict the Switch will actually sell anywhere from 14.5 million to 18 million units of the system worldwide.
Nintendo President Tatsumi Kimishima affirms that the company is preparing to meet strong consumer demand with a surplus of Switch units, and iterates Switch supply will be adequate to meet massive demand during the holidays. However the president didn't touch upon the new doubled production order.
"We are planning to ship 10 million units this fiscal year, and this figure takes into account the fantastic response we have received from consumers. Planning to ship 10 million units means that we actually plan to produce more than that including units in our warehouse and in-transit product. We are not currently producing this full amount all at once."

"We expect that the number of consumers who want to buy the hardware will increase as we release titles such as ARMS, Splatoon 2 and Super Mario Odyssey, so our current production model takes that into account."
If Nintendo can produce, ship, and sell 18 million Switch consoles in this fiscal year, it stands to significantly raise its revenues and stimulate investor confidence like never before.