New Halo game in the works, story not written yet
343 Industries is working on a new Halo game, and it may not be Halo 6.

Published Mon, Mar 6 2017 3:19 PM CST
|
Updated Tue, Nov 3 2020 11:56 AM CST
343 Industries is making a new Halo game, and they're hiring a narrative director to help pen it's story. Let's just hope it's a lot (lot!) better than Halo 5: Guardian's lackluster story.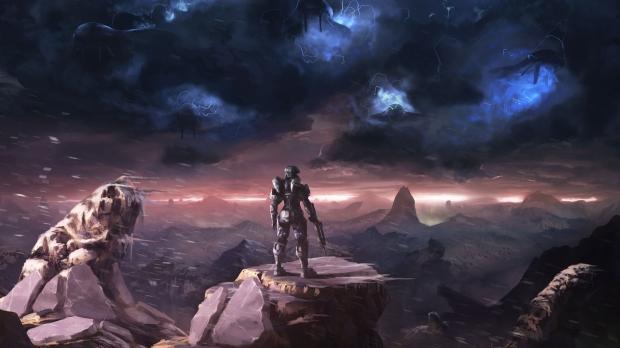 I recently predicted that 343i has been working on Halo 6 for quite some time, and that it'd release on Microsoft's new "monster" 4K-ready Project Scorpio console. Alas I was proven wrong, as Phil Spencer recently confirmed that Halo 6 won't be a Scorpio launch game, and based on a new job listing at 343i, it appears they might not have started Halo 6 just yet. Or it could be another Halo game entirely.
"343 Industries is looking for an experienced, passionate and highly creative Narrative Director to create engaging, compelling narrative content combined with thrilling gameplay experiences in Halo's epic environments and universe," the job listing states.
"The Narrative Director is responsible for developing and overseeing all Narrative content including primary path, cinematic/mission dialogue and much of the fiction related to the game. A Narrative Director is expected to span disciplines, not only crafting story to fit a wide variety of game scenarios and writing the bulk of the game, but also working closely with multiple departments ensuring the success of the overall narrative vision."
I hope that 343 Industries will take a closer look at what Halo actually is and cultivate an engaging FPS this time around. We need another Halo: Reach or ODST, not another slot machine gambling FPS with horrible co-op campaign mechanics (ahem, Halo 5).
343i head Bonnie Ross recently confirmed that all future Halo games would have split-screen co-op, so that's a plus.
Check below for more info on the job listing, but as for actual info on the game, we probably won't hear anything until 2018 or beyond.
Read Also: Halo dev: Project Scorpio is beefier than I expected
Job Responsibilities
Collaborate with the Creative Director to develop all aspects of the game's plot, characters, storytelling strategies and narrative goals.

Work alongside the project leadership team to set priorities at each stage of development from pre-production through release.

Ensure that the writing team deliverables are completed in accordance within the production schedule and consistent with the design and game play goals.

Evangelize and champion storytelling to other teams in the studio, ensuring that story and gameplay are always in sync.

Work in partnership with the creative leads to identify and develop opportunities for new storytelling methods to drive immersive gameplay experiences.

Manage a team of writers and narrative designers to craft the project narrative and story content. Coach the narrative team (level designer, animator, audio designer, etc.) to ensure that target production elements are effectively integrated.

Set goals with the creative leadership in regards to high level story and cohesion of the narrative across all mediums including cinematics, mission dialogue and side content.

Assist with casting actors and directing voice and mocap performances as needed.

Champion an inspiring, creative and fun work environment.
Related Tags