Halo dev: Project Scorpio is beefier than I expected
Frank O'Connor, a dev that works at Microsoft's first-party studio 343 Industries, is surprised by Project Scorpio's raw power.

Published Mon, Jan 9 2017 8:14 AM CST
|
Updated Tue, Nov 3 2020 11:57 AM CST
When it ships in Holiday 2017, Microsoft's "monster" Project Scorpio will be the world's most powerful games console. The "beast" has been lauded by developers at its E3 2016 announcement, and now that AMD is putting the finishing touches on its new high-performance Ryzen (Zen) CPU and enthusiast Vega GPU architectures, Project Scorpio is likely being shown off to key developers--and these devs are quite surprised with what they're seeing.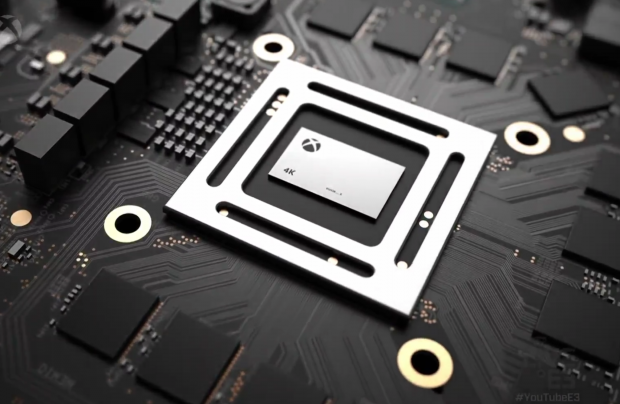 Microsoft's first-party developers will be privy to Project Scorpio's full unrestrained power, and we expect first-party titles to leverage the most out of the console itself. Frank O'Connor, longtime Halo dev and Franchise Development Director at 343 Industries, one of Microsoft's key first-party studios, said that the new 4K-ready console is "beefier than I expected." Is this even more evidence that Project Scorpio will leverage AMD's new Ryzen CPU and high-performance Vega GPU architecture?
"Haha, although I probably "know" in that I might have seen it in a slide or something, it's literally not something I have time to think about now and I actually couldn't remember whatever specs I've been exposed to even if I was tortured. I literally couldn't leak or answer a question that went beyond "Can I do this? Does it support that? How many of these could it render?" What I do remember is that it's beefier than I expected," O'Connor said in a recent NeoGAF post.
In fact, Project Scorpio was mentioned at AMD's Vega and Ryzen booth at CES 2017, possibly hinting that the console will tap the new hardware. This could've been a coincidence, of course, but I've long predicted that Project Scorpio will use a highly customized SoC based off of AMD's Zen and Vega GPU tech in order to hit native 4K gaming.
Read Also: Everything you need to know about AMD's new Ryzen CPU architecture
Read Also: Everything you need to know about AMD's new Vega GPU architecture
Project Scorpio confirmed specs:
6 TFLOPs of performance

320GB per second memory bandwith

8 CPU Cores
Microsoft has spent a lot of time talking up Project Scorpio, saying it'll deliver perf like "the best frame rates and resolution, no compromises," confirming that it will render games in native 4K. In fact, Xbox exec Aaron Greenberg recently reaffirmed that the console would launch in 2017, calling 2017 the "year of Scorpio" and asking gamers if they're "ready for the beast."
"Here we are, three years into the generation, and we also have gamers saying, 'Hey, I want the most power, I want the best experience possible,' and that's what Project Scorpio is all about," Microsoft's Senior Global Product Marketing Director Aaron Greenberg told IGN in a recent interview.

"[Project Scorpio] will be the most powerful console ever made. It will deliver 4K gaming to people in the living room on their TVs that they have not experienced before," Greenberg affirmed. "So today, a lot of people who are spending thousands of dollars on high-end PCs are able to experience 4K gaming, sure, but to be able to bring that at scale to the living room, to the console market, is what Scorpio is all about."
Major Nelson continued this trend by teasing Project Scorpio will be unveiled at E3 2017 in June, showing that the company is incredibly confident in their product.
159 days until E3 2017 🙂— / Larry Hryb / (@majornelson) January 4, 2017
For a complete rundown of all of my Project Scorpio predictions, check out this post.
Project Scorpio will release Holiday 2017, likely for $599. Check below for a list of everything we know about the console so far.
Everything we know so far about Project Scorpio:
Related Tags