Following Sony's original extremely unpopular decision to cut Fallout 4's mod support on PS4, the company has had a change of heart: mods are now coming to Fallout 4 on PS4...but there's a catch.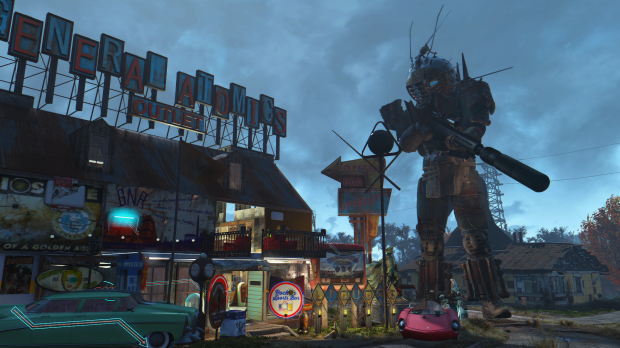 Bethesda today announced that Fallout 4's PS4 mods are no longer cancelled, but the mods themselves will be significantly gimped on PS4. For example, Fallout 4's PS4 mods won't be able to use new assets that aren't available in the base game itself, so that means no new weapons, armor sets, and items (aka the most popular mods). Given the limited nature of console mods in general, this is a pretty big deal and cuts out a chunk of the already-limited capability of console mods.
If that wasn't enough, there's another catch: we'll have to wait until Skyrim: Special Edition's mods are up and running smoothly on PS4 before Fallout 4 gets mod support.
Although Xbox One players have been enjoying Fallout 4 mods for months, Bethesda is more worried about Skyrim: Special Edition--and rightly so, considering most gamers will re-buy the game in order to use mods. And like Fallout 4, Skyrim: Special Edition mods will be limited to in-game assets.
Read Also: Bethesda still doesn't know how to fix Fallout 4 mods on PS4
Bethesda has also revealed that Fallout 4 will feature enhanced performance and graphics on Sony's new 4K-ready PlayStation 4 Pro console. I wouldn't be surprised if mods play better on the PS4 Pro, too.
Read Also: How old mod compatibility works in new Skyrim: Special Edition
So Fallout 4 mods are finally happening for PS4 owners, but we'll have to wait even longer and the mods won't be on par with what Xbox One owners get. Check below for the full post on Bethesda's site:
"Mod support will come to Skyrim first. We and Sony have worked hard to make this possible. Mods on PlayStation 4 will allow you to modify and create your own content by using our Creation Kit available here. You will not be able to upload external assets with your PlayStation 4 mods, but you will be able to use any assets that come with the game, as most mods do. By creating a Bethesda.net account, you'll be able to browse and try mods right from within the game.

"We are excited finally to get modding to our PlayStation fans who have supported us for so long. Modding has been an important part of our games for over 10 years, and we hope to do even more in the coming year for all our players, regardless of platform.

"After the work is complete on Skyrim, we'll be updating Fallout 4 for both mods and PS4 Pro. We expect Fallout 4 to take advantage of the PS4 Pro in 4k along with enhanced lighting and graphics features.

Thanks again for all your support. We can't wait to hear about your new adventures."