Bethesda still doesn't know how to fix Fallout 4 mods on PS4
At this rate Skyrim Remastered might come out before PS4 owners get Fallout 4 mods.

Published Tue, Aug 2 2016 9:24 AM CDT
|
Updated Tue, Nov 3 2020 11:59 AM CST
Even after a full month of toiling bugfixes and testing, Bethesda still hasn't made much progress on bringing Fallout 4 mods to PS4.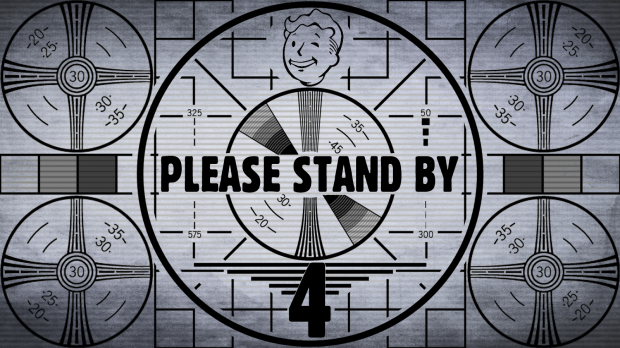 At the end of June, Bethesda announced that the beta test for Fallout 4 mod support on PS4 would be delayed indefinitely. Fast-forward to the present, the publisher has more dire news for PS4 owners: "We're working w/ Sony on Fallout 4 Mod support for PS4. The process is still under evaluation. As soon as we learn more, we will share news," Bethesda said on Twitter.
Bear in mind that the beta test for Fallout 4 PS4 mods isn't even working yet, so even when Bethsoft fixes all the "serious technical issues," PS4 owners are going to have to wait an extra period as the platform's mods to through what will likely be an extensive beta test. Bethesda not only has to get the closed beta test up and running, but actually conduct the beta test over several weeks, and only after these conditions are met will mods become available to the general PlayStation public.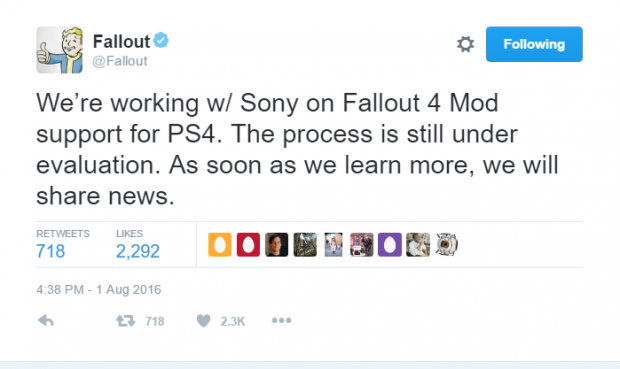 Interestingly enough, the Bethesda.net announcement page says that the "closed beta for PS4 Mods is close to ready." This was written on June 15. Yikes, what a mess!
If Bethesda can't get PS4 mods up for Fallout 4, how will they ever get mods running on the PS4 versions of the new Skyrim: Special Edition remaster?
Check below for a breakdown of the known problems with Fallout 4's PS4 mods:
KNOWN ISSUES WITH PS4 MODS
PC textures are used. Memory and performance issues may occur. We are working with Sony on optimal texture exporting support in a future update.

Sound files are currently not supported. PS4 sound format is a proprietary format. We are working with Sony on sound file processing support in a future update.

PS4 Mod Storage limit is approximately 900 MB at present. Please do not upload mods larger than 900 MB. We are working with Sony to increase this limit.

Stay tuned here and follow us at @bethesdastudios for updates. Note: Modders who have uploaded a PS4 mod to Bethesda.net will be invited to the PS4 Mods Closed Beta forums to help with testing.
Related Tags