Project Scorpio devs can choose native 4K or 1080p 60FPS
Native 4K isn't a 100% requirement for all Project Scorpio Xbox game upgrades, and devs can choose 1080p 60FPS, too.

Published Sep 21, 2016 5:37 PM CDT
|
Updated Tue, Nov 3 2020 11:58 AM CST
Microsoft will give developers the freedom to choose how to leverage Project Scorpio's 6TFLOPs of "monster" GPU power, including enhancements for HDTVs like 1080p 60FPS, as well as u native 4K at 30FPS, 4K upscaled 60FPS--or all three.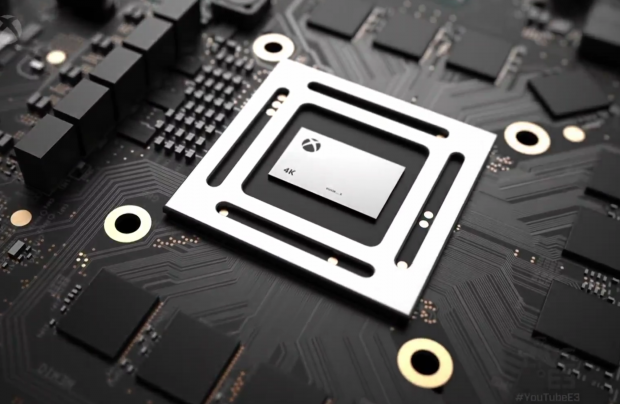 A bit ago Microsoft confirmed that Project Scorpio will be capable of rendering games in native 4K, and its first-party games would all support native 3840 x 2160 resolution. Now Redmond has stepped in to say that native 4K won't be a requirement for all developers and games--just their first-party studios and titles--and that devs will have tons of options and choices on how to best utilize Project Scorpio's higher-end hardware.
"When we thought about what spec we wanted for Scorpio, we were very clear we wanted developers to take their Xbox One engines and render them in native, true 4K. That was why we picked the number, that's why we have the memory bandwidth we have, that's why we have the teraflops we have, because it's what we heard from game developers was required to achieve native 4K," said Xbox exec Albert Penello in an interview with Eurogamer.
"Now, similarly to what Sony said, that doesn't mean I'm going to require developers to do this. They're going to be able to decide to take that six teraflops of power and do what they think is best for their game. But I know that 4.2 teraflops is not enough to do true 4K. So, I feel like our product aspired a little bit higher, and we will have fewer asterisks around the 4K experiences we deliver on our box."
While Microsoft hasn't gone into deep specifics on how Project Scorpio's game upgrades will work, we do have reason to believe that the console will be similar to PS4 Pro's Forward Compatibility game patches.
So old Xbox One games could leverage Project Scorpio's new higher-end hardware to play at 1080p 60FPS, upscaled 4K, or even native 4K.
Newer Xbox One games (especially first-party games) will be optimized to run at native 4K, and developers can choose to add in native 1080p 60FPS, 4K 30FPS, and some form of upscaled 4K 60FPS with all kinds of graphical settings turned up including environmental effects, lighting and shadows, depth of field, and more.
Even though Project Scorpio will likely be a full hardware refresh and eclipse the original Xbox One, Scorpio won't have exclusive games and will be fully backward compatible with all released Xbox One games. But like the PS4 Pro, games played on Project Scorpio will get Forward Compatibility software patches that enable compatibility with the new hardware.
Read Also: PS4 Pro won't play all PS4 games at 1080p 60FPS
We're still not sure whether or not older Xbox One games released before Project Scorpio will get native 4K support, or if only games released during or after the console will see native 4K support. I think it all depends on the Forward Compatibility upgrades and the tools offered to developers, but I think this will be do-able thanks to the fact that Project Scorpio leverages the unified Windows 10 UWP framework with DirectX 12 support, making development much easier.
Read Also: PS4 Pro's outdated hardware could bottleneck performance
Also, one of biggest issues with Sony's new PS4 Pro is that the console's outdated hardware will bottleneck with the new Polaris GPU, meaning developers will have to compromise specific features. Project Scorpio likely won't have that problem, and will deliver native 4K gaming versus the PS4 Pro's upscaled content.
Project Scorpio confirmed specs:
6 TFLOPs of performance

320GB per second memory bandwith

8 CPU Cores
Project Scorpio Hardware Predictions:
CPU: 8-core Zen CPU
GPU: Based on a highly-customized form of AMD's new 14nm Polaris and Vega architectures to hit native 4K gaming
RAM: 12GB of GDDR5 unified system memory clocked at 320GB/s
As for Project Scorpio's exact hardware, we've speculated that it will use all-new upgraded hardware in order to hit native 4K. I predict Project Scorpio will use both AMD's new CPU and next-generation GPU technology to pave the way for true next-gen gaming, mainly its new 8-core Zen CPU complimented with a Polaris or even Vega GPU sufficiently power enough to enable native 4K gaming.
Read Also: Project Scorpio's custom GPU could sit between Polaris and Vega
Project Scorpio will launch in Holiday 2017, and we speculate a $599 price tag attached to the system. Check below for a list of everything we know about the console so far:
Everything we know so far about Project Scorpio:
Related Tags