Project Scorpio renders games in native 4K
Microsoft confirms Project Scorpio will play games in native 4K, making it the first real enthusiast-grade console.

Published Sep 17, 2016 2:48 PM CDT
|
Updated Tue, Nov 3 2020 11:58 AM CST
Microsoft has finally confirmed it's "monster" Project Scorpio console will be the first console to render games in native 4K.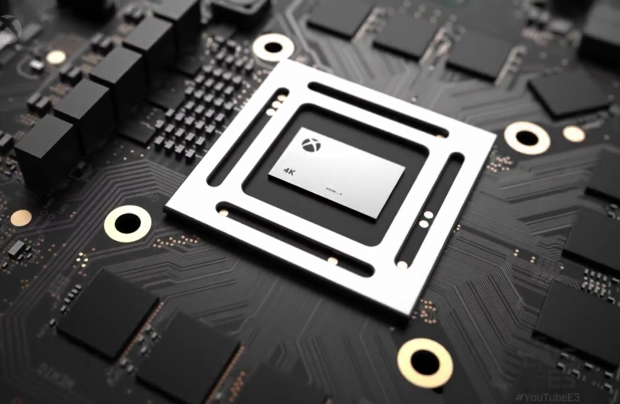 Microsoft's finally said what we've been waiting for: Project Scorpio will render games in native 3840 x 2160 4K resolution unlike Sony's new PlayStation 4 Pro, which uses Checkerboard Upscaling techniques to upscale base 1080p resolution to 4K.
"Any games we're making that we're launching in the Scorpio time frame, we're making sure they can natively render at 4K," Microsoft Studios Publishing general manager Shannon Loftis told USA Today.
Up until now Microsoft has been careful to say Project Scorpio will hit "true 4K" instead of native 4K. In order to hit native 4K gaming, Project Scorpio will need some huge hardware upgrades, and Microsoft can't afford to piddle around with outdated Jaguar CPUs.
Xbox exec Mike Ybarra also confirmed Project Scorpio's native 4K gaming on Twitter:
@OfficialAidenP Of course it is.

— ♏️ike Ybarra (@XboxQwik) August 8, 2016
The company has already confirmed Project Scorpio rocks a 6TFLOPs GPU and an 8-core CPU, and I've predicted that the console will leverage a high-end SoC combo built with AMD's new 14nm CPU and GPU tech, most likely an 8-core Zen CPU synergized with a powerful GPU that may sit between AMD's mid-grade Polaris and enthusiast-grade Vega architecture.
However, Microsoft's Xbox One S uses a new 16nm SoC built by AMD, so Project Scorpio may be set in the 16nm FinFET node instead of 14nm.
Read Also: Xbox Scorpio could be powered by 14 nm Polaris + Zen SoC for 4K gaming
Although Project Scorpio may render games in native 4K, developers will have to tone down specific performance settings like texture quality, depth of field, ambient lighting, and more to balance everything out. Consoles are always about balance, and enabling native 4K will mean most games will probably run at a variable FPS capped at 30FPS with Medium texture quality. The PS4 Pro, for example, upscales the original PS4's base "High" texture settings to 4K while scaling down other features and magnifying the base 1080p resolution four-fold to hit 3840 x 2160p.
Read Also: Project Scorpio's custom GPU could sit between AMD's mid-grade Polaris and enthusiast-grade Vega GPU architectures
Project Scorpio confirmed specs:
6 TFLOPs of performance

320GB per second memory bandwith

8 CPU Cores
Project Scorpio Hardware Predictions:
CPU: 8-core Zen CPU
GPU: Based on a highly-customized form of AMD's new 14nm Polaris and Vega architectures to hit native 4K gaming
RAM: 12GB of GDDR5 unified system memory clocked at 320GB/s
Microsoft's Project Scorpio console will release on Holiday 2017, and AMD's new Zen CPU and Vega GPU hardware is set for a release in 2017 as well. The timeline is right, and in order to hit native 4K Microsoft needs to leverage all-new powerful hardware. Project Scorpio will be the first true "next-gen" console, and will kick off a true next generation hardware cadence for the new iterative console cycle.
The console's high-end hardware means Project Scorpio will indeed be quite expensive, and I predict that it'll cost at least $600 when it releases next year. Microsoft will offer a trade in program for Project Scorpio, allowing Xbox One and Xbox One S owners to trade in their systems towards the price of the new system.
Also remember that Project Scorpio will be fully compatible will all Xbox One games, and you won't need to own a 4K HDR TV to benefit from the system. Microsoft will follow in Sony's footsteps with the Forward Compatibility approach and legacy 1080p upgrades, meaning all games released during and after the console in Holiday 2017 will run in native 4K and feature enhanced gameplay upgrades.
Older Xbox One games will need to be upgraded with Forward Compatibility patches before they can use Project Scorpio's new hardware. Forward Compatibility patches will be distributed online by publishers and developers. Like Sony's PS4 Pro, developers will decide how to apply Project Scorpio game upgrades, so that means they could push 4K gaming over 1080p 60FPS upgrades.
Check below for everything you need to know about Project Scorpio:
Everything we know so far about Project Scorpio:
Related Tags