In order to hit "true" 4K gaming with 6TFLOPs of performance with its new "monster" Project Scorpio console, Microsoft apparently won't use existing silicon that's currently on the market. Instead the new 4K Xbox will be built around its own custom graphics solution that will likely sit between AMD's mid-grade Polaris and enthusiast Vega families.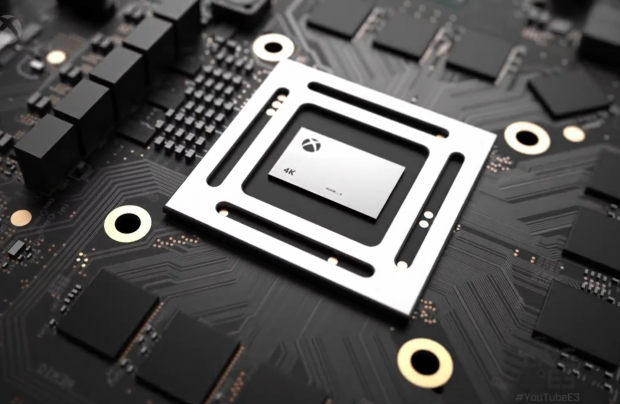 In a recent interview with The Guardian, Xbox boss Phil Spencer has pretty much confirmed that Project Scorpio won't use outdated hardware to enable native 4K gaming. "We had the ability to look at doing an interim console this year if we wanted to. We thought about that. But we didn't think we could deliver, with the silicon that's out there, a true 4K gaming six teraflop machine this year. So we decided to wait until we hit the real spec that people were asking for."
We've already speculated that the Scorpio's new custom AMD SoC would be made up of 14nm Polaris GPU alongside a Zen CPU, and Spencer seems to have confirmed our findings. But what if both Scorpio's GPU and CPU tech are 2017 hardware? This means that the Scorpio's graphics hardware might not be based on Polaris or AMD's new Vega GPU, but a new scaled custom GPU that sits in the middle between the two.
Scorpio might not use Polaris or Vega: it could use both...and neither
As consoles used scaled and derived hardware, Project Scorpio is in a unique position to borrow from both AMD's Polaris and Vega families. Console hardware doesn't adhere to the same rules as desktop video cards, therefore we can't exactly hold them to the same standards.
AMD can make special custom chips for consoles--they've been doing it for generations--that cherry-pick specific features from architectures, and now Sony and Microsoft will be able to choose from multiple AMD-based architectures for their future console hardware. Given Polaris and Vega are built on the same 14nm FinFET process, console-makers can now pick from two very different iterations within the same node and fuse together a unique combination of the two. Thus Scorpio's "monster" GPU could hit 6 TFLOPs while tapping some of Vega's potency to deliver "true" 4K gaming and giving birth to enthusiast-grade console gaming.
Remember that Project Scorpio uses a custom AMD SoC (System-on-Chip) design with customized, scaled CPU and GPU tech. The Scorpio's GPU won't be a desktop video card, so we can't equate it with the GPUs found in desktops; there won't be a 1:1 ratio in specs or power.
At the same time we have to understand that console hardware is derived from established hardware, so Microsoft's Project Scorpio won't necessarily use Polaris or Vega, but a heavily customized and derived graphics solution based on AMD's graphics architectures. Both Sony and Microsoft are intimately involved in this process and lay out specific requirements for AMD regarding each console's very different (but also similar) hardware.
So it's erroneous to say that the Scorpio uses a RX 480, or that it'll use Vega, simply because the console won't use a desktop-grade video card.

As for dedicated video cards showing up in consoles, we're not quite that far yet. While it's technically possible, there's many reasons why Microsoft and Sony won't use desktop equivalent video cards in their respective new 4K-ready Project Scorpio and PlayStation 4K consoles.
One of the main reasons is price: consoles thrive because they're low-cost and accessible video game systems. Sure Microsoft and Sony could make consoles with literal dedicated desktop GPUs in them via MXM form factor, but that would drive the price beyond $1,000 or so--just look at the performance laptops with desktop GeForce GTX 980 GPUs.
Neither Microsoft or Sony wants that kind of price tag. As a result, consoles typically have scaled-back, balanced, and heavily customized graphics solutions that usually are quite outdated when they launch. Just look at the Xbox One and PlayStation 4.
But with AMD's new 14nm Polaris and Vega architectures, console-makers are in a unique position to tap new hardware and provide powerhouse console performance the likes of which we haven't seen--a true next-gen console, if you will. Consoles won't be outdated upon launch. Sure they won't ever match the incredible performance of desktops, but they weren't ever designed to: Project Scorpio is meant to be an accessible system that delivers "native" 4K 30FPS and upscaled 4K 60FPS gaming, 1080p 60FPS standard in all games, and 1080p 90FPS VR gaming.
Apart from the power discrepancy between the Scorpio and the two families (outlined below), the console's confirmed semi-custom SoC is even more evidence that Scorpio's GPU will be a combination of Polaris and Vega simply because the form-factor is scaled.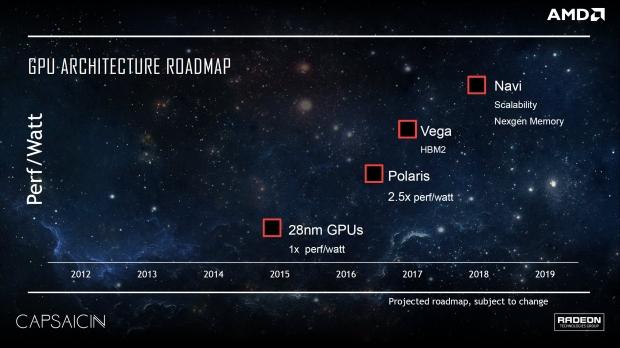 FinFET Scalability
Both Vega and Polaris are built on the same 14nm FinFET process node, making them quite closely knit with one another. As far as performance, however, they're quite different. The Polaris family is used in AMD's new budget-line of cards, most notably the $199 RX 480 video card.
Polaris RX 480 cards are great for 1080p 60FPS, but you'll need two to hit stellar performance at 1440p and 4K. But these are desktop video cards, not the GPUs you'll find in a console.
Microsoft has touted that Project Scorpio supports "true 4K" gaming at "the highest res at the best frame rates without any compromises." A single desktop-grade RX 480 likely won't hit the performance targets set by Microsoft, but remember Scorpio can't use desktop-grade cards, only scaled GPUs. However Polaris won't be entirely missing from the Scorpio GPU's equation, especially given the RX 480's 5.8 TFLOPs match neatly with the Scorpio's 6 TFLOPs performance.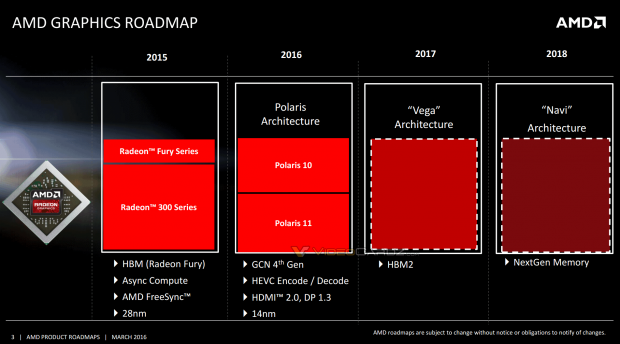 Vega on the other hand, will contain AMD's enthusiast-grade flagship cards that counter NVIDIA's Pascal-based GTX 1080 video card. AMD has recently said that Vega is a "high-end architecture for high-end gamers," and it's not something we'd ever expect to see in a console. Sure a Vega-powered console would be incredibly powerful, but it'd also be much more expensive than we expected to pay for the Scorpio, likely raising the console's price to some $1300 or so.
In short, Vega is too powerful and costs too much, and a desktop-grade Polaris card would do well enough, but the scaled console GPU would be lacking in power. So as in the case of Goldilocks' ill-fated visit with the Three Bears' House, AMD looks for the joining of the two--the soup that's just right, so to speak.
Furthermore, if Project Scorpio is to house "the most powerful console GPU ever," then it'll need to borrow from both Vega and Polaris--especially if it wants to top Sony's new 4K-ready PlayStation Neo, which is expected to tap a derived RX 480 for upscaled 4K gaming.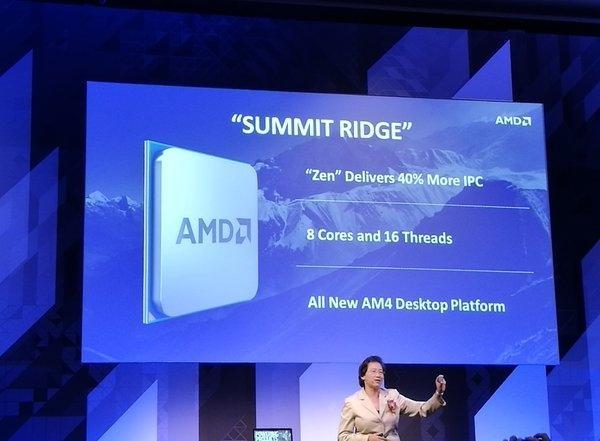 Scorpio's 'Zen' CPU will be scaled, too
This also means that the CPU half of Scorpio's SoC, the next-gen 14nm Zen CPU (not confirmed, but highly likely) will be scaled, too, and won't be 100% the same as those found on the AM4 desktop platform. AMD's new Zen CPU is also built on the 14nm FinFET node process, allowing versatility and scalability with Polaris and Vega GPUs.
AMD has touted that it's new Summit Ridge Zen CPU is highly scalable across multiple markets, including the embedded sector, and the CPU's will be a dramatic jump over current hardware performance across the board. Zen features 8-cores (matching with Scorpio) with 16 threads, and a 40% increase on instructions-per-cycle over previous generations.
In any case, we aren't 100% sure what the future will bring, and we're not totally sure what Project Scorpio will be packing. Only Microsoft and AMD know for sure, but our conclusions make the most sense, especially given the previous generations of consoles.
Microsoft's Project Scorpio will release in Holiday 2017, and check below for a list of everything we know about the console so far:
Everything we know so far about Project Scorpio: