NVIDIA may have introduced its new GeForce GTX 1060, with AIB partners like GIGABYTE already revealing their GeForce GTX 1060 G1 Gaming card - but we still have AMD in the Red corner with its Radeon RX 480.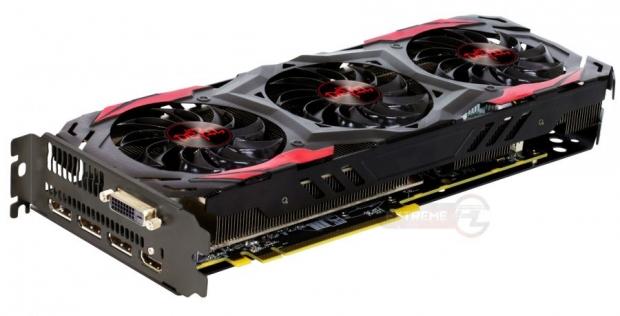 AIB partners are now revealing their custom RX 480s, with details on PowerColor's upcoming Radeon RX 480 Red Devil arriving. As you can see, it features a triple-fan cooler which should keep the Polaris 10 chip nice and chilled, with some promised overclocking headroom that will provide performance up and above the reference Radeon RX 480 from AMD.
We should be looking at 'out of the box' GPU clock speeds of around 1350MHz, which means we should be able to overclock PowerColor's Radeon RX 480 Red Devil past 1400MHz without a problem. PowerColor have used a custom PCB, with the cooling system being quite elaborate - running longer than the PCB itself. Underneath, we have the same 2304 stream processors, 8GB of GDDR5 RAM at 8GHz, and a 256-bit memory bus.
Related AMD Radeon RX 480 content:
AMD Radeon RX 480 Review - Starting A Rebellion at $199
AMD Radeon RX 480 CrossFire - Beating NVIDIA's GeForce GTX 1080 at 4K
Early AMD Radeon RX 480 4GB cards have 8GB, just peel off the sticker
AMD's next-gen Vega 10 to launch in March 2017 with HBM2
AMD and VR Society's 'On The Lot' features VR premieres from Hollywood
AMD's new drivers for Radeon RX 480 will fix PCIe current draw issues
AMD launches its new Radeon website, a new hub for all things Radeon
AMD Radeon RX 480 4GB models have 8GB RAM, unlocked with BIOS update
AMD's power issues on Radeon RX 480 to be resolved with new drivers
NVIDIA is used by 56% of gamers on Steam, AMD is down to 25%
AMD's Radeon RX 480 drawing too much power over the PCIe slot
AMD acquires HiAlgo which works on dynamic resoution scaling, and more