AMD is betting big on virtual reality, but not just in the gaming space. AMD's Roy Taylor has been evangelizing VR to anyone who will listen, and that includes a spate of major Hollywood movie studios. The company has even opened an office in Los Angeles dedicated to helping the movie industry move toward VR, and assisting Hollywood with the technical hurdles of integrating it into as a new storytelling medium.
Their partnership with the VR Society makes perfect sense, as that organization's goal is to "accelerate the transformation, innovation and profitability of the Virtual Reality Content, Distribution and Technology Business." Together, AMD and the VR Society are producing "VR On The Lot," a two-day content and technology summit hosted this October at Paramount Studios.
By the numbers, VR On The Lot will comprise 20 keynote speakers including Roy Taylor and special effects wizard Robert Stromberg (Pirates of the Caribbean, Avatar, The Martian VR Experience), 1000 Hollywood and VR industry leaders, and 40 VR companies. But it's also set to be the home for several world premiere VR demos from major Hollywood studios like Marvel, LucasFilm, The Walt Disney Company, Warner Bros, and 20th Century Fox.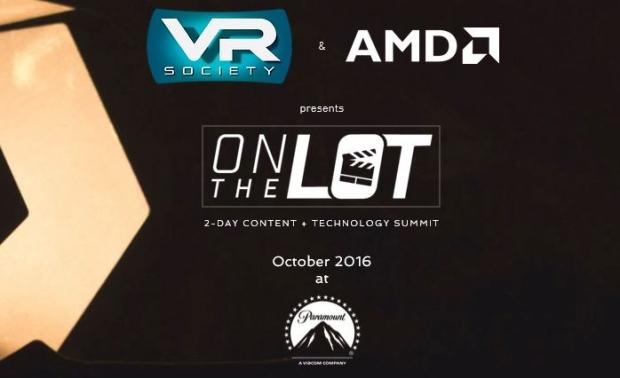 Sounds like one hell of a coming out party to me. In my conversations with Roy Taylor, he's mentioned that some 200 "VRX" (VR Experiences) are in development in and around Hollywood, so clearly the movie industry is taking this new platform seriously.
If you're interested in attending or learning more information, you can buy tickets and view the two-day schedule at www.vronthelot.com.