We've reported in a previous article that the early shipments of AMD's new Radeon RX 480 will include 8GB of RAM - but now there's proof. Riding on the waves of our latest story, which has AMD releasing its next-gen Vega 10-based video card in March 2017, rocking the ridiculously fast HBM2 technology.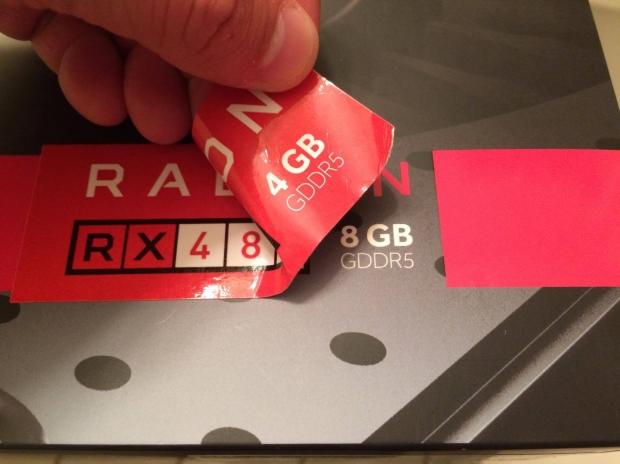 WCCFTech is reporting that they have an XFX Radeon RX 480 4GB they secured on Newegg, and it has 8GB of RAM - with a 4GB sticker on the box, which when peeled away, reveals it is an 8GB card. We've already stated a few times that this is happening with the early stock of the Radeon RX 480, so if you buy the 4GB model right now - you have a good chance of getting the 8GB model, but this won't last forever.
Considering the Radeon RX 480 4GB is just $199, it's a steal as you can flash it to the 8GB model and enjoy a $40 savings, double the VRAM, and an extra 1GHz in RAM clock speeds. Winner winner, chicken dinner.
If you haven't checked out our official review on the AMD Radeon RX 480, check it out here. We also took a look at two Radeon RX 480s in CrossFire, pitting them against NVIDIA's new GeForce GTX 1080 and GTX 1070 cards, with the RX 480 CF setup beating the GTX 1080 at 1440p and 4K - a great surprise, considering its $200+ cheaper than the $699 asking price of the GeForce GTX 1080 Founders Edition.