AMD changed things up with its new Radeon RX series, moving away from the Radeon R7/R9 naming system - towards something that will hopefully stick this time. The new Radeon 400 series is split into two subseries; the RX 400 and 400.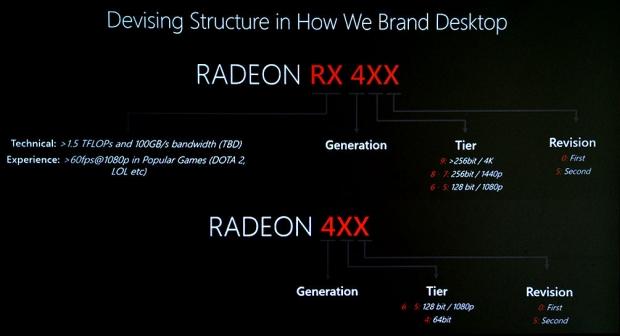 The Radeon RX parts will offer 1.5 TFLOPs or more of performance with at least 100GB/sec memory bandwidth - but for cards that don't have that type of speed, we can expect them to rock the Radeon 400 branding. AMD has also confirmed it will be using XX5 revisions, where we might see faster versions of the cards over time - especially as yields improve, leakage is minimized, or AMD wants to hit NVIDIA again with higher-clocked versions of their cards.
AMD says there are 9 tiers that are split into five groups, where Tier 6 (46X cards) might appear with both the RX 460 and non-RX 460. Tier 9 is the most exciting, where we can see higher than 256-bit memory bus with 4K gaming being the focus point here, which has me thinking - will the Radeon RX 490/495 be a Polaris-based design, or will AMD save this for the Vega architecture?
For now, check out our review on the Radeon RX 480 - we actually loved its performance-per-watt offering, especially when you consider it starts from just $199 for the 4GB version, and $239 for the 8GB model. We also have a Radeon RX 480 review roundup right here, too.