OTOY shows off Crysis on the iPhone
Over the internet gaming using remote rendering.
Published Mon, Sep 14 2009 10:54 PM CDT
|
Updated Tue, Nov 3 2020 12:36 PM CST
Ah the iPhone, we are regaled with commercials and other PR gimmicks that tell us that "there's an app for that" but the one thing that the iPhone or iPod Touch has yet to be able to do it to really provide any high-quality (graphics wise) games. I mean there are some good ones (Zombieville USA is a favorite) but nothing spectacular.
That is until someone managed to show Crysis being played on the iPhone. Yep, that's right Crysis has been made to work on the iPhone. Now before you get all excited about picking up Crysis in the App Store, I need to tell you that the iPhone was not doing the work. Instead it was all done by OTOY using a render farm.
The frames are then sent out to the client over the internet making a (according to OTOY) playable high-resolution and high-performance game available on just about any platform. This if it can be done at a reasonable price is an amazing step forward.
But, as with all things that sound this good, there is a catch. That catch is bandwidth. You see for low resolution games (like on the iPhone) you do not need a large amount of bandwidth. Yes it is more than the Edge or even 3G can handle but if you connect to your WiFi and have a 2MB+ connection you are in very good shape.
However, when you try to run at higher resolution; say 1080p the bandwidth requirements for full motion lossless gaming is 20MB. That is a big chunk of bandwidth. Considering the market this is probably going to be aimed at I do not see it coming off very well as most people with lower end hardware that would benefit from this are also not going to have a 20MB internet connection.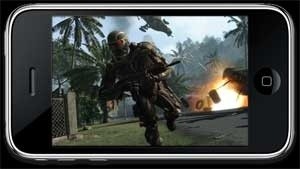 Related Tags