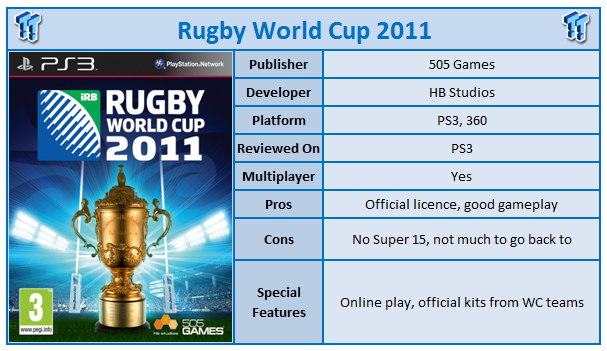 When it comes to video gaming sports, Rugby has in many ways had the short end of the stick. Not seen as popular as Gridiron or Football, the sport really has been in the doldrums video game wise this generation with the last Rugby release being in 2007 and only on the previous generation systems. However, there is one thing that tends to always change this and that is the time a World Cup rolls around for the sport. And not surprisingly with one just around the corner, the games are coming thick and fast.
The first one out of the blocks is the officially licensed game from HB Studios who some of you may recognise from the previous Rugby games. HB Studios were the team that built the EA rugby games over the years, but with EA not releasing a rugby game for the World Cup, it was up to a lesser known publisher, 505 Games to run with it. However, those who played HB Studios' previous games and loved the way they played will be happy to know that the formula is pretty much the same this time around, and this is in our opinion both a pro and a con.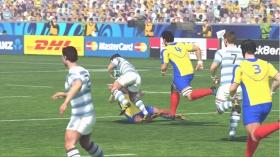 The first disappointment comes when you first load the game and see the modes on offer. You can play the World Cup, an exhibition match or a warm up test series. As you can see from that list, there is nothing other than international games and considering HB Studios' previous efforts featured the Super Rugby series, this is a huge disappointment. It also significantly affects the replay value of the game. Once you have won the World Cup there really isn't that much more to see. No lengthy season in Super Rugby for instance to keep you coming back for more.
Another quirk with the game is that whilst being the official game of the Rugby World Cup, not all the teams are licensed. Australia and New Zealand are not officially in the game and despite featuring the official kits, the players' names and likeness are not present. Given that New Zealand is number one in the world right now and probably the world's most famous rugby team, this is quite astonishing. Can you imagine a FIFA World Cup game without all the teams officially licensed? It makes zero sense that a developer can obtain the official licence for a tournament, but not all the teams. We don't blame HB Studios for this debacle, but for Australian and New Zealand fans it will be disappointing.
Moving onto the gameplay, as we said before it really has not changed since the 2007 product in many ways and this comes with pros and cons. The first major improvement we noticed is that it is a lot harder to gain the ball back on defence now. You have to tackle players in a particular way and 'turn' them just like in real rugby. It's no longer just a button mashing mess, there is strategy to it and in fact, if you button mash too much, penalties will be awarded against you. However, other than that the problems which were present in the game in 2007 are still here.
Most of the time to score a try, it's a matter of passing to the winger bursting down the sideline and throwing an inside pass. There is nothing wrong with this inherently, rugby is a very fast paced game, but given that the game does not feature super rugby, there could have been more focus on improving the gameplay even further.
There are also a few things which appear to have been left out since the last game. First of all, you seem to be able to do high tackles as much as you like because as much as you will be penalised, there does not appear to be yellow or red cards in the game which is puzzling given you could get sent off last time around. As well as this, the 'sliders' to configure the game are less this time around as well. Instead of being able to increase fatigue and injury occurance, it's now just a matter of yes and no. Given that they had quite a solid base to build upon (EA Rugby was in general very good), it is puzzling that in many ways the game has gone backwards.
[img]2[/img]
However, there has been one major improvement since that game and that is the introduction of online play on both Live and PSN. The game works as well as expected and for those of you who may not want to play online, you still can play in an offline mode with multiple controllers. When the game first boots you may think that the game features a 'online pass', but that is not the case, however a code must be inputted to unlock the official World Cup strips for each team.
Visually the game is impressive. HB Studios have recreated all the stadiums the World Cup games will take place in and for anyone that has visited these stadiums, you will recognise some of the quirks of each stadium. Westpac Stadium for example from Wellington looks exactly like it does on the television and in person. The animation of the players has improved as well and the big hits are harder than ever, but there are still some quirks which have flowed through from 2007 where the player will be up on his feet then all of a sudden hit the ground without a tackle or kick animation.
[img]3[/img]
An interesting option when the game first loads is to determine what country you are from. Not usually the most important thing to choose in a game, but this time around it selects which commentary team you would like. Do you want the Sky Sports team or do you want a team from closer to home if you are from the Southern Hemisphere. It's an interesting element. Crowds react to big hits, but unlike in the real thing, you don't hear the referees talking to players or explaining to players what to do. It would have been nice to hear 'touch, hold, crouch, engage' when building for a scrum just to build the atmosphere even more.
Rugby World Cup 2011 The Game is not a bad game, but in many aspects it is disappointing. There is no doubt that HB Studios has put together a decent playing game of rugby, but given their previous games, it's a real shame to not see options such as the Super Rugby included. After the World Cup finishes we can't see players coming back to this too often and that is why it is hard to recommend, even as a rugby fan. With more rugby games on the horizon it might be worth waiting it out to ensure you get the best one. That may in fact turn out to be Rugby World Cup 2011 The Game, but we will have to wait and see.