Last year with the release of the new-generation consoles, EA pushed out an update to its annual FIFA franchise beyond that of the Xbox 360 and PS3 versions. It was a good start with the Ignite engine showing what might be possible in the new playground that the developers had to play with.
FIFA 14 was impressive, but as I wrote at the time, it had its problems. Things like players seemingly worse in the game than they are in real life, skill wise. However, EA promised to bring its A game back for FIFA 15 and that is exactly what they have done. Not only is FIFA 15 one of the best football games I have ever played, it is one of the best games of 2014, period.
With the release last year, EA unveiled the Ignite engine to the world. This was the engine EA said would power all its sports games going forward on the new platforms. FIFA, along with Madden, was one of the first games to get the engine, and it was impressive, but the extra twelve months development time has really shown the power of this engine. Last year, FIFA felt a bit stiff and without fluid motion, whilst this year, we were pulling off amazing passes and plays within the first hour of play. There is no doubt that the engine this year has had refinement and is working better than ever.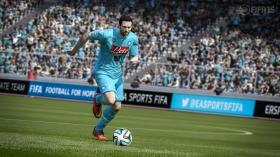 This is also a game that will challenge you, even as a seasoned player. The AI is brutal, to say the least, with most breakaways ending in a goal, and this time around rather than being frustrated at conceding a goal that you felt was unfair, you will clearly be able to see why the goal was conceded. It might have been a defensive line caught out by a perfect pass, a defensive line creeping up too far or a man being left unmarked. This is a marked improvement to FIFA 14 where I often conceded goals that I felt were not necessarily realistic, especially when defenders were unable to obtain the ball with quality tackling.
Other than the engine, there has been some improvements to the management mode, including the brand new Global Transfer Network. You have always been able to trade players in the FIFA games recently, as per the real-world, however, it is even more realistic this year. Instead of searching on numbers (eg a player with a total skill over 80), you research on traits much like a real-world scout would.
This makes the game potentially more difficult, but it allows you to pick up gems for cheap, if you can find them. You need to plan your scouting a lot more - instead of getting to the transfer window and just window shopping, you need to spend time before the window scouting countries and players, readying your moves - just like the real-world scouts. A fundamental change that should be welcomed by most, if not all, players of the game.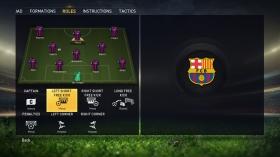 The other major change this year is basically EA rubbing everyone's nose in it that they have the Barclays Premier League licence exclusively. As a massive fan of the league, I was super excited that EA was doing this and they did not disappoint. Basically the game contains every team, player and now stadium from the league officially and it looks amazing. The Emirates Stadium in London right through to Loftus Road for QPR has been replicated in minute detail.
As well as this, the in-game UI gets a complete overhaul to appear just like it does in the Premier League broadcasts including upcoming matches, line ups and highlights. We cannot help but feel that this is EA rubbing the competitions nose in it that they have what is seen as the world's biggest league exclusively. It will be interesting to see if they apply the same to La Liga or Serie A etc next year.
This fits in perfectly with EA Sports Matchday, the in-game option to play upcoming games and have the players reflect their current form, injuries or suspensions. Along with this, the Matchday area now also includes a RSS feed of stories from your chosen favourite league, as well as players and teams that are improving, or are declining.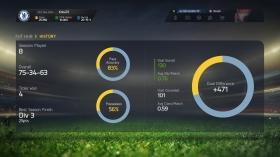 However, all this does not matter if the game does not play well and we can happily report that FIFA 15 plays amazingly well. Players have fluid movement and whilst sometimes collisions can seem a bit silly with players flying all over the place, in general the physics engine plays its part very well. You might wonder why a player goes flying, only to find that the opponent on replay ankle tapped them at high speed. Scoring goals can be difficult, the goalkeepers even on the default difficulty are very good, but when you do score, as you have to work for it - it's very rewarding.
Visually the game is also impressive, especially in the aforementioned Barclays Premier League. The world's best players have again been replicated to the nth degree, right down to their boot choice, and have been given an update again for the next-generation systems. The movement of the players and ball feels incredibly realistic and when a player makes a mistake, you generally know why.
The presentation (even without the BPL skin) is second to none with a strong commentary team present, and in-game visual indicators to see exactly what is happening. EA has also put a lot of effort into the atmosphere of the game and visuals with a lot of 'replays' and other moments like substitutions now rendered completely, including the fourth official.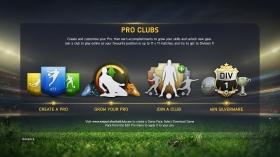 FIFA 15 takes what EA has done in the past with football games and takes it to the next level. It really is one of the best games we have played in 2014 and is likely to be on a lot of top 10 lists for the year. EA started well last year on the new-generation consoles, but FIFA 15 feels like EA delivering on what these systems can do. If you like the Premier League, you are in for a real treat, but even fans of other leagues or smaller leagues will find a lot to like here. FIFA 15 is, right now, the best football game around, but with PES around the corner, and looking more impressive than it has for a few years, it may not keep the crown for long.
PRICING: You can find FIFA 15 on PlayStation 4 for sale below. The prices listed are valid at the time of writing but can change at any time. Click the link to see the very latest pricing for the best deal.
United States: FIFA 15 on PlayStation 4 retails for $56.82 at Amazon.
Canada: FIFA 15 on PlayStation 4 retails for CDN$59.99 at Amazon Canada.