Football Manager 2016 PC Review
Another season, another Football Manager game - only this year there is a lot more under the hood than ever before. Let's take a close look.
Published
Developer / Publisher: SEGA
4 minute read time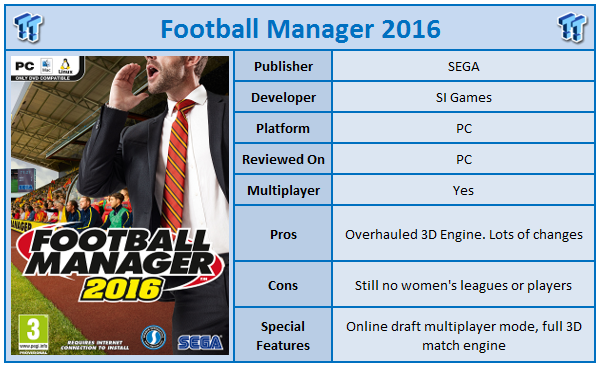 I'm not ashamed to admit that I have played a ridiculous amount of the Football Manager series. There's something about achieving victory when defeat looked assured with a quick tinker that is so addicting, thousands of people around the world continue to play this series year in year out. It's something that's hard to describe to an 'outsider', someone who does not play the game. Why would you want to spend hours scouting out the next superstar when you could be playing the latest action game? In some ways, it's hard to explain the allure but yet again this year Sports Interactive has come to the party, and I find myself drawn to their irresistible allure yet again.
Football Manager for those of you who may have been living under a rock (or just wanting to try something new), is a game that tasks you to take control of a football club and either continue their winning ways or rise a minnow from the bottom to the very top leagues. It's a game where you have to give up some level of control. You do not directly control the players on the pitch. Instead, you bellow instructions (in the form of strategic options) to the players and hope they listen. However just like in the real-world you will find yourself dealing with injuries, suspensions, and player revolts. How successful you are as a manager in this game comes down to how well you can manage a bunch of young men - sadly for the female fans, Football Manager 2016 has not included female teams, unlike their EA counterparts with FIFA 16.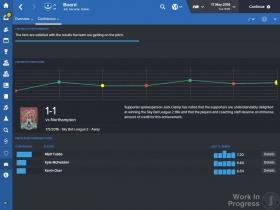 So, we come to this year's version, with many new features on and off the pitch including a brand new match engine; it is a watershed year for the franchise that addresses a lot of the fan's gripes. The improvements added this year significantly build upon the 2015 release and make the management of some tasks more in-depth than ever.
One of these changes is the overhauled injury system. Players will still get injured (and no doubt players will continue to moan that the game is injuring their players far too often), but you now have additional information to assist with the management of injured players and further decisions to make. Before each fixture, you are presented with a fitness report from the physio. The physio will advise whether a player can take the field and if so for how long - this is where risk and reward play a major part.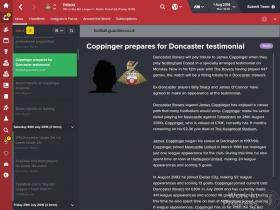 There is no guarantee the player will not aggravate the injury, but there is always that chance. In an interesting move (and thus proving YOU are the manager), you can overrule the physio and play a slightly injured player but then deal with the consequences. Along with this, you now need to manage the emotional state of an injured player. When a serious injury occurs, you can talk to the player and tell them they have your backing and will be in the team when they are back. This can build morale and help the player come back stronger. The overhaul to injuries is perhaps the biggest change within the administrative side of the game away from the match day.
The other major change is an overhaul of the match engine. Sports Interactive has put a huge effort into the animations this year with players now moving more fluently, reacting differently when injured and in general just moving better around the pitch. Again, the main focus of Football Manager is not necessarily about the graphics and visuals, but it is nice to see even more effort going into this year.
For those long terms die-hards, the 2D match engine remains. However, if you do play in the 2D engine, you miss out on the other new visual feature, an animated manager. When you start a game now, you are tasked with putting together a male or female manager character who will represent you on the pitch. It's a nice touch to add even more personalization to the game.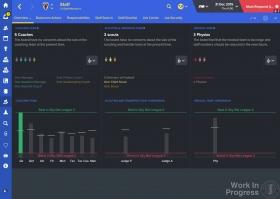 Last but least (and this one is definitely for the hardcore players) is a partnership with Prozone. For those who don't know, Prozone is a statistics provider and management tool provided to those managers in the top leagues of Europe. Sports Interactive has a partnership with them and for the first time you have access to the same type of statistics and visual graphs that the managers around the globe do, customised for the Football Manager game. To the casual fan this may not mean much but for the hardened veteran, this is a major addition and one that may just have you winning that league, instead of faltering on the last day.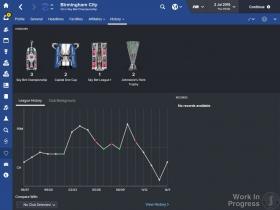 Those of you who love to customise the game will be happy the editor (and if you are willing to shell a few dollars out, the in-game editor) make a return. However, for the first time, the game now includes the ability to build a brand new club from scratch and include them in any league in the game. The editor is a nice return considering the elephant in the room that Football Manager has always had to deal with - licensing, returns. Although it features official licences from many leagues around the globe (including the Hyundai A-League from Australia, Major League Soccer from the USA and La Liga from Spain), it does still not have the Premier League (arguably the most valuable licence around). One quirk though is that Watford does appear to be officially licenced, most likely as a result of the Football Manager franchise being a sponsor to that real-world club.
Multiplayer has also had somewhat of an overhaul with a brand new draft mode included allowing a quicker game. Each player starts with the same budget and then it's a race to sign the players before a mini league starts with those players. Many will consider this a very welcome addition because it evens up the odds on the multiplayer front and does not mean choosing to play as a minnow is not an option.
Football Manager 2016 was always likely to be a superb game, but the additions that the team at Sports Interactive has made prove that not only do they listen to the fanbase, but they very much have a strong idea as to what improvements this series needs each year. If you are kicking about with a Football Manager title from a few years ago, it's definitely time to upgrade. And although the annual cycle can be a little hard to justify on a game like this, for the 2016 edition, it is certainly worth it, because once you try FM 2016, you won't go back.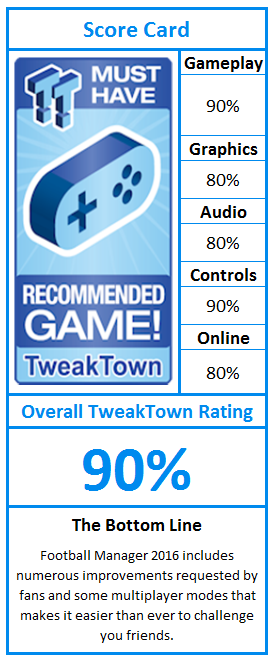 PRICING: You can find products similar to this one for sale below.

United States: Find other tech and computer products like this over at Amazon.com

United Kingdom: Find other tech and computer products like this over at Amazon.co.uk

Australia: Find other tech and computer products like this over at Amazon.com.au

Canada: Find other tech and computer products like this over at Amazon.ca

Deutschland: Finde andere Technik- und Computerprodukte wie dieses auf Amazon.de
We openly invite the companies who provide us with review samples / who are mentioned or discussed to express their opinion. If any company representative wishes to respond, we will publish the response here. Please contact us if you wish to respond.