Sapphire TRIXX Video Card Tweak Utility Overview
We take a look at Sapphire's tweaking and overclocking utility called TRIXX and see what it brings to the table for your AMD Radeon video card.

Published Wed, Jan 16 2013 12:28 PM CST
|
Updated Tue, Nov 3 2020 7:01 PM CST
Introduction and First Look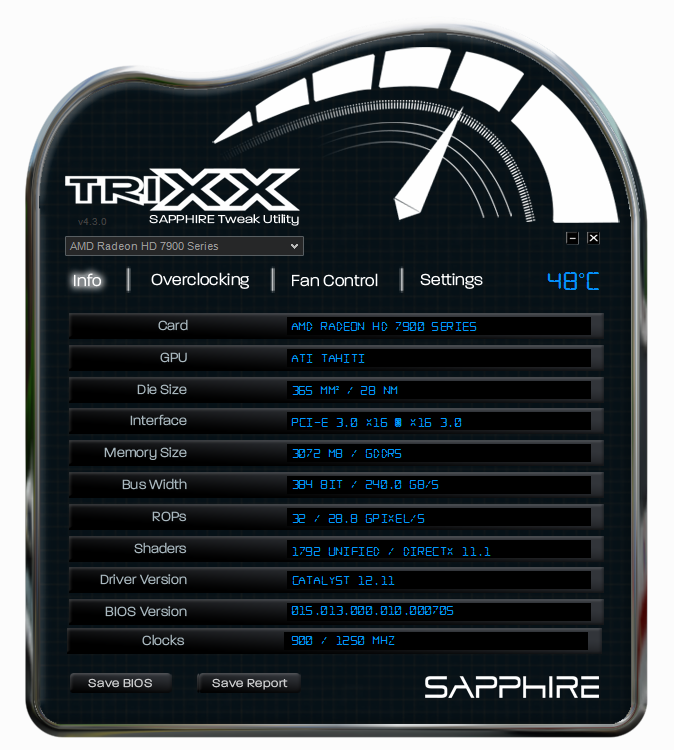 Ah, overclocking, it has become something that only a few of us used to do, to its own entire beast of a market. Companies make millions of dollars pushing overclocked hardware, or better yet overclockable hardware. The whole do-it-yourself aspect of overclocking can be incredibly exciting to some, just like cranking out more horsepower in a car modification.
There have been a few applications over the years that make this easier, but we don't generally see them made to look pretty like Sapphire's TRIXX Tweak Utility. MSI's Afterburner software has been the go-to overclocking application for a while for video cards, but can Sapphire's overclocking tool rule the AMD roost? Let's take a look at that.
Sapphire's TRIXX Tweak Utility was debuted all the way back in 2005 and has gone through some very significant changes in the meantime and now I've gotten around to testing it just now on some hardware I have here in the TweakTown labs. For your information, I'm running:
- Intel Core i7 3770K @ 4.8GHz
- Corsair H100 Hydro Cooler
- Corsair Force Series GT 240GB SSD
- ASRock Z77 Extreme 9 motherboard
- Sapphire AMD Radeon HD 7950 OC Edition
- Corsair Obsidian 800D Case
- Corsair 8GB kit of DDR3 - CMZ8GX3M2A1866C9
- Windows 7 Ultimate Edition x64
- AMD Catalyst 12.11 drivers
It's a seriously nice machine, and really powers through what I do each day. I've got the CPU clocked up to remove any potential CPU-based bottlenecks, the RAM is at stock as it doesn't really help gaming performance all that much and everything else is at out-of-the-box settings.
Let's take a look at Sapphire's TRIXX Tweak Utility, shall we? TRIXX has a beautiful interface, which is very pleasant to look at. There's a curved design at play, with a tachometer-like design at the top, which I love. Each menu is set out well, and the overall color scheme is great.
This doesn't really matter that much - but looks are at least part of it. If Sapphire had unveiled something that looked poorly made or designed, it wouldn't appeal to users as much - so it's great to see they've spent some decent time on the design of TRIXX.
What Can It Do? How to use Sapphire's TRIXX Tweak Utility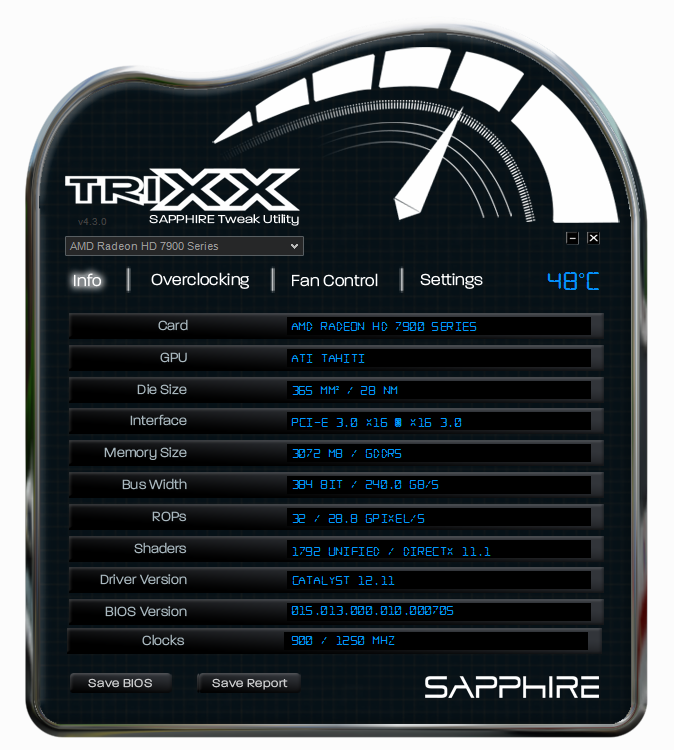 Once installed, you'll open TRIXX and be greeted with the great-looking application above. This is the 'Info' screen and displays everything you need to know about your video card. You can see everything from the card itself, the ROPs, Shaders, Driver Version, BIOS Version and current clock speeds. It's a great run down of what you have.
Next up we'll take a look at the best part of TRIXX, the Overclocking section.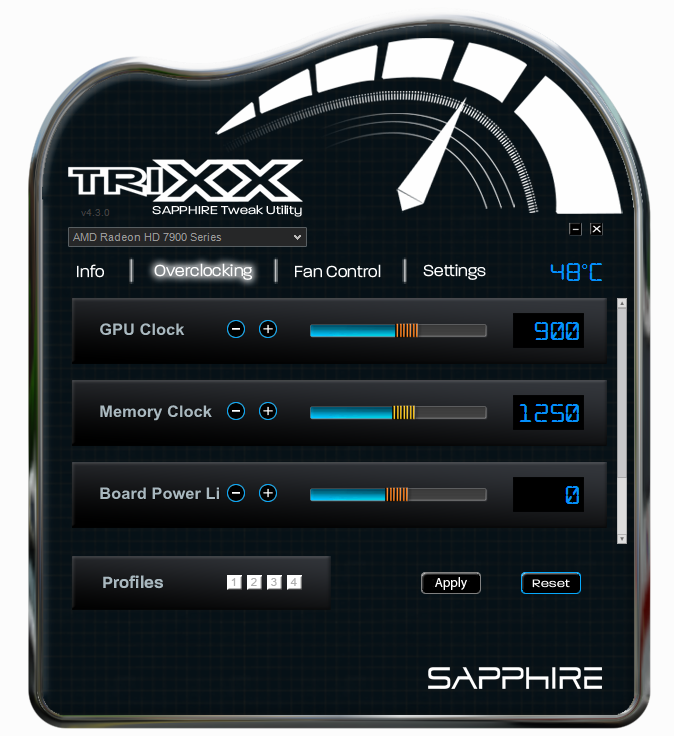 In here, we can adjust a few settings - GPU Clock, Memory Clock, Board Power Li and VDDC. GPU Clock and Memory Clock adjustments are obvious - they'll overclock their respective parts. Sapphire have done well with the user interface of TRIXX, as there's a large orange button you can grab and slide across, and they've added in some - and + for small adjustments. I found this particularly useful when wanting to test my GPU at 1GHz GPU Clock, and then tap down 5MHz at a time.
After you've adjusted the speed of your GPU and Memory you might want to pump up the max TDP to the GPU which is the last option, Board Power Li. Setting this to +20 can give you some great overclocking results, but pumps more power to your GPU. You won't want to just crank this all the way up, as you can damage your hardware - so you've been warned.
This setting corresponds with AMD PowerTune technology, which manages the GPU's core clock speed based on the TDP of the product - cranking this up, cranks the total TDP of the card by a maximum of 20% of the base TDP.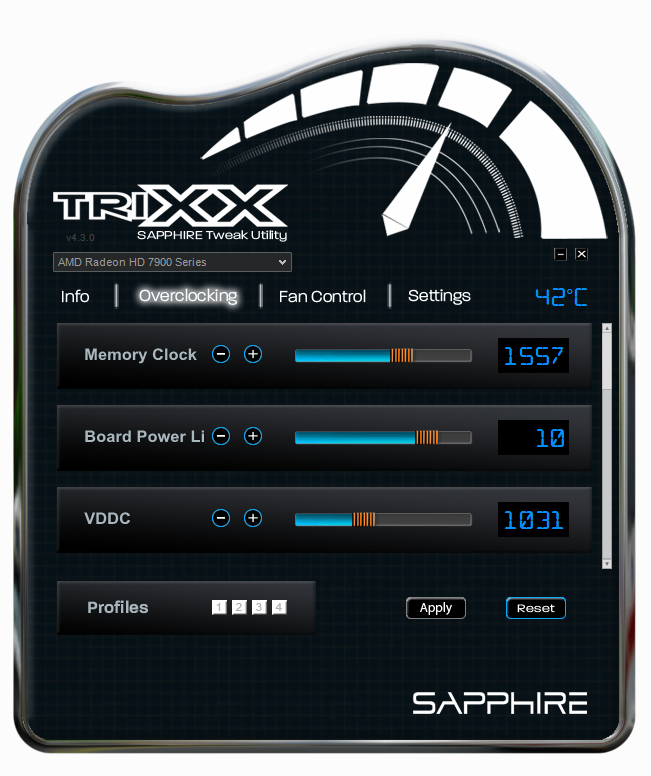 The last setting is VDDC, which gives you some very good voltage control.
Once you've set your GPU to your desired settings, you have "Apply" to click down the bottom. If you choose to reset your speeds, there's a "Reset" button right next to it. On the left of these two buttons you have a Profiles section.
The Profiles option allows you to save up to four different overclocking profiles, which is great. This is useful as not all applications or games will work at all overclocked speeds. I found myself going between profiles when benchmarking to test out the GPU itself, and then diving into Far Cry 3 I changed profiles so that my GPU Clock was lower so the game wouldn't crash - more on that later.
Next up we have Fan Control, which is quite self explanatory.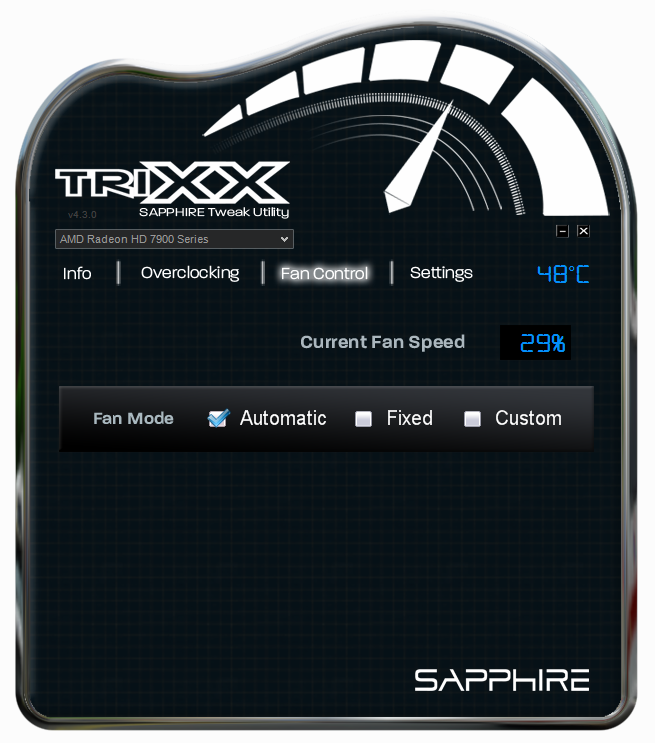 In this section, there's pretty much one thing to adjust - fan control. Sapphire's TRIXX Tweak Utility allows three options: Automatic, Fixed and Custom. Automatic will adjust the fan on your GPU by itself, which is what most people will do - but when you want to get down to the nitty gritty of overclocking, the Fixed and Custom options come into play.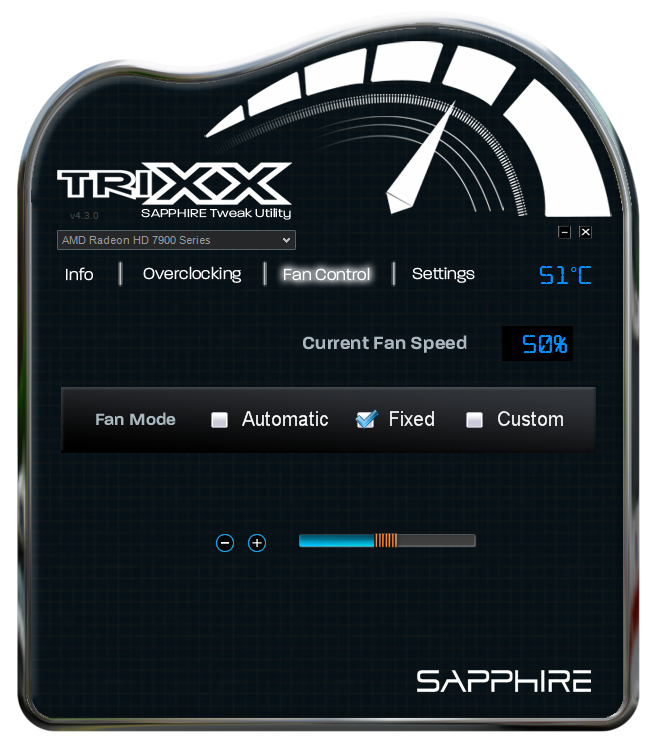 Fixed allows you to select a certain percentage to have your GPU set at - for benching this would obviously be 100%. Unless you're pushing your GPU to its limits, there's no need with these new 28nm chips to have your fan cranked at 100% all the time.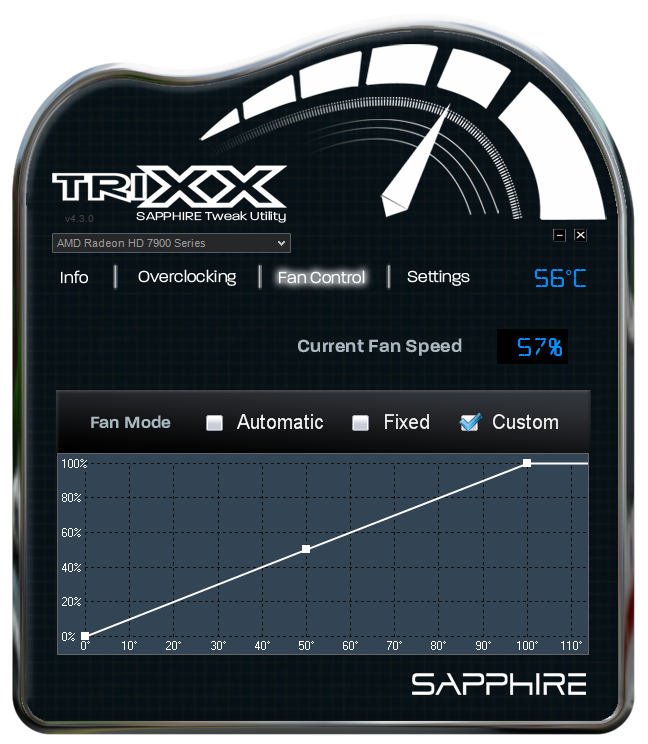 Custom is where you'll have all of the options at your fingertips. You can set a precise percentage for your fan speed when your GPU reaches a certain temperature. So you could have the fan speed set to something like 30% until your GPU temperature reaches 50C. Your GPU would only begin to get hot when it's under stress, such as rendering a game - then the fan on the GPU would spin up on how you've got your custom setting.
You could have it get to 65C and spin the fan up to 75%. Of course, if it was to get real hot - say 100C - then you would have the fan crank up to 100% to compensate.
All of these options are great and are provided in a very simple manner. One thing I'd like to see in a future version of TRIXX is to have all of the overclocking options in one shot - instead of having to scroll down to find VDDC. I overlooked that option for the first 30-60 minutes of using it, because I didn't see the tiny slider to the right of the overclocking options.
Results and Final Thoughts
I played around with TRIXX for a few days testing it out on Unigine's Heaven benchmark, Far Cry 3 and Battlefield 3. I was able to achieve a nice and relatively pain-free overclock on my Radeon HD 7950.
At stock, the Radeon HD 7950 is 900/1250. I was able to crank it to 1015/1563 and be stable while looping Heaven. This is an incredible result, as it gives me a huge increase in memory bandwidth from the stock 240GB/sec to 300GB/sec. All of this is from stock volts and stock TDP.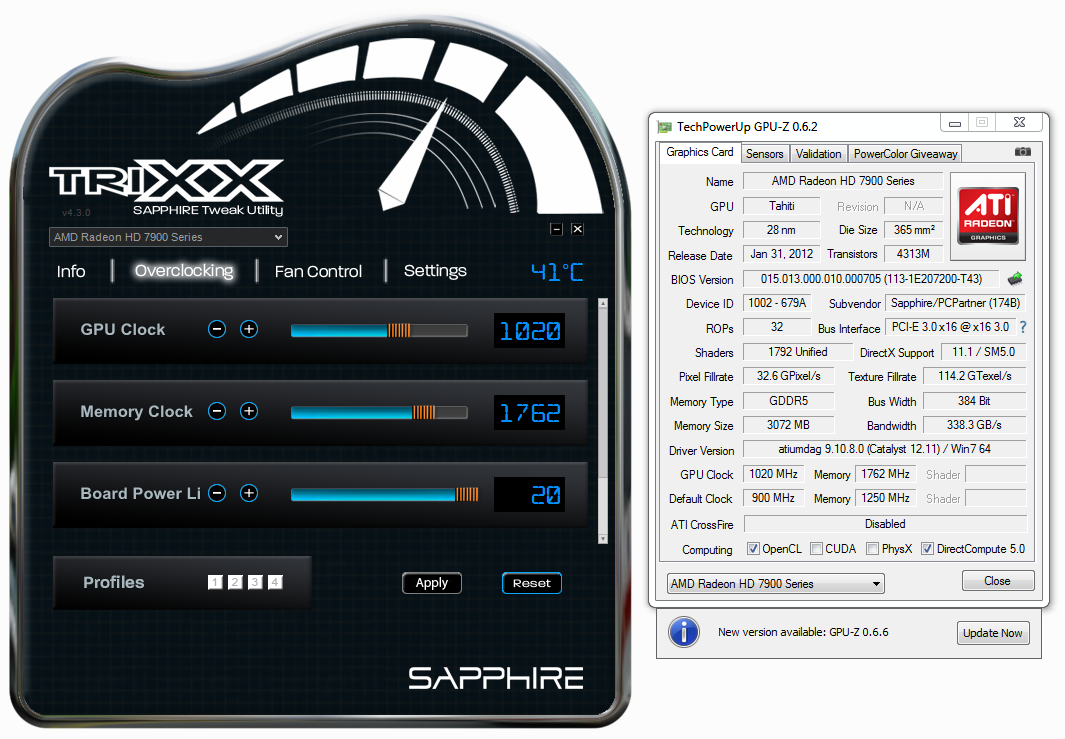 Cranking up the Board Power Li to +20 and VDDC to the 1300-mark, I was getting some incredible overclocking results out of the Sapphire HD 7950 OC Edition. From its stock 900/1250, I was cranking 1015/1750 stable under Heaven loops. This is a huge overclock on the RAM, and over 10% on the core.
Game stability was a different question, Far Cry 3 was only stable up to around 990/1450MHz, where Battlefield 3 didn't mind 985/1557MHz. Cranking up to 1GHz on the core playing Battlefield 3 was stable for around four minutes, but it crashed to the desktop.
All in all, Sapphire's TRIXX Tweak Utility is a great option for you to use - and something I definitely recommend.
PRICING: You can find products similar to this one for sale below.

United States: Find other tech and computer products like this over at Amazon.com

United Kingdom: Find other tech and computer products like this over at Amazon.co.uk

Australia: Find other tech and computer products like this over at Amazon.com.au

Canada: Find other tech and computer products like this over at Amazon.ca

Deutschland: Finde andere Technik- und Computerprodukte wie dieses auf Amazon.de
We openly invite the companies who provide us with review samples / who are mentioned or discussed to express their opinion. If any company representative wishes to respond, we will publish the response here. Please contact us if you wish to respond.
Related Tags