Comodo Time Machine (CTM) was my first encounter with the weird and wonderful world of Instant Recovery/Snapshot software (IRS). It all happened a few years ago, when I came across forum posts detailing a utility that could take full snapshots of a Windows system in mere seconds. Any snapshot could easily be restored at boot time, essentially bringing the system back and forth in time. The great thing about it was the fact that both snapshot taking and restoration was almost immediate. Even better, the program was provided by Comodo for free. I was instantly intrigued by the concept and started researching CTM.
At that point I was still relying solely on full system backups for restoring my system to a previous clean state. I was testing software and hardware on a daily basis and I needed a better and faster way to completely undo software installations, with no chance of leftovers littering my disks. I tried using virtual machines, but I soon gave up. While full virtualization is a great solution for a wide variety of tasks, it wasn't so suitable for my use. The VM's couldn't access crucial hardware that I wanted to test (e.g. video cards). Also, my PC was relatively underpowered; it wasn't really suitable to be used as a host system, not even for extensive software testing within a VM. As a result, I was soon forced into a constant routine of having to restore my clean system backup many times daily, in order to wipe the slate clean for each new testing barrage. At that point Comodo Time Machine suddenly burst into my computer life, and everything changed.
Further research revealed another competitor for the IRS crown - Rollback RX by Horizon DataSys. When I delved further into the subject, I realized that RX had been released first, and that both CTM and RX seemed to have been derived from the same "mother" code. Apparently there has been some controversy on how Comodo acquired the CTM code. Some users have claimed that the CTM code came from an older version of Rollback RX. Comodo has even been accused of obtaining the code by "questionable means". Other users claimed that Comodo actually acquired the code legitimately. The Comodo CEO, Melih Abdulhayoglu, has stated clearly that "Comodo did license the source code from one of the original Inventors of this technology".
So, Comodo bought the code from one of the original coders, applied some changes and bug fixes, added a new GUI, and then released it as a freeware product. That's great, I say. The following pictures of the CTM and RX pre-boot interfaces show the similarities in functionality between the two programs. The options and their layouts are basically the same, with some text changes.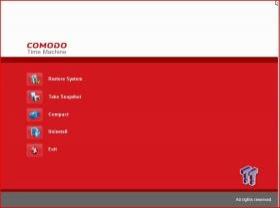 We may never know the truth behind all this, but being a Comodo fan myself, I strongly tend to believe Melih on this. Comodo is a company whose solid reputation is built around providing SSL certificates web-wide. I can't believe even for a second that Melih would ever risk his company's well-earned reputation over a piece of code.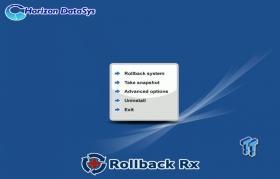 What I find utterly bizarre is the CTM description at the Horizon DataSys website. This is essentially a CTM press release, a blatant CTM plug hosted by Horizon DataSys themselves! I simply cannot get the logic behind Horizon's decision to dedicate a whole web page advertising the benefits of an alternative. It is bizarre for them to host praise to a freeware competitor, whose functionality and main features are practically identical to their own relatively expensive commercial-ware. It just doesn't make sense.
So, Rollback RX had been there first. At first glance it looked like the more mature software out of the two. Still it cost money, so I was drawn to the free world of CTM instead. This one was my first encounter with the niche world of light virtualization - and the price tag seemed good too - so I gave Comodo Time Machine a try on a test-bed. It worked flawlessly, but I was probably lucky. I later found out that a lot of people had problems with it. Apparently CTM 2 had serious compatibility problems with certain hardware/software mixes. It rendered some machines unbootable and the situation could only be resolved with the process of repairing the boot sector. This could be achieved by using a Windows System Repair Disc, or by restoring the boot sector altogether from a backup - if a backup was available, of course.
Of course, a full backup is always essential. The need for a full system backup becomes even more important when a user wants to try out a low-level system utility like CTM or RX. Unfortunately, this is something that many users are still ignorant about. Here's an example. An angry user posted at the Comodo forums a while back, threatening to sue them because his critical production machine was rendered unbootable by CTM. The guy had already sent his hard disk to a recovery lab to forcibly restore the data. So, we have a guy who hasn't taken a full backup of his critical production machine beforehand, threatening to sue a developer for providing a piece of software for FREE. The irony of this has obviously escaped our guy, a man who probably ended up paying hundreds of dollars in data recovery bills just because he couldn't grasp the fundamental concept of a Full System Backup. To his credit, Melih remained polite and professional in the face of such ignorance.
Eventually CTM development was abandoned. Other Comodo projects took priority, and CTM remained stuck at version 2.9.161985.187 Beta. I carried on using the 2.8 version and it worked great on my systems, but the program was still very problematic for some. For my own use, CTM was a godsend for both hardware and software testing. It gave me the ability to get back to a clean baseline with just a reboot. If the system crashed while testing a new overclock, I would just reboot and restore the baseline snapshot, and in a few seconds my system would be returned to its pre-crash state. I would then change clocks/voltages and try again. This saved me a hell of a lot of time when testing the limits of different hardware.
I later saved different software mixes to fit different purposes. I created many different clean benchmarking/testing snapshots, all with their own hardware-specific setups. I could switch hardware, load the appropriate snapshot which included the specific drivers, then cleanly test/benchmark the pieces. Snapshots loaded in seconds at reboot and I didn't have to restore my backup anymore in order to ensure that there were no driver leftovers from previous tests. It is great to be able to test stuff across several reboots, and then easily return to a clean base whenever you need to.
I carried on visiting the CTM forum frequently, hoping for a positive update. Fellow-fans of the software kept its legacy alive at the Comodo forum. The dedicated Save CTM thread attracted many people who posted their support for the cause of persuading Comodo to pick-up CTM once again. Melih eventually gave-in to popular demand and re-instated CTM development. This time around there was to be a major difference. The future CTM 3.0 was to be built on brand new code, the program re-written from scratch. The fans were enthusiastic with the news. A Comodo team was tasked with designing and laying the new CTM groundwork. Initially there was no projected timeframe, but it was later revealed that we should be able to get to beta stage by early spring 2012.
Time passed by and we received sporadic confirmations that the project was still under way. The initial deadline came and went, and at some point we were treated to a screenshot, a glimpse of what the new CTM3 GUI would look like: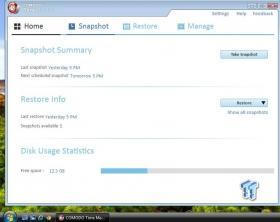 At the end of June of 2012, Razvan Raschitor (CTM3 project manager), posted that "COMODO Time Machine 3 is still being developed. We had other priorities so we have to redirect our resources to other projects. In short time we will again concentrate all our efforts on CTM. In about two weeks I will be able to give you an estimate launch date".
Razvan returned a few weeks later. At the end of August 2012 he posted that "We are getting close to finish CTM 3. After some preliminary testing, I will be able to give you an estimate release date of the beta". That was the last solid piece of news that we were waiting to receive for a long while. The fans carried on flocking to the forum, looking for news. Nobody was happy about Comodo's decision to put other projects in front of CTM3. Comodo was also preparing Internet Security 6 (CIS6), the follow up to the best (in my opinion) free internet security suite. CIS6 was to bring the Comodo Virtual Kiosk to the mix. Kiosk proved to be an impressive sandboxing module, providing reinforced security for CIS6 users.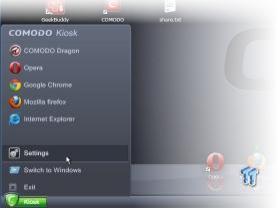 There were also other ongoing Comodo projects, things like system cleaning utilities and Comodo's own web browser, the aptly named Comodo Dragon. Some of those other projects were pushed to the top, while CTM got unceremoniously dropped to the bottom of Comodo's priority list.
I firmly believe that a rare utility like CTM deserves better treatment. There is a plethora of system cleaners and other similar utilities out there, but there are only two programs of the kind of CTM that I know of - and the Comodo one is the only one that is free. There are also Rollback RX's "sister software", but those are basically RX clones that Horizon is affiliated with. Recently some small Chinese developers have also surfaced releasing more basic forms of snapshoting. Those are still very new and lack the features of CTM and RX.
There is also the issue of SSD's and TRIM. We now know for certain that Rollback RX disables TRIM, to ensure SSD compatibility. It is essential for CTM3 to be fully compatible with SSD's and the TRIM command. If Comodo manages to solve this issue properly, CTM3 would become the first true instant recovery software to feature full TRIM compatibility. It would be great for Melih or Razvan to let the fans know whether or not the team has managed to crack the TRIM problem properly.
The simple fact that there are really only two programs out there that share such unique functionality and features, makes the continued existence of a free CTM extremely important in my view. Logic alone would dictate to draw more developmental resources towards a rare utility like CTM, rather than diverting talent and valuable working hours towards other programs, the kind of which the market is already super-saturated with. CTM is a unique tech with very little competition in its field. It's a lifesaver for software testing (no uninstalls needed and no leftovers from installations), overclocking (because it can undo crashes in seconds), and also provides different software setups to suit different needs, setups that are easily switchable with a simple reboot. It can also undo common infections by unsophisticated malware. When you own something with such unique properties, it is sensible to give it good priority and take good care of it.
CTM's importance is based firmly on the rarity of its purpose and functionality. Although it brings no revenue in itself, it can still do wonders for Comodo's future reputation among end-users worldwide. Of course, the program must be rock-solid and stable among a great variety of hardware and software configurations. It should also be updated regularly and must become more well-known. More people should be exposed to the unique properties of light virtualization and snapshot technology. If a solidly built CTM3 comes into the mainstream this would speak volumes about Comodo's continued commitment towards better/safer computing for all. I have debated the point with Melih, both publicly and in private. I'm not alone on this: All the CTM faithful's want to see Comodo assigning more resources to CTM3.
I understand that being the CEO, Melih knows best what is good for Comodo and prioritizes accordingly. He is inside the game, so he has a much better understanding of how project scheduling and priorities would affect Comodo. One should never doubt Melih's character, talent, or commitment. In my opinion he is a very good example of what a modern CEO should be like - approachable, media-savvy, and open to new ideas. To me Melih seems like the kind of guy that likes to ride the corporate bubble, rather than becoming trapped in it. The thing to consider here is that the people are often right. Corporate considerations could probably be "flexed" a bit in order for Comodo to finally deliver what some of its very loyal fans are asking for.
More than a year has passed since we were given the initial projected timeframe of early spring 2012 for the CTM3 beta. On the 5th May 2013, Melih has posted in the Comodo forum mentioning that they always listen (to the people). He later added that they still don't have an ETA for the CTM3 beta yet. After a year of constant postponement, reallocation of developmental resources, and continued fan disappointment mixed with anticipation, I sincerely hope that when CTM3 finally comes out it will turn out to be as good as its loyal fans expect it to be. Personally, I can't wait for the thing to arrive.