Introducing NVIDIA's GeForce Experience & First Look
I've never been the type of person to record or save my gameplay footage; I did play around with FRAPS for a while there, but was never serious. Back in the day, I thought it was much easier to record demos through the console in games that supported it - but those days are long behind us.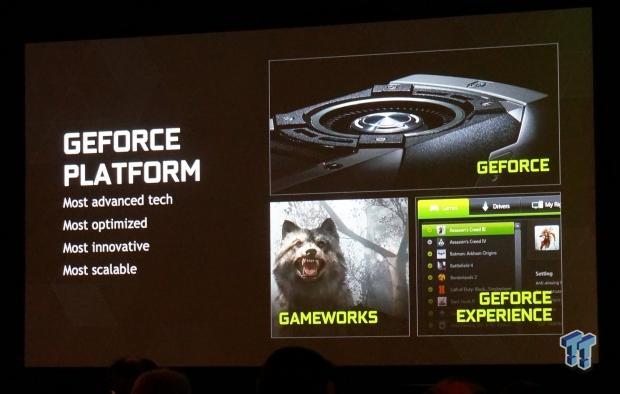 NVIDIA launched GeForce Experience last year, but has made some pretty serious additions to it, making it a very well-rounded tool for GeForce GPU owners. The software is capable of doing a multitude of things while running in the background of any GeForce powered PC, including recording your gaming footage.
We're going to run you through the GeForce Experience now; we will show you the various parts of the software, its abilities, and how easy it is to record not just gaming footage, but anything being rendered to your screen.
What I'm Using
I'm using my custom PC build that I used for my NVIDIA G-SYNC article, and the other articles I write for TweakTown. The system specifications are as follows: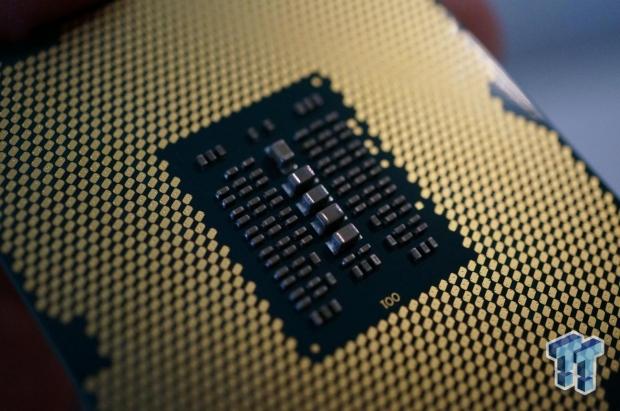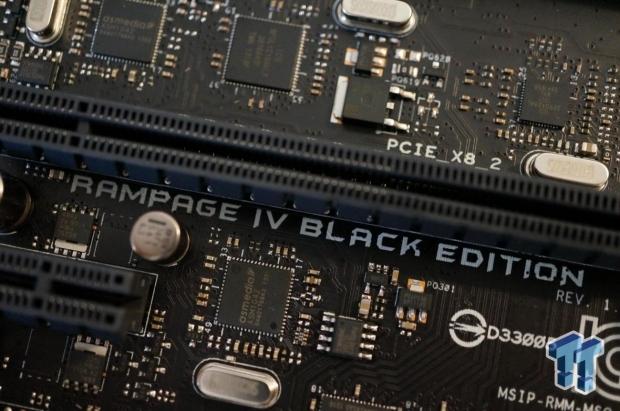 CPU: Intel Core i7 4930K processor with Corsair H110 cooler (stock clocks)
Motherboard: ASUS Rampage IV Black Edition
RAM: 6GB Corsair Vengeance Pro of 2400MHz DDR3
GPU: NVIDIA GeForce GTX 980 (reference) in SLI
Storage: 240GB SanDisk Extreme II and 480GB SanDisk Extreme II
Chassis: InWin X-Frame Limited Edition
PSU: Corsair AX1200i digital PSU
Software: Windows 7 Ultimate x64
Drivers: GeForce 344.6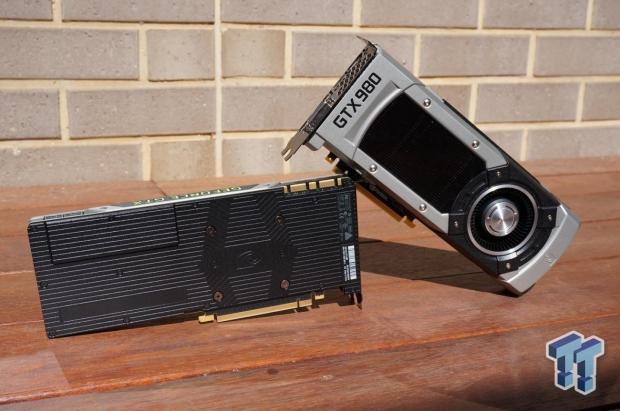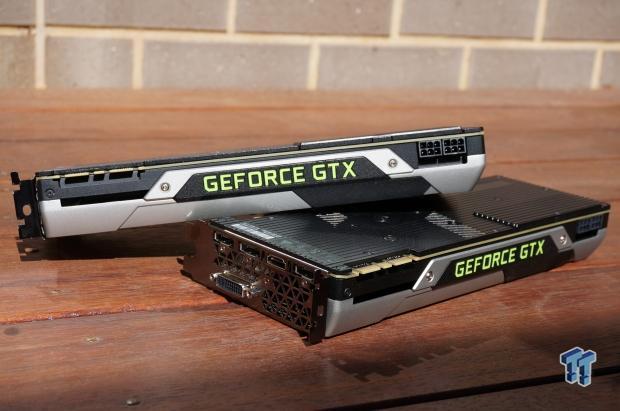 PRICING: You can find the ASUS GTX980-4GD5 Graphics Cards GTX980-4GD5 for sale below. The prices listed are valid at the time of writing but can change at any time. Click the link to see the very latest pricing for the best deal.
United States: The ASUS GTX980-4GD5 Graphics Cards GTX980-4GD5 retails for $657.00 at Amazon.
Drivers, GameStream & ShadowPlay
In order to showcase GeForce Experience in its full beauty, I've recorded a full overview of the entire suite of software, using the software itself. I used ShadowPlay to record the below video. The recording is in 1440p for your viewing pleasure.
Keeping Your Drivers Up To Date
One of the first big features of GeForce Experience is the update notifications. This will alert you to newly-released GeForce drivers, so your machine will be kept up to date on the video card side of things. You can set the software to alert you to the new drivers, and allow you to choose to download them, or have them downloaded for you, without immediately installing them. With the latter setting, your action will be awaited after the update is downloaded, which is a nice touch.
Users can also choose whether or not to receive beta GeForce drivers, which are the bleeding edge of drivers, but may come with some hiccups or incompatibilities. In the last year or so, beta drivers have been quiet stable for the most part.
By allowing you to download your drivers automatically in the background, without activity for you, NVIDIA keeps you gaming quicker, and much more conveniently. Without action, your system can download the latest drivers for that game you've pre-loaded on Steam, so when you get home from school, work, or just being out for the day, you have game-ready drivers.
GameStream
GameStream is another feature that could survive in its own standalone app. This feature requires a Shield or Shield Tablet; if you have either of those Tegra-powered, portable gaming devices, then you can hook up your Shield device, and have portable gaming in your house.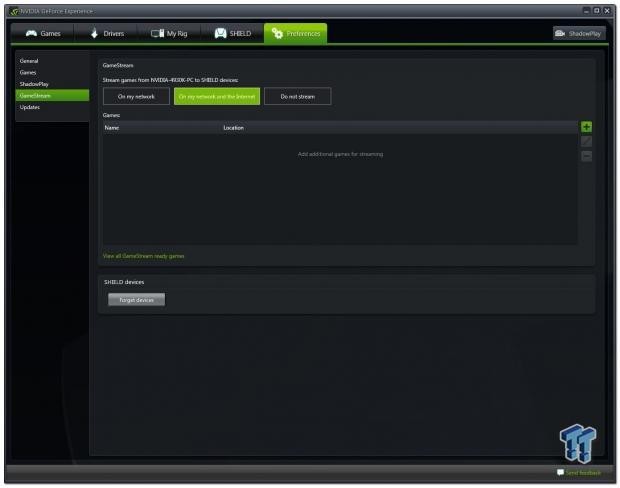 If you have the Shield Tablet (or normal, first-gen Shield), and connect it up to GeForce Experience, then the two will work together, and you will be able to stream your games from your GeForce-powered PC, to your Tegra-powered Shield device.
So, not only do you get portable gaming from your PC, but you can also hook your Shield or Shield Tablet up to your TV. This paves the way for proper 1080p 60FPS gaming on your TV (if you've got the right hardware of course), killing what the 'next-gen' consoles are capable of.
ShadowPlay - My New Favorite Tool
ShadowPlay, I love you. ShadowPlay is an incredible NVIDIA technology that allows you to do all sorts of recording goodness on your PC. By default, you can have Shadow enabled, which will record a certain amount of your gaming session (from one minute up, to 20 minutes).
You can choose between enabling both Shadow and Manual, or just Shadow, or just Manual. The Shadow time can be adjusted between the aforementioned one to 20 minutes; the quality is fully adjustable as well.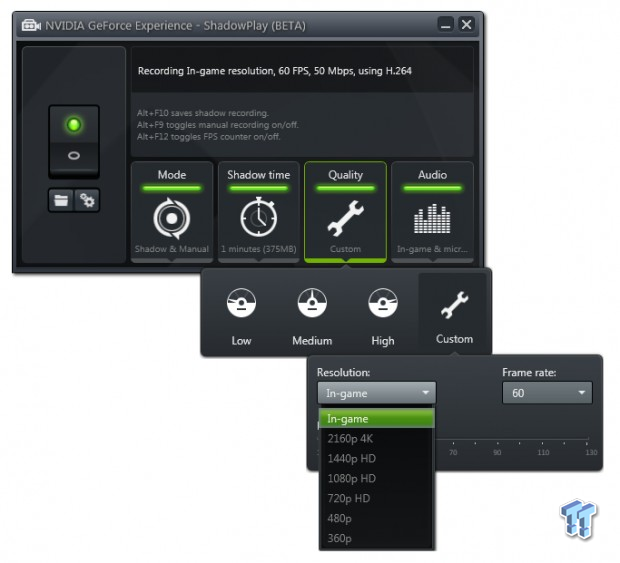 As you can see, the Quality tab allows you to record your footage in numerous ways, including from in-game (whatever the in-game resolution is), 4K, 1440p, 1080p, 720p, 480p, and even 360p. As for frame rate, you can record at both 30FPS and 60FPS. The Bit rate is also manually adjustable, and ranges from 10 Mbps to 130 Mbps, using the H.264 codec.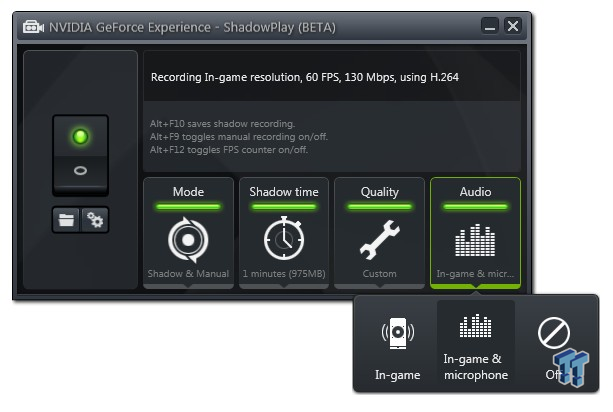 Better yet, the audio recording can also be tweaked. You can choose between recording the in-game audio, or recording both the in-game audio and microphone. This is another really nice touch by NVIDIA, as it allows for professionals to record their in-game footage, which is perfect for gameplay recording, while doing a voice overlay for YouTube.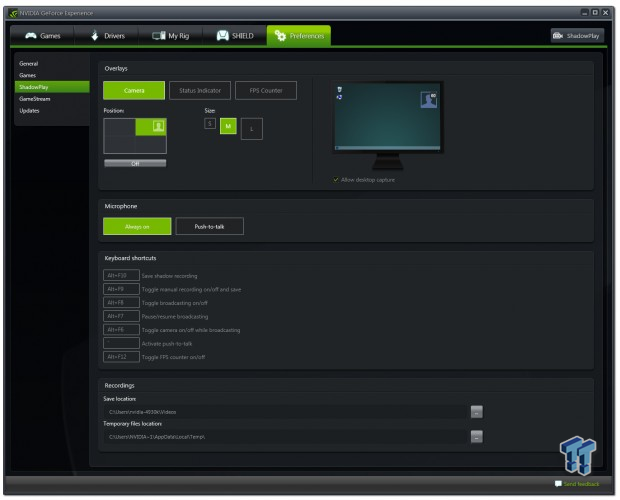 Furthermore, you can adjust the ShadowPlay overlay, with your webcam footage overlaid on your screen, along with the Status Indicator, and FPS Counter. You can choose positions (top left, top right, bottom left, bottom right), as well as one of three sizes: small, medium, and large.
The microphone can be adjusted to 'Always on,' or 'Push-to-talk,' which is yet another nice pleasant addition that is very welcomed. There are multiple keyboard shortcuts, and you can change them all to whatever combination of keys you want, or even a single key for convenience.
Final Thoughts
Wrapping Things Up
NVIDIA's GeForce Experience has become a tool that I use nearly daily, and when I'm gaming, I'm using it 100%. ShadowPlay is enabled, recording up to 20 minutes, and I have manual recording on too. It's an incredible tool for gamers, as I'm constantly recording, but not having to remember to do it.
For GeForce users, using GFE is a no-brainer. If you're installing your GeForce drivers, install GFE and use it. For gamers, it'll change the way you record your games. For YouTubers, it'll change the way you record your content. The ability to record both in-game audio and your microphone is a really nice touch, especially for those like myself who play Battlefield 4 with TeamSpeak (or whatever comms program you use).
Auto-downloading and updating drivers saves time, and is another excellent feature, and we haven't even discussed GameStream. For Shield and Shield Tablet users, this is something that will change the way you play games. You can experience your PC games through your Shield Tablet, using the Shield Controller, on your massive TV instead of your smaller LCD monitor.
All in all, NVIDIA's GeForce Experience really is quite the experience, in more ways than one. It's not just about auto-updating drivers, or ShadowPlay, it's an entire package that has so many little and big features that it is an entire beast on its own. Go download it, or start using it right now!
PRICING: You can find the ASUS GTX980-4GD5 Graphics Cards GTX980-4GD5 for sale below. The prices listed are valid at the time of writing but can change at any time. Click the link to see the very latest pricing for the best deal.
United States: The ASUS GTX980-4GD5 Graphics Cards GTX980-4GD5 retails for $657.00 at Amazon.