Thecus N5810 Consumer NAS Review
The Thecus N5810 SMB NAS makes its second appearance with a more consumer friendly approach. Here's our full review of it.

Published
6 minute read time
TweakTown's Rating: 88%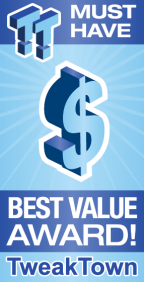 The Bottom Line
While the interface still needs some polishing, the Thecus N5810 SMB consumer device is one of the most cost effective consumer NAS platforms on the market currently and is worthy of consideration.
Introduction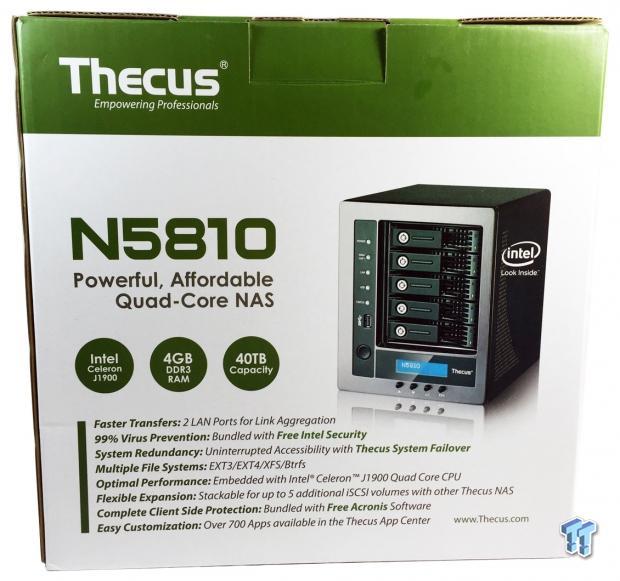 In the middle of last year, I spent some time with the N5810 Pro, quite easily the best five-bay NAS that Thecus has ever made up to this point. In taking advantage of the success of the Pro model, Thecus has now released a non-Pro version removing the built-in UPS, halving the five Gbe ports down to two, and switching the 130W PSU up to a 200W unit making for a more budget-friendly option for the consumer.
With that said, at the heart of this NAS we still have the same J1900 SoC from Intel's Bay Trail lineup, and adding to this is 4GB of DDR3 in the SO-DIMM form factor. Connectivity is done through the two LAN ports on the back and three USB 3.0 ports, one strategically placed on the front and two on the rear. In addition to this unit's storage capabilities, this is one of just a few appliances from Thecus to have an HDMI port and this unit also has line-out audio capabilities as well.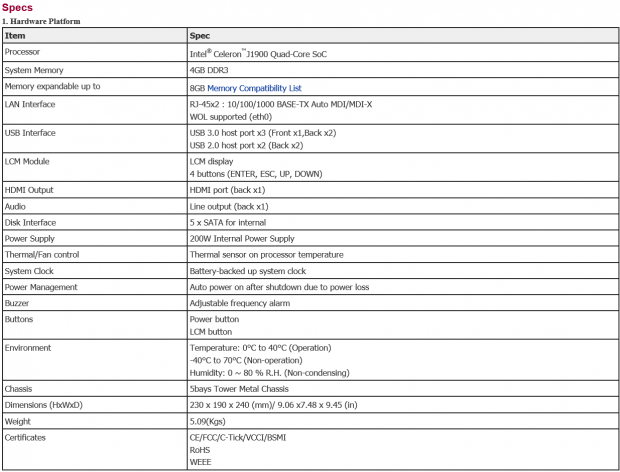 The hardware specifications of the N5810 show the J1900 quad-core SoC and 4GB of DDR3 being at the heart of this NAS. Going down the list the memory is expandable to 8GB, again using the SO-DIMM form factor while LAN is powered by two Gbe ports on the rear of the unit. USB connectivity includes two USB 2.0 that are tucked in next to the LAN port while the USB 3.0 are split between the front and rear of the unit. Internally, the N5810 has a five-bay SATA backplane, the same one used in the Pro model.
MSRP of the Thecus N5810 is listed at $599.99 and a two-year warranty.
Thecus N5810 Consumer NAS
Packaging and a Closer Look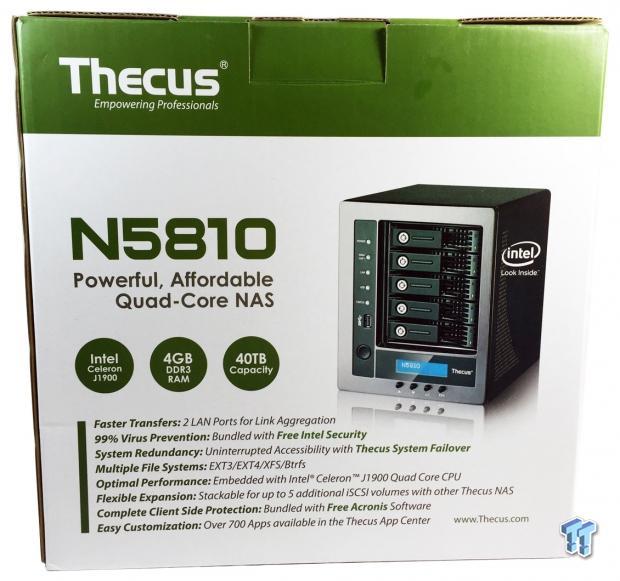 Packaging for the N5810 isn't quite as vibrant as the Pro model was but we do have an image of the NAS to the right with a full plethora of information below.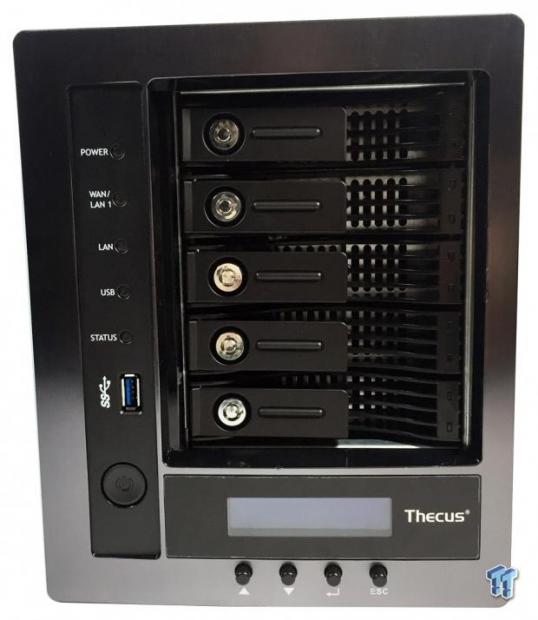 The front of the NAS is identical in every way to the Pro model. At the bottom, we have the LCD and controls while the left side of the NAS houses the power button and USB 3.0 port.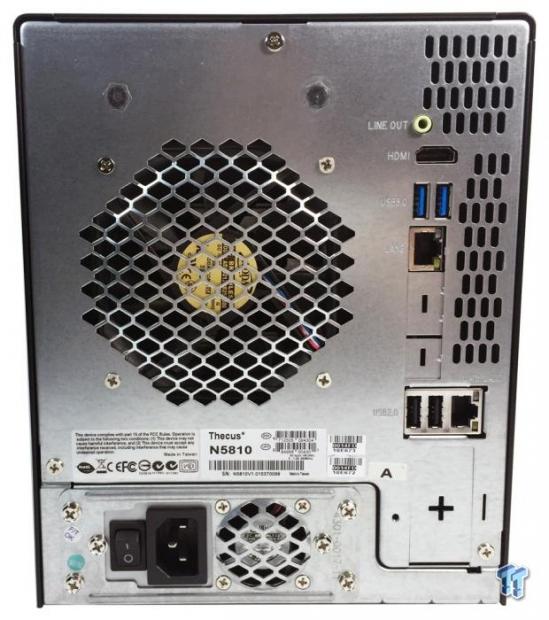 You can see Thecus uses the same chassis for both the Pro and non-Pro solutions with two punch outs left in the Ethernet area and down below a plate covers where the UPS once was. Still available are the line-out, HDMI, and dual USB 3.0 ports along with dual Gbe NICs a little further down. The power supply is still built-in on this unit but has been upgraded to 200 watts.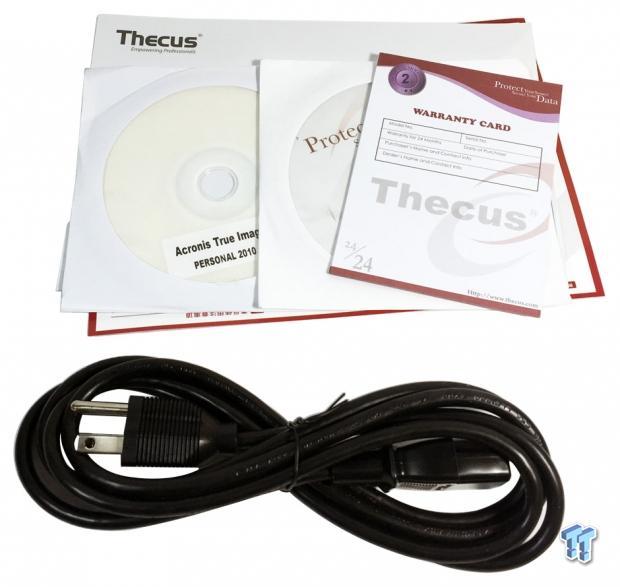 Above, we have the scope of delivery which for this solution included the power cable, manual, and software on disk.
Test System Setup and Web Management
Tyler's NAS Test System Specifications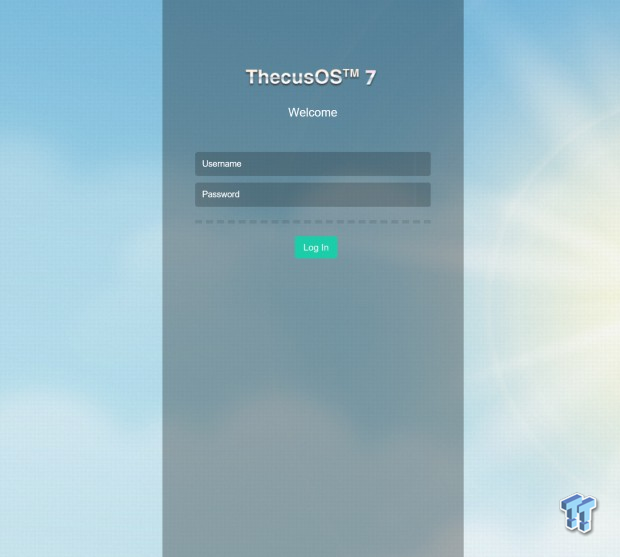 The N5810 also brings with it our first look at Thecus OS 7. Right from the start, we notice it has an entirely new look to it.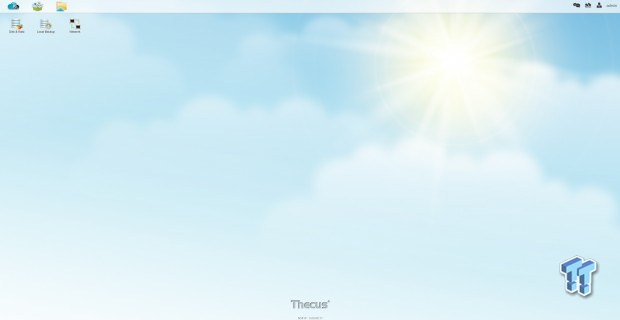 The desktop for OS 7 is rather clean but does have a few icons in the top left. These include shortcuts for RAID, Backup, and Network control. At the very top, there is a file manager and app center.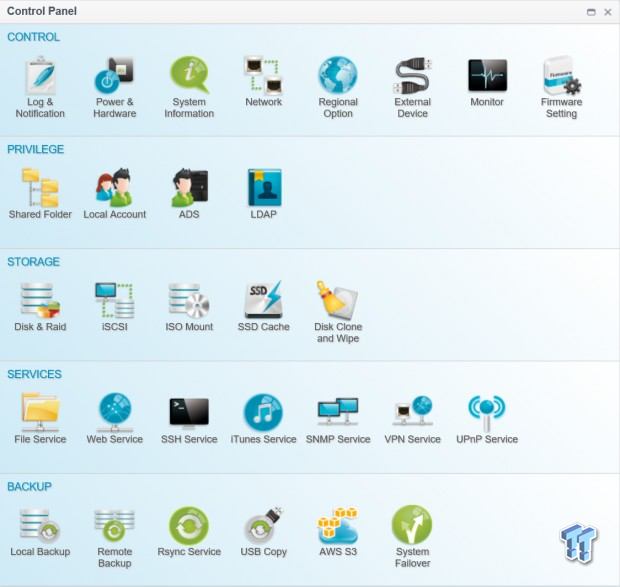 Diving into the control panel, things is quite similar to OS 6 in that everything is categorized the same, but there are a few new items like SSD cache and disk clone.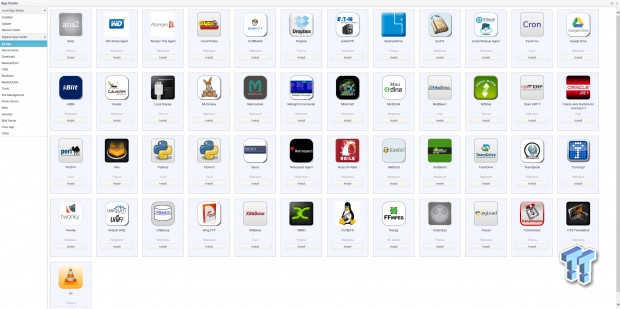 The App store, while being quite new, does have a good amount of apps in it including Plex and Transmission, two of my favorites.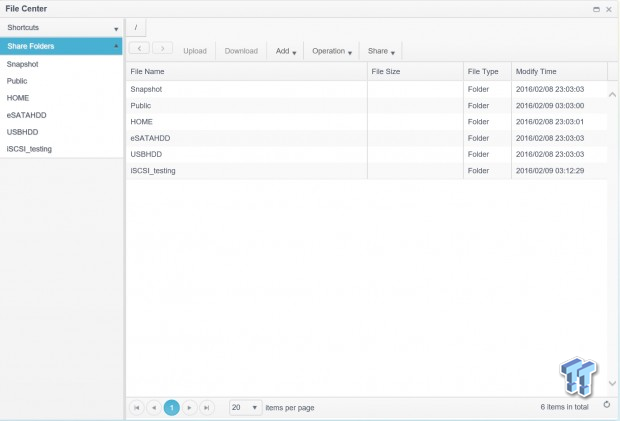 Moving on the file center allows you to set up shares that are accessible by user or as a whole depending on permissions.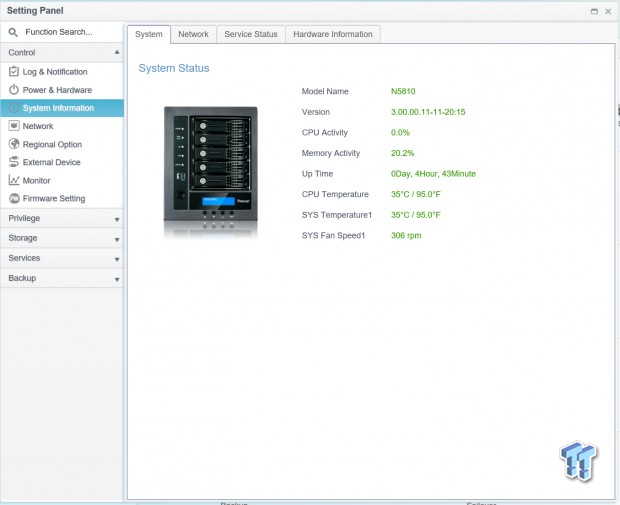 The System Status menu goes much further into detail about the appliance than the past OS. As you can see it starts with the model number here and moving over to the hardware info tab.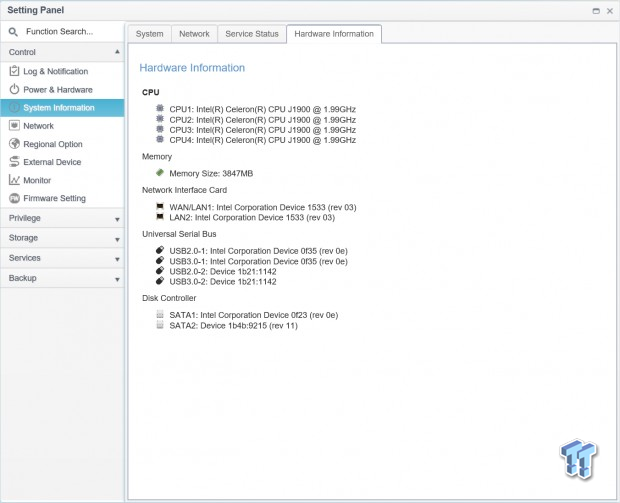 The hardware info tab breaks down the Thecus into each component so much so that I really have no reason to open it up and see what ICs we have. From here, I know we have a quad-core J1900, 4GB of memory, along with two Intel i210 NICs and further down the USB 3.0 and SATA controllers.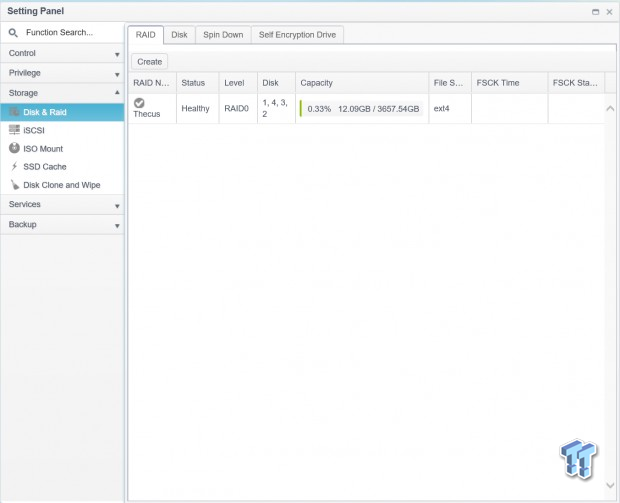 The Disk menu allows you to configure your array supporting RAID 0, 1, 5, 6, and 10. There is also the option for iSCSI which has now been fixed.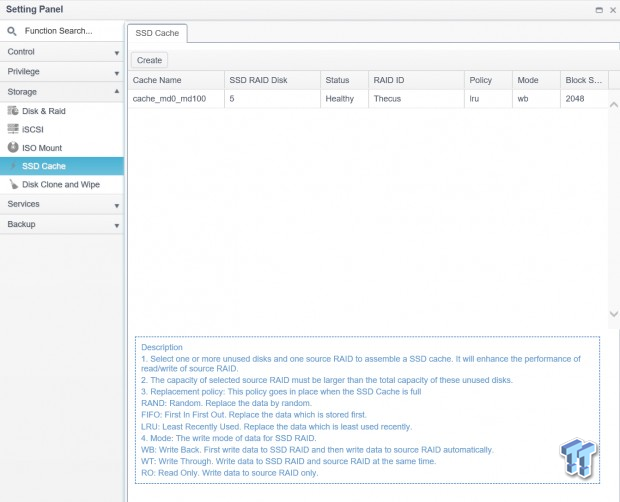 SSD cache was around on the last OS but is now more prevalent and easier to setup. As you can see here, you can choose what type of cache you would like and the block size. You can also choose the policy.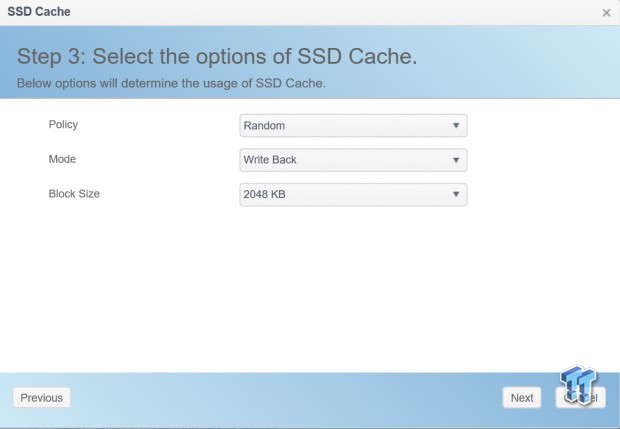 In the image above, I have set up an LRO cache on an SSD with a block size of 2048K.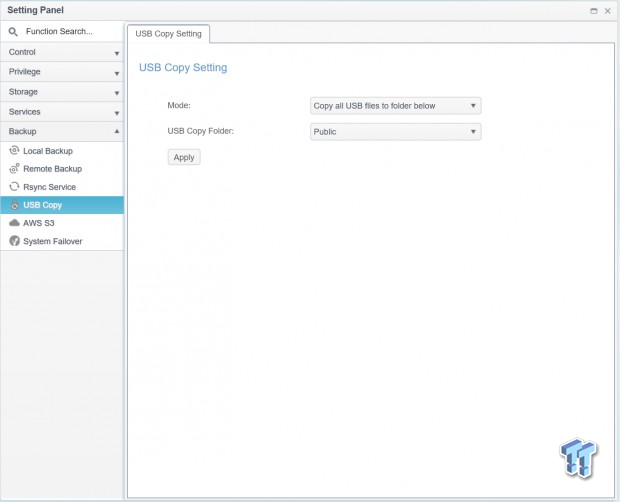 Last, we have the USB Copy option. This has been around for quite some time on nearly every appliance I have tested. With OS 7, you can configure the front mounted USB 3.0 port to complete an action along with selecting a folder to copy from or to.
Benchmarks – Single Client Throughput
Workload
HD Video Play - 720p HD stream from Windows Media Player, 256kB reads
2HD Video Play - 2x playback
4HD Video Play - 4x playback
HD Video Record - 720p HD stream, 256kB writes
File Copy from NAS - 4GB file copy, 64kB reads
File Copy to NAS - 64kB writes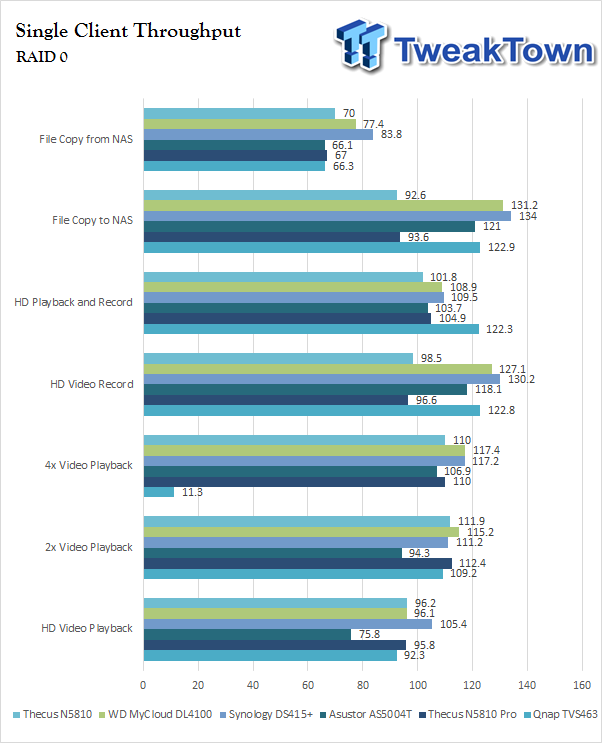 Starting out with our testing, we have for comparison a full complement of NAS solutions. These include the Pro model of the N5810 along with competing solutions from QNAP, ASUSTOR, and Synology. For these and most charts, the N5810 uses a teal green color. Starting with RAID 0 with four drives, the Thecus unit did quite well in Playback and Record at 122.3 MB/s and File Copy at 122 MB/s.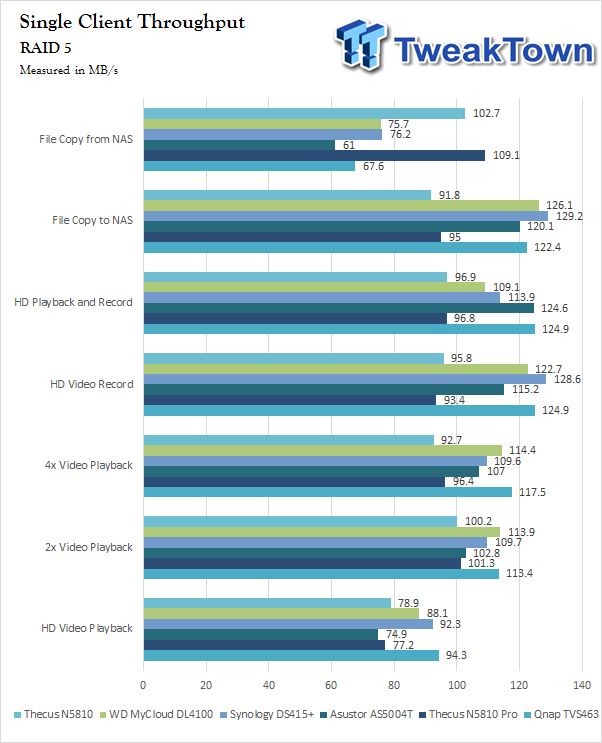 RAID 5 showed the 5810 producing some solid performance with several tests showing over 120 MB/s.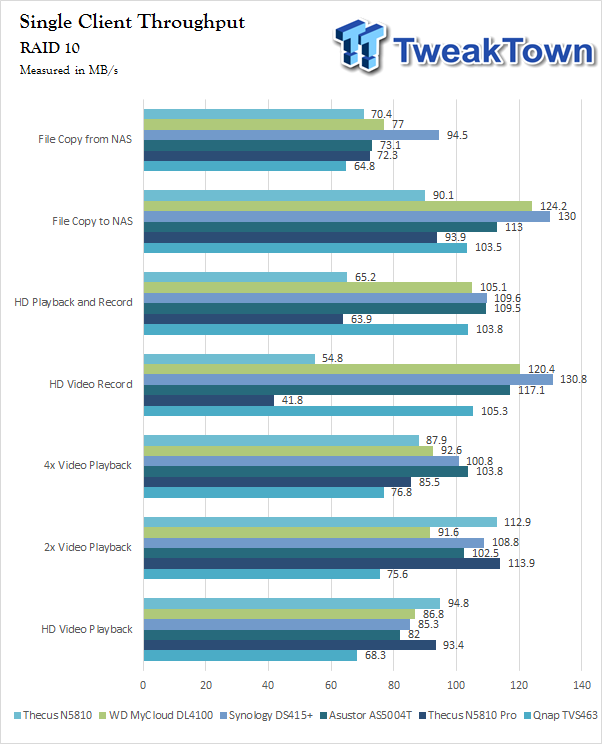 Next, we have the N5810 in RAID 10, where I found it to product near 110 MB/s. Playback was among the lowest results we have received at 68 MB/s and that also matched the File Copy from results as well.
Benchmarks – Sequential and SMB Workloads
Benchmarks – Sequential Workloads
Our Sequential read/write workload is centered on 128K transfer sizes.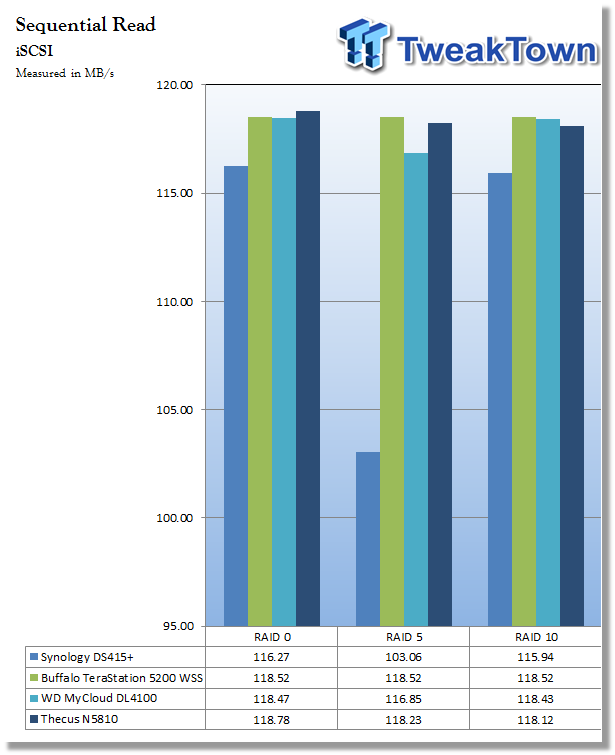 For the sequential testing, I went back and retested a few of the appliances I had in house. Comparing the read performance across these appliances, the N5810 does quite well in all RAID modes with 118 MB/s across all three modes.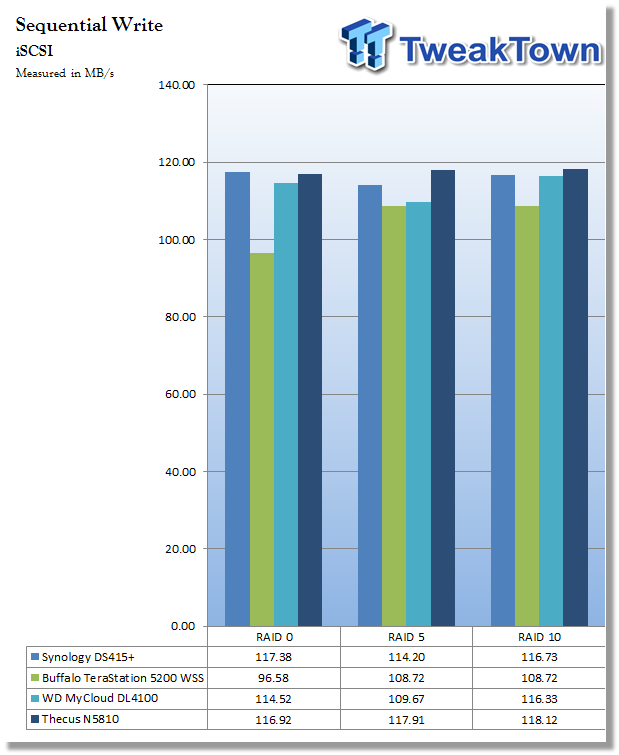 Sequential write showed similar results as each RAID setup produced a consistent 116 MB/s or better.
Benchmarks – SMB Workloads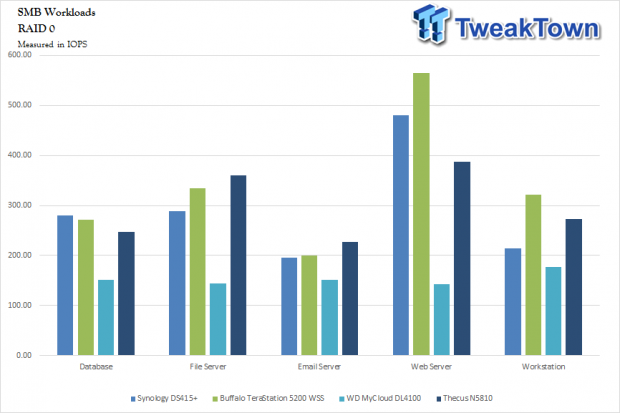 Starting off our SMB workloads with RAID 0, the Thecus unit performed quite well with 250 IOPS in Database, nearly 360 IOPS in File Server, and Web Server topped things off near 400 IOPS.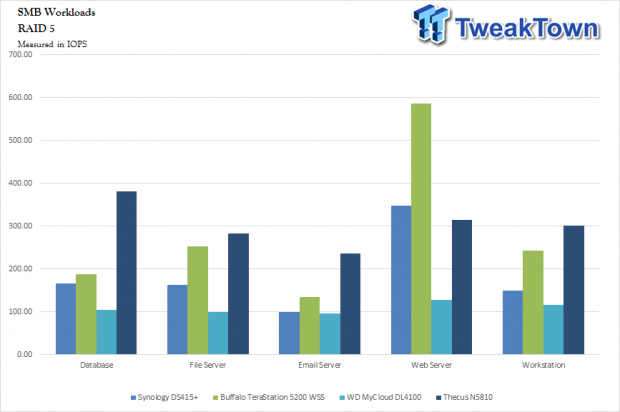 Next up we have our RAID 5 array where the N5810 took the top spot in database with 380 IOPS. This was followed up by 290 IOPS in File Server, 240 IOPS in Email Server and 325 IOPS in Web Server.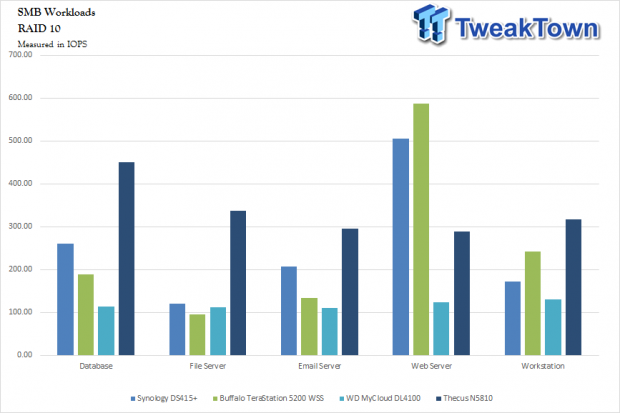 RAID 10 was good for the N5810 and as you can see produced some solid results peeking out at 460 IOPS in Database and 320 IOPs in File Server.
Final Thoughts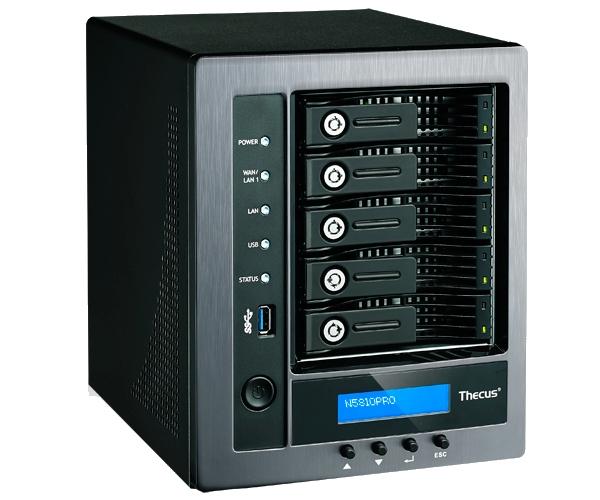 Thecus has slowly been building up some quite exciting features within their NAS lineup, and adding to that now is OS 7. While this new OS is far from refined, as it stands now, it is much more stable now than it was a few months ago when I was testing in beta conditions.
With that said, Thecus has been hard at work to eliminate bugs in this new platform. To test this, there certainly isn't a better platform than the N5810. This NAS, as I stated with its sibling, is one of the top five-bay appliances on the market today. The build quality is top notch including the internal components, every IC in this appliance comes from Intel including the SoC, NICs, and SATA controller.
The performance of this appliance is in the top two or three in every test, and while I certainly can't fit every NAS I have tested in my charts, I can assure you can't go wrong with the N5810. In single client testing, we saw several scenarios where this solution was able to reach over 120 MB/s, a sure sign that the bottleneck is coming from the single Gbe NIC.
When moving over to workloads, the IOPS starting coming with 400 in RAID 0 Web Server followed up by 390 IOPS in RAID 5 Database. The Thecus unit finished testing off with some solid numbers in sequential testing with 118 MB/s read across all RAID modes and 117 MB/s in write.
Overall, with the launch of OS 7 and many of the new features including BTRFS support, the N5810 NAS is more attractive now than ever before. Adding to this is SSD caching technology that has been greatly improved, along with the integrated file server and an entire platform that has been designed for 64-bit architecture.
At the time of writing, the MSRP for the Thecus N5810 is listed at $499.99 with a two-year warranty, making this solution $200 cheaper than the Pro version, but you do lose the UPS and three Gbe ports.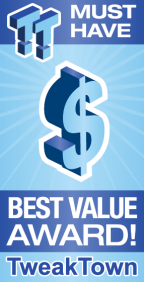 | | |
| --- | --- |
| Performance | 89% |
| Quality including Design and Build | 90% |
| General Features | 85% |
| Bundle and Packaging | 85% |
| Value for Money | 93% |
The Bottom Line: While the interface still needs some polishing, the Thecus N5810 SMB consumer device is one of the most cost effective consumer NAS platforms on the market currently and is worthy of consideration.
PRICING: You can find products similar to this one for sale below.

United States: Find other tech and computer products like this over at Amazon.com

United Kingdom: Find other tech and computer products like this over at Amazon.co.uk

Australia: Find other tech and computer products like this over at Amazon.com.au

Canada: Find other tech and computer products like this over at Amazon.ca

Deutschland: Finde andere Technik- und Computerprodukte wie dieses auf Amazon.de
We openly invite the companies who provide us with review samples / who are mentioned or discussed to express their opinion. If any company representative wishes to respond, we will publish the response here. Please contact us if you wish to respond.