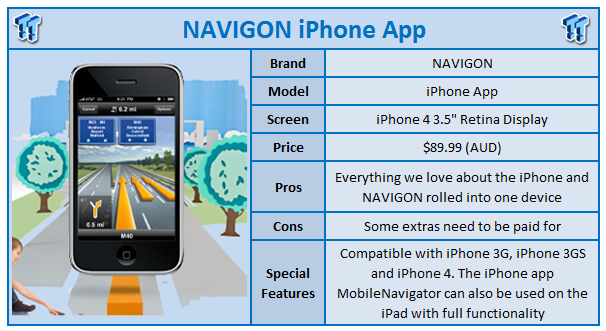 When I first started to hear about GPS software making its way to the App Store, I found myself excited. It was going to be nice to get rid of the TomTom I had in the car. Sure, I loved it, but it would battle with the iPhone for power. Also, after my car was broken into once because it had the holder for another TomTom I had, I never liked having the suction cup holder on the window.
The iPhone is a little different. Someone sees an iPhone holder and they're safely going to assume that it's not floating around in your car; instead it's going to be with you. So, in steps the NAVIGON GPS software which I had hoped would mean I no longer needed my TomTom.
Priced at $89.99, you're getting the software that gives you the ability to have a light weight 3.5" GPS in the car, or anywhere else you go for that matter. The price is actually pretty good when you consider checking out the JB Hi-Fi website and noting that the cheapest 3.5" GPS listed comes in at $148 and isn't wide screen, nor does it have the retina display that's present on the iPhone 4.
At just over 450MB you'll have to be connected to your PC via the USB cable or using WiFi. Once installed, though, it's time to open "NAVIGON" and get started.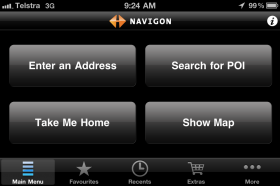 If you've seen any of our NAVIGON reviews before, or used one in the past, you're going to feel pretty comfortable with the software. We start with our main menu and it's all fairly self-explanatory.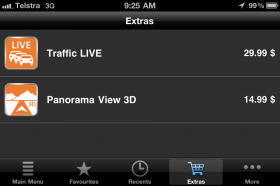 From here we've got a couple of other options. If we go to Extras we're able to download, well, Extras. Utilizing that App store ease, though, is what makes these so great, as getting them is an absolute breeze. The two options available are Traffic LIVE which gives you live updates to traffic situations, and Panorama View 3D which turns your plain 2D landscape in to 3D landscape.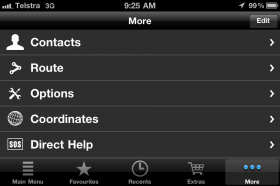 The last button is "More" and gives you options to a few more things as you can see above. The main one, though, is the "Options" option which can help you setup a bunch of settings.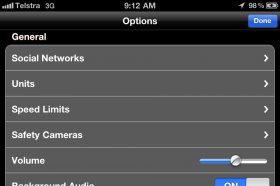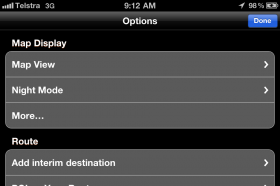 As you can see above, we can setup things like linking the software to Social Network sites, change the units we want to see, speed limits, safety cameras, volume, background audio and different map options.
Of course, you can probably ignore a lot of that initially and just set a destination on where you want to go. Setting up your location is easy and you can be on your way nice and quickly.
The display of roads is a little plain in 2D mode, but I found it doesn't really matter as you're only ever briefly looking at the screen and you don't really need to see fancy pictures of a park or terrain.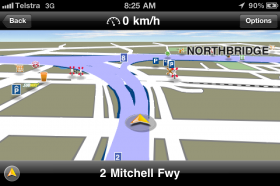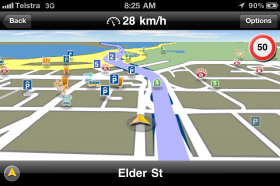 I'm a big fan of the information that we're seeing on the screen, though. Seeing your speed is good and the digital display is easy and fast to read. Considering you're on the road and the GPS is more at eye height, it also feels a little safer to look at instead of having to peer down.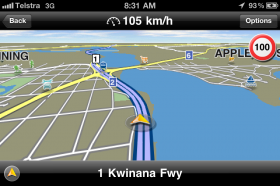 In the right corner we've got a little number that tells us the speed limit of the road you're on. This seemed to be very accurate everywhere I went with the only times it was inaccurate being when road works were present.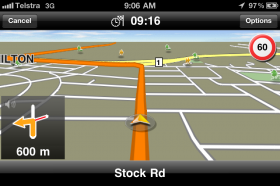 When you've got a destination put in, the orange line is easy to see, especially in the normal 2D mode thanks to the flat surface. Up top we have the estimated time of arrival and as we come to corners we get told how far away we are in both voice and an image.
On the topic of the voice navigation, the volume is good thanks to the quality of the iPhone speaker and it's possible to have it come through your car audio system depending on the kind of dock you use in your car.
Outside of all the main stuff, the NAVIGON App includes all those other features that we love about their GPS line including Lane Assistant Pro, Reality View Pro, Day and Night Mode, Points of Interest, Live Weather and Test-to-speech voice guidance to name just a few that are present on the huge list. You can see the full list
here
and download the App.
Features for just the iPhone version as well include Multitasking and FastAppSwitch, integrated iPod function, portrait and landscape support and the ability for the navigation to resume as soon as you finish a phone call.
With software like this there really seems to be no reason anyone with an iPhone should get lost and not own a GPS. NAVIGON has managed to pack all those features we love while adding a bunch that are suited to the iPhone. What makes the App so nice is probably the simple fact that they just haven't done this basic port from their standard GPS and let it be. Instead they've made a version that complements the iPhone well and integrates some of the features that we particularly love about the iPhone.