TweakTown's Rating: 95%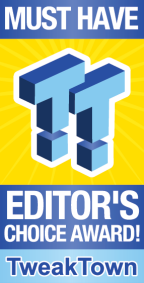 The Bottom Line
The M18 R1 is a fantastic start to Alienware's new 18" gaming laptop segment. The R1 offers top-level performance at the lowest price we have seen.
Pros
+

Great desktop-level performance

+

Upgradable memory and storage

+

Mechanical keyboard with per-key RGB

+

1600p panel with NVIDIA GSync and 165Hz refresh rate

+

Price compared to similar laptops from other vendors
Cons
Should you buy it?
Avoid
Consider
Shortlist
Buy
Introduction, Specifications, and Pricing
With gaming laptops offering desktop-level performance, vendors like Dell, Razer, and Acer have all invested in 18" offerings designed as replacements for the traditional desktop machine. These laptops typically carry top-level hardware, currently the 13th Gen H series from Intel and AMD.
Specifications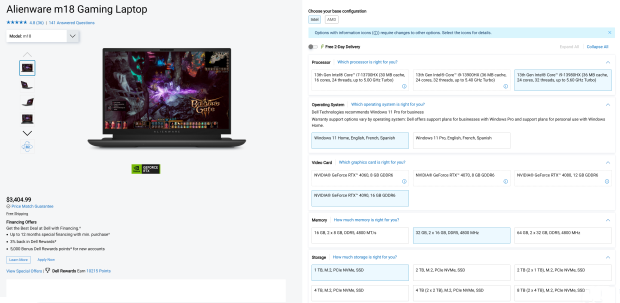 Today, we have an 18" solution from Alienware, with the M18 R1 making an appearance. Hardware for this machine comes in several configurations; ours was spec'd out in the image above. We start with an Intel Core i9 13980HX, a 24-core / 32-thread CPU with a boost clock up to 5.6GHz. Memory was set up with 2x16GB of DDR5 4800MHz, with 64GB being the peak capacity.
Graphics on this machine are supplied by NVIDIA with the GeForce RTX 4090, dedicated memory at 16GB GDDR6. Storage includes several options from 1TB to 8TB; ours was deployed with the 1TB option. Connectivity includes four USB 3.2 Gen 1 and two Thunderbolt 4 that support DP alt mode alongside HDMI 2.1. Networking consists of wired and WiFI6e options, including Bluetooth 5.2.
Pricing
As configured for our review, the Alienware M18 R1 comes in at $3400 with a one-year warranty.
Notebook Overview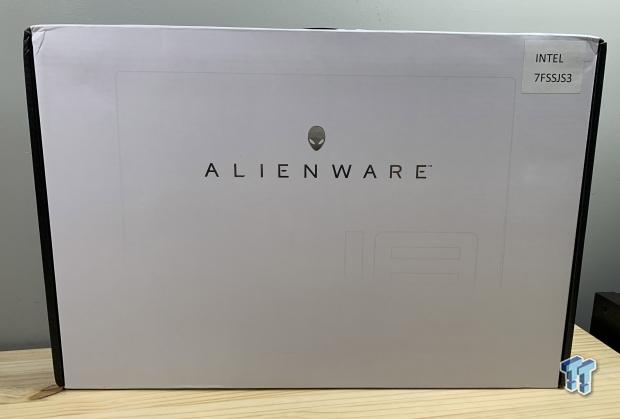 The M18 arrived in a large white box with Alienware branding on the front.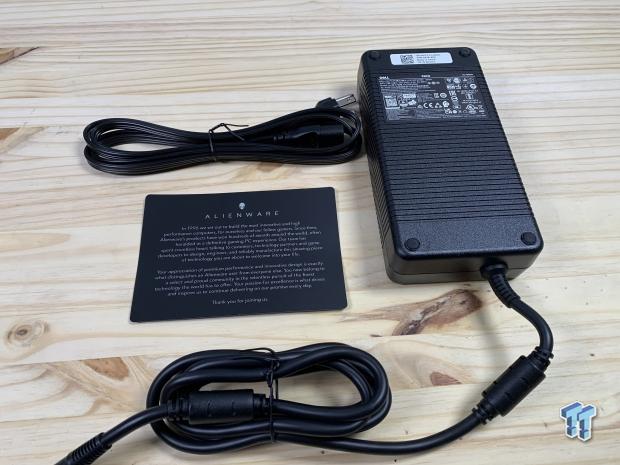 Unboxing, we have a 330w power adapter.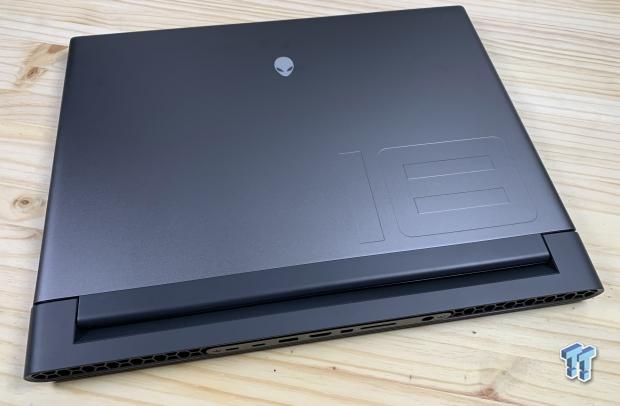 Further into our unboxing, we have the laptop itself. Note the "18" embossed into the chassis and the Alienware logo centered in the chassis. Along the backside of the laptop, we have the rear I/O, which includes Thunderbolt 4, USB 3.2, and HDMI. Further right, we have RJ45 ethernet and MiniDP.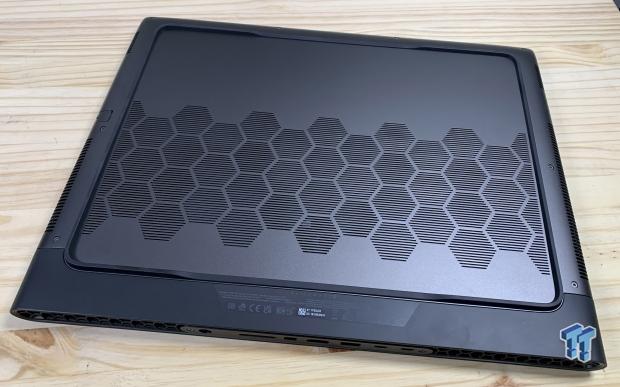 The bottom includes venting for the internal components; this is also where the intake is for the integrated cooling.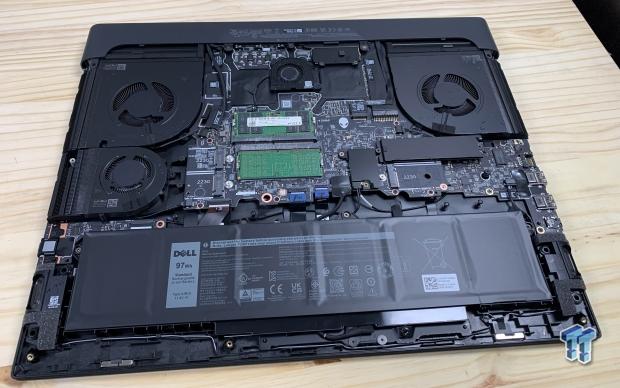 Internally, we have the battery at the bottom, a 97wH option. Up top, we have two SO-DIMM slots for DDR5 memory and four m.2 slots, one supporting 2280 drives and three supporting 2230 drives.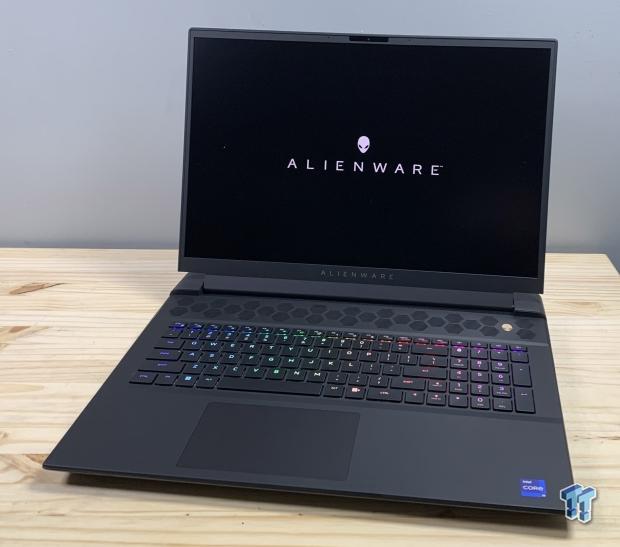 Opening the notebook, we have a standard-sized trackpad offset in the chassis. Above, we have a full mechanical keyboard.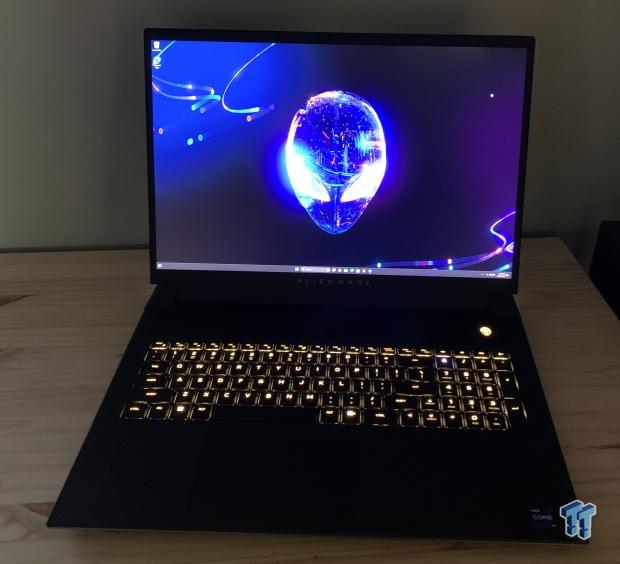 RGB is included on the M18 for the keyboard.
BIOS/UEFI and Software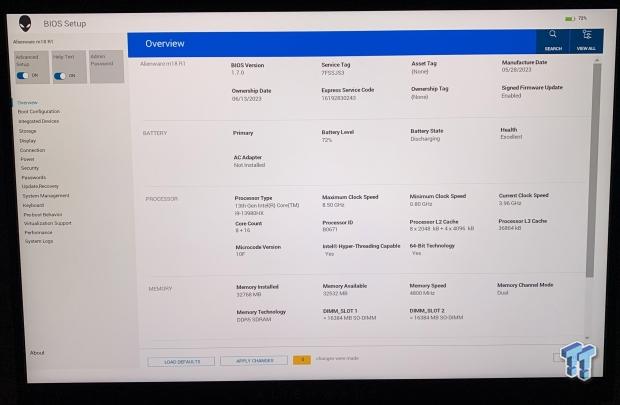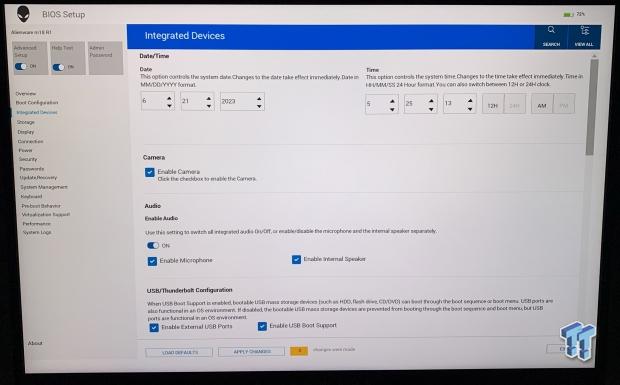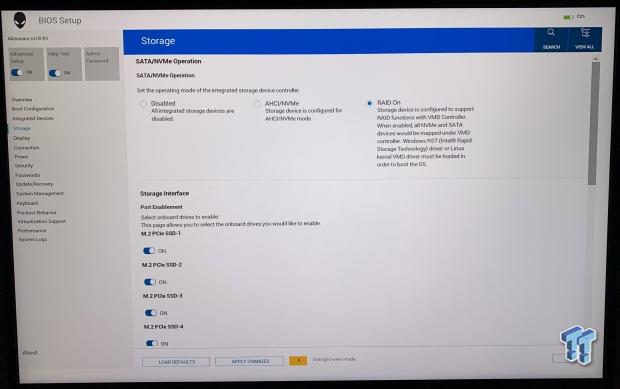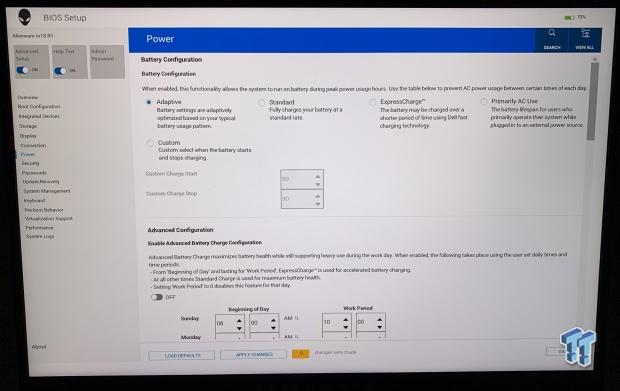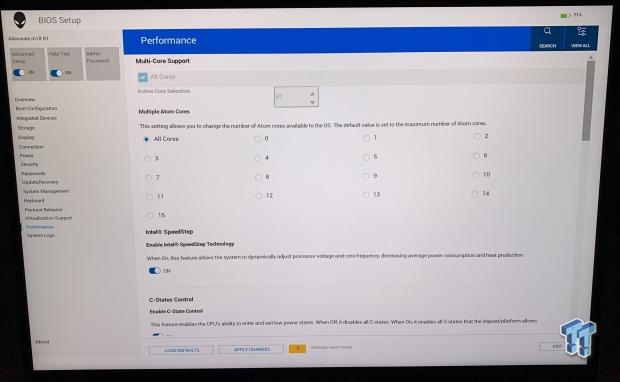 The BIOS is a GUI solution that is quite similar to past Alienware machines. The main page offers hardware information. The advanced menu moves into cooling modes and allows you to disable cores. This menu option does allow you to configure graphics switching as well.
Software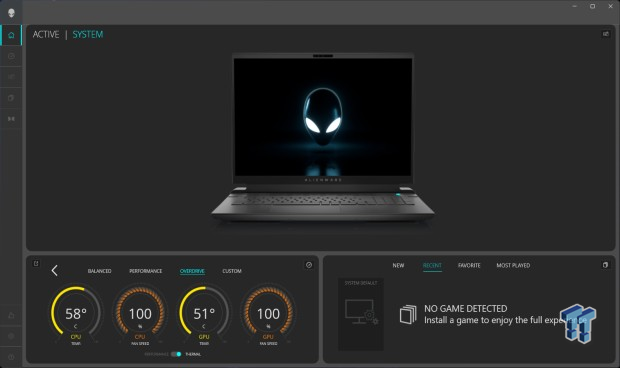 Software for the M18 is seen above. The home tab offers fan presets at the bottom.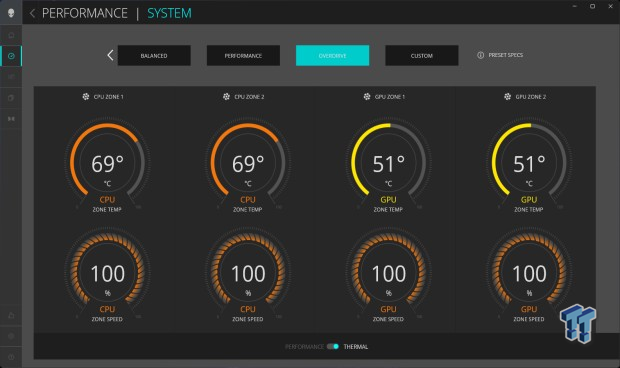 Next up, we have the performance tab, which offers overclocking presets for this system and, down below, monitoring for fan speed and temps for several zones.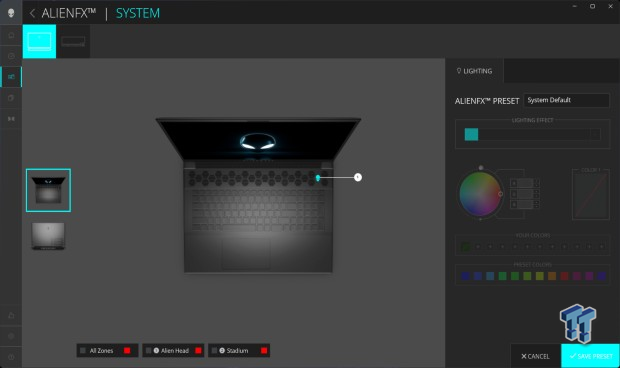 AlienFX encompasses the RGB lighting of the system, which includes the power button, keyboard, and rear I/O.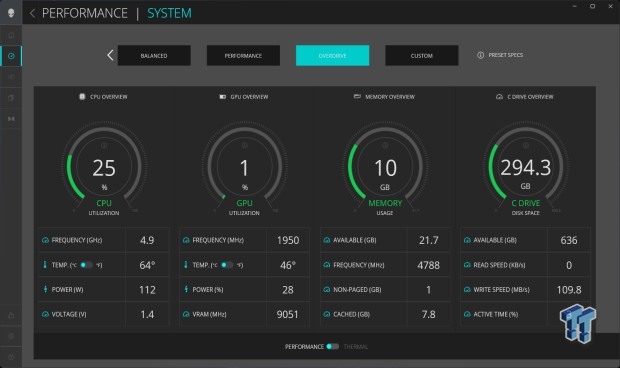 System/CPU Benchmarks
Cinebench
Cinebench is a long-standing render benchmark that has been heavily relied upon by both Intel and AMD to showcase their newest platforms during unveils. The benchmark has two tests, a single-core workload that will utilize one thread or 1T. There is also a multi-threaded test that uses all threads or nT of a tested CPU.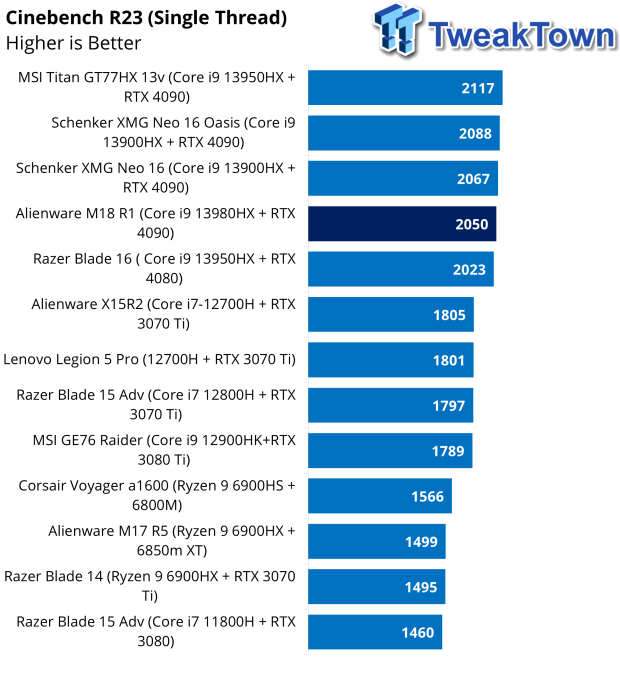 Single thread performance of the M18 was top five for us. We picked up a score of 2050 in R23.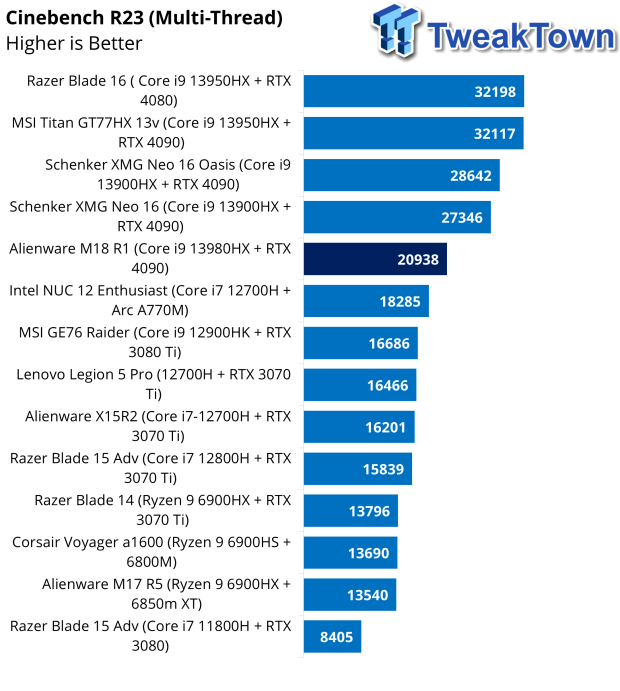 The multi-thread performance touched 20938.
AIDA64 Memory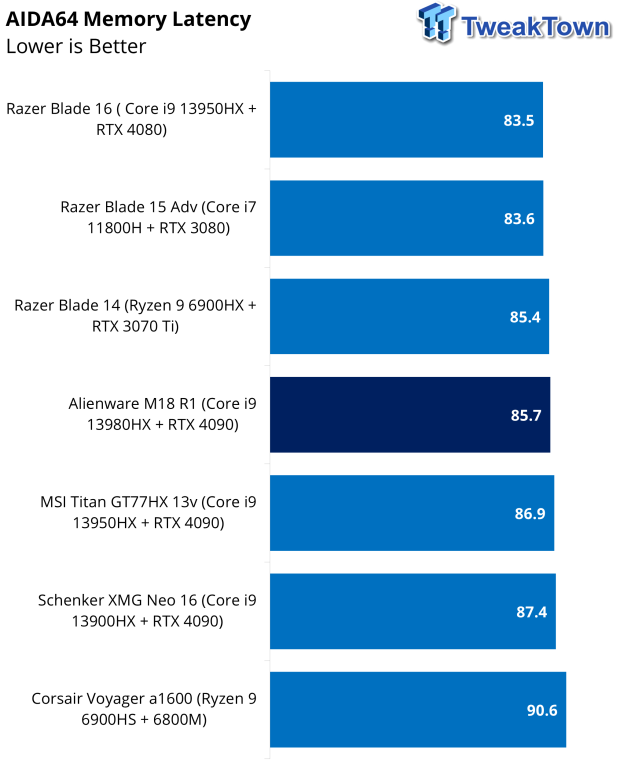 Memory Latency on this machine was 85.7ns, better than the GT77 from MSI and XMG M18 16.
BAPCo CrossMark
CrossMark™ is an easy-to-run native cross-platform benchmark that measures the overall system performance and system responsiveness using models of real-world applications. CrossMark™ supports devices running Windows, iOS, and macOS platforms.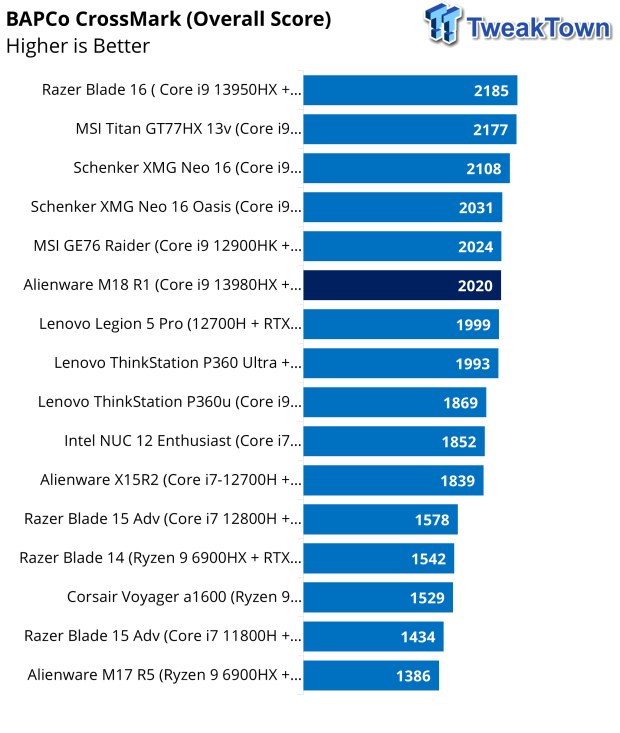 CrossMark was our first system-wide benchmark, which offered a score of 2020 for the M18.
GeekBench 6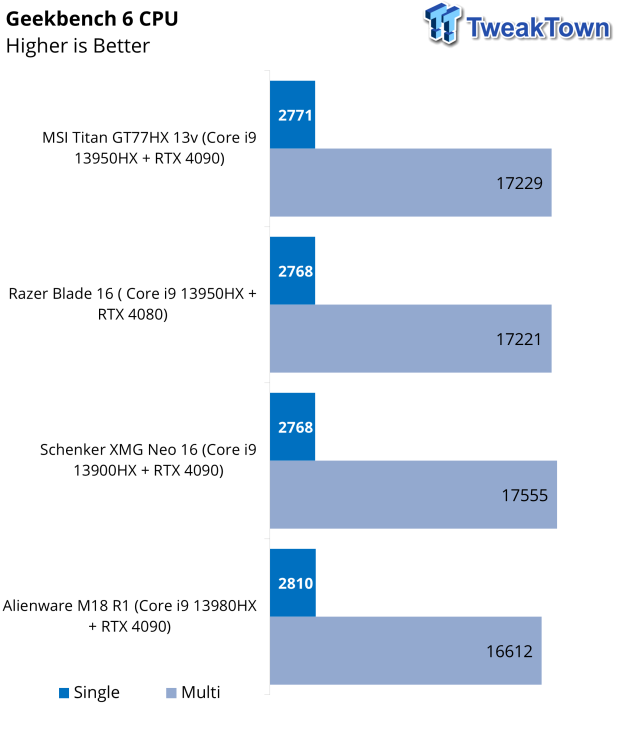 Geekbench CPU gave us a single thread score of 2810, our highest score yet, while multi-thread pushed a score of 16612.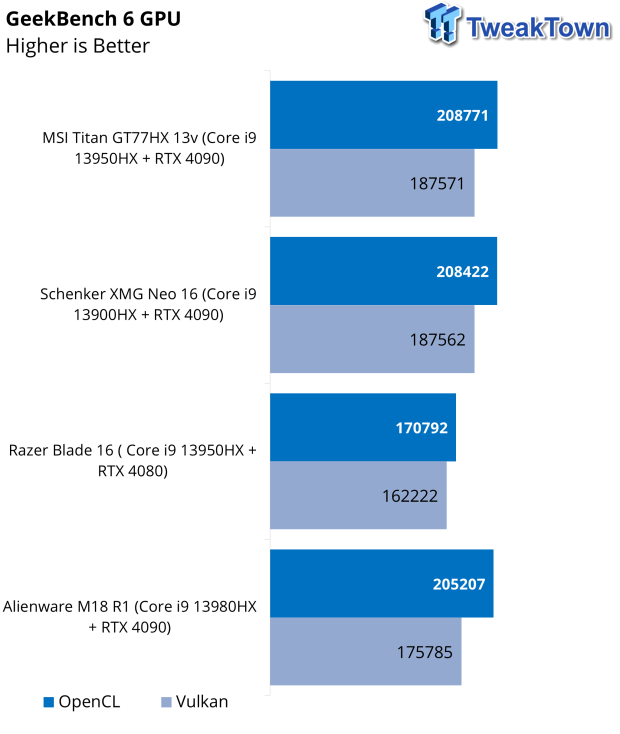 Looking at GPU results, we picked up 175K with Vulkan and 205K with OpenCL.
Storage, Battery, and Gaming
PCMark and 3DMark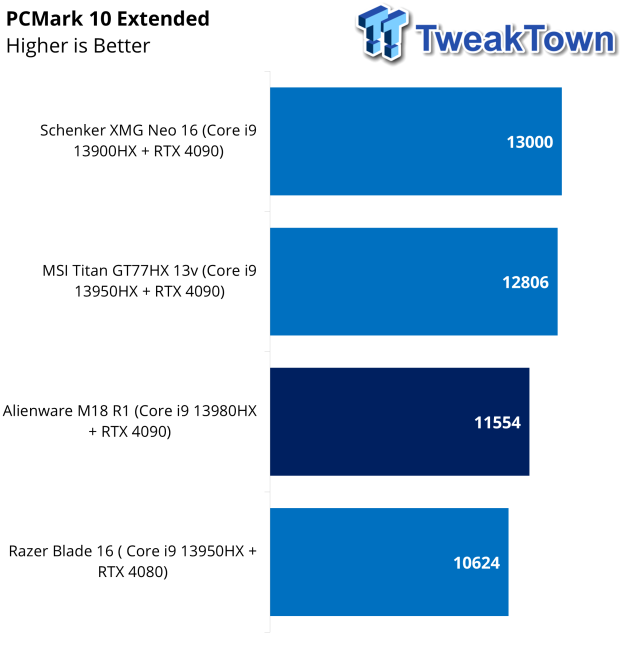 PCMark extended gave us a score of 11554 for the M18.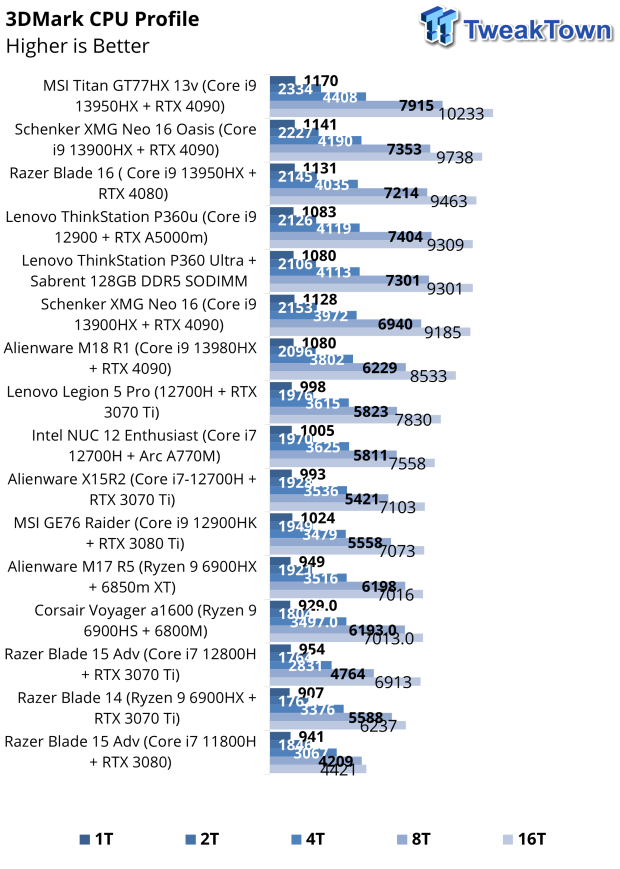 CPU Profile within 3DMark gave us a single thread score of 1080 while sixteen threads pulled 8533.
Graphics Performance
We ran through several titles to test the graphics performance of M18.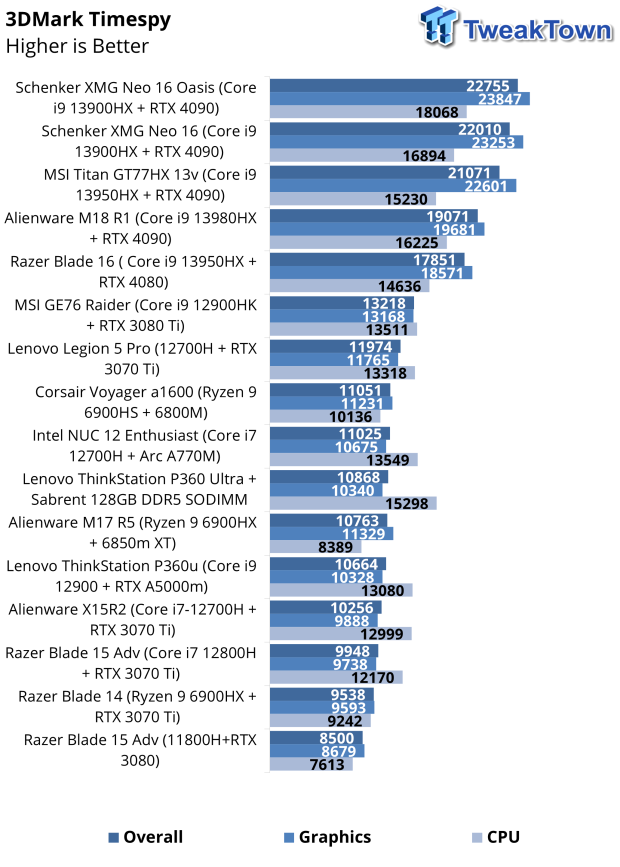 Switching gears to gaming workloads, we start first with 3DMark Time Spy. This gave us an overall of 19071, GPU grabbing 19681 with the CPU scoring 16225.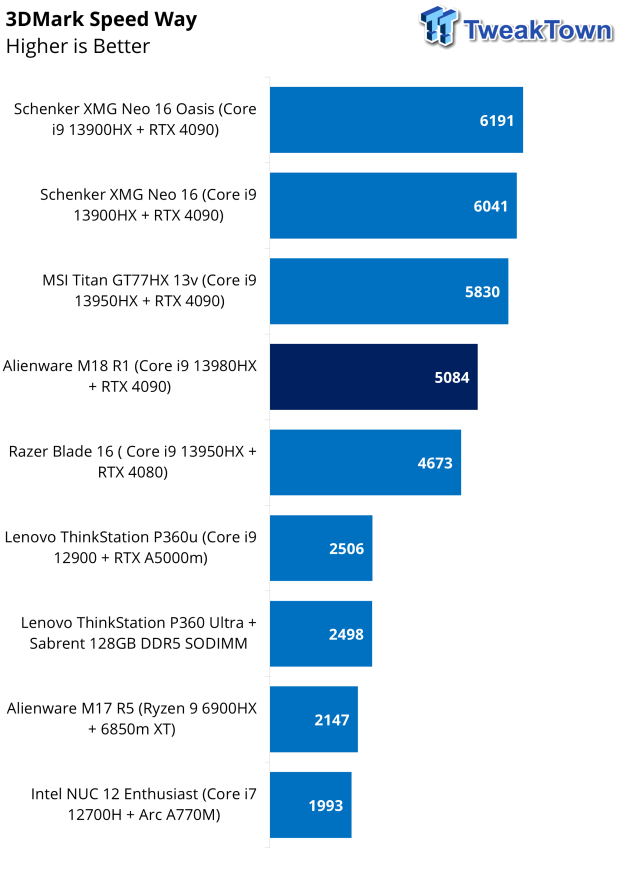 Speed Way gave us an overall of 5084.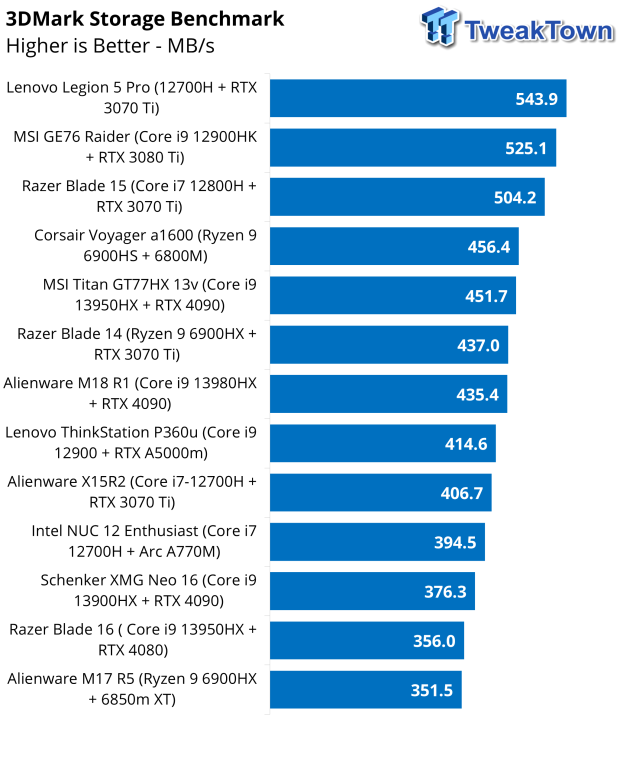 Storage score for the M18 R1 came in at 435 MB/s, middle of the pack.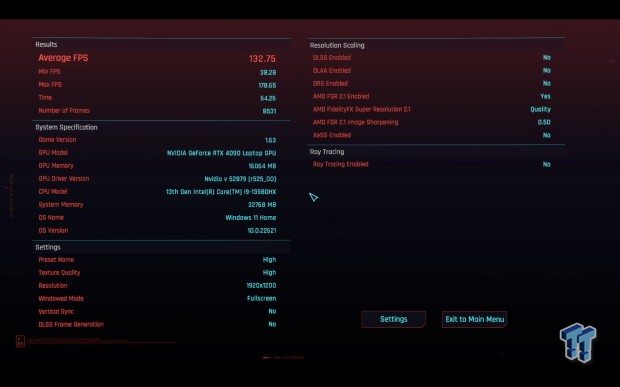 Cyberpunk 2077 gave us 132 FPS at 1080p.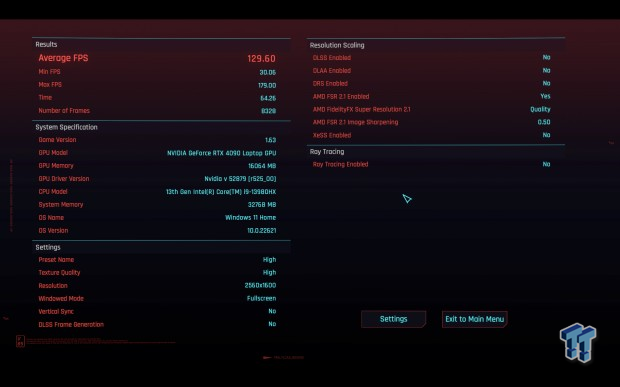 We lost very little performance by increasing the resolution to 1440p. The M18 R1 lands at 129 FPS.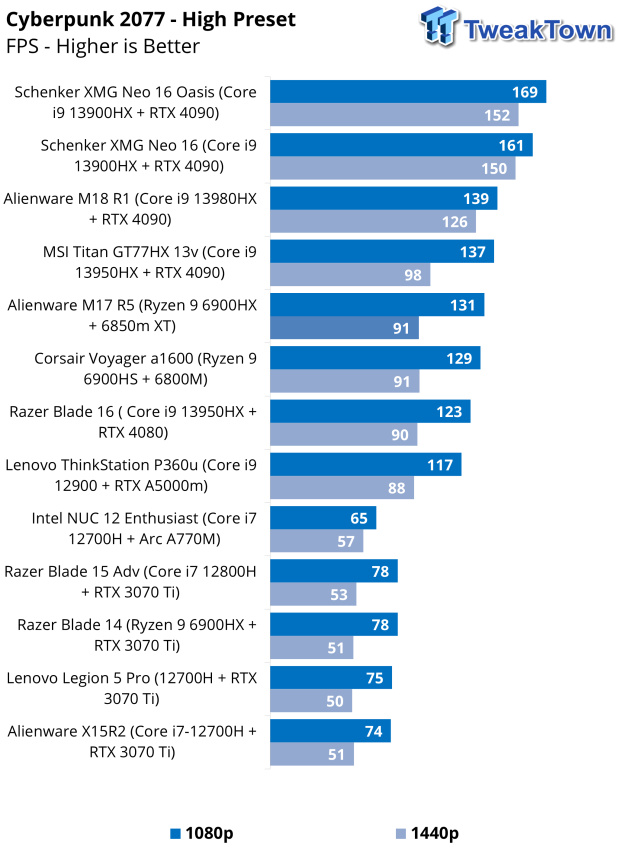 For comparison, the M18 R1 lands second to the XMG M18 in our Cyberpunk 2077 chart.
Battery Life, Value, and Final Thoughts
Battery Life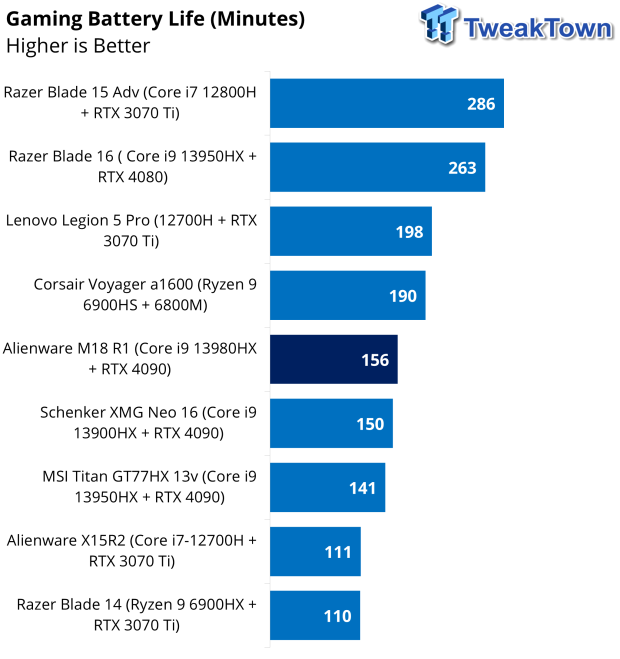 As you can imagine, the battery life for any gaming laptop isn't great. That said, the M18 R1 did provide 156 minutes of playtime.
Value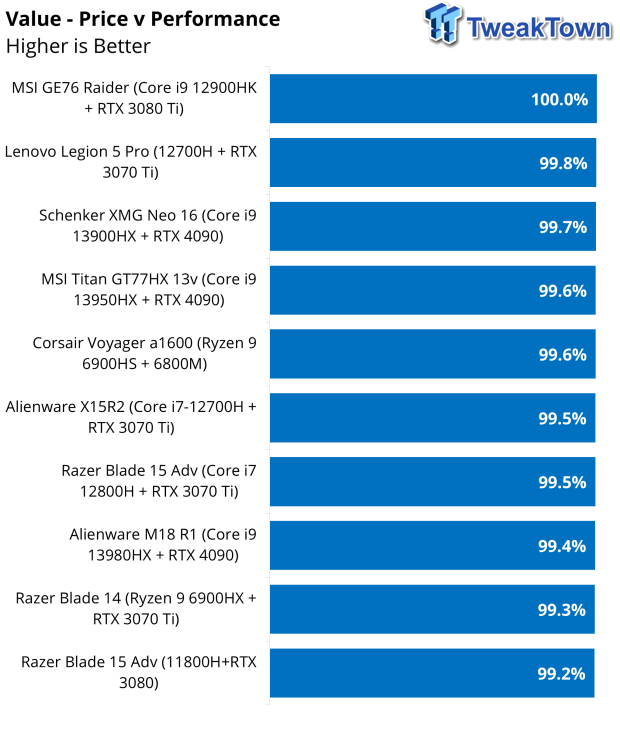 Value is nearly the same across the board, with no single machine standing out. That said, from top to bottom, we are within one percent; the M18 R1 lands at 99.4%.
Final Thoughts
With this being a first-generation offering from Alienware, the M18 R1 takes much of its design and appearance from previous systems. That said, the display on this machine is fantastic at 18", certainly desktop quality with its 1600p resolution and 165Hz refresh rate. Further, it supports NVIDIA GSync and DDS and has a front-facing full HD IR camera. Continuing with the chassis, we have a per-key RGB mechanical keyboard with Cherry MX switches. The trackpad is standard in size, supports multi-touch gestures, and offers a nice mechanical click.
Getting to performance, this offering from Alienware is the best laptop offering we have tested from them. It landed top three in R23 and top five in Crossmark. Geekbench showed our highest single-core CPU score yet, with the M18 scoring 2810, with multi-core giving the lowest we have seen of the four 13th Gen Intel systems we have tested. GPU scores landed Alienware third in Vulkan and OpenCL, while Time Spy and Speed Way also landed third in our charts.
Battery life was the best we have seen from an NVIDIA GeForce RTX 4090-based laptop, beating the XMG by six minutes. Pricing for the Alienware M18 R1 as configured landed at $3400. For comparison, the MSI Titan GT77 HX we tested earlier in the year, now in our charts, came in at $5200 with 128GB of DDR5 and a 4TB NVMe, the rest of the system being identical to the M18 R1.
This pushes me towards the M18 as the better value, coming in $1800 cheaper than the MSI option while having the same build internally.