The Steam Hardware and Software Survey results for October 2023 are in, and it's very good news for NVIDIA - with its share of the total GPU market increasing by an impressive 5% compared to the September 2023 results. It's now 82.2%, with second-place AMD's market share rapidly declining from around 15% in September to 11.5% in October 2023.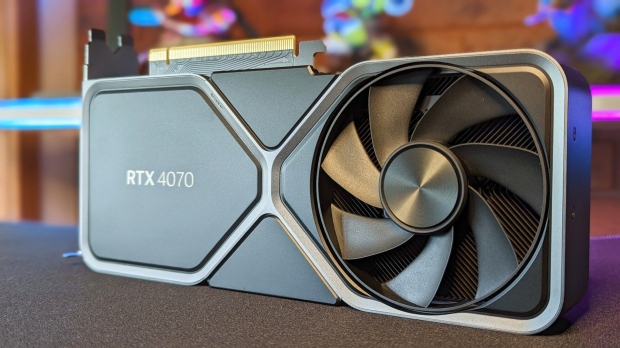 For NVIDIA's current GeForce RTX 40 Series of GPUs, the Ada Lovelace generation is starting to make some major moves - with the most popular model in the lineup being the GeForce RTX 4070. It's sitting just outside the top ten, too, so odds are it'll crack the full ten GPUs out in the wild before the year ends. Especially if the recent discounts that brought the GeForce RTX 4070 price down to USD $549 hold.
The GeForce RTX 4070's popularity makes sense; it's one of the best value GPUs currently available - delivering excellent 1440p performance with next-level efficiency. The GeForce RTX 4070's position in the top GPUs is closely followed by the GeForce RTX 4060 and the GeForce RTX 4060 Ti.
According to the data, the mainstream GeForce RTX 3060 remains the most popular GPU, followed by the GeForce RTX 2060 and the GeForce RTX 3070.
Another interesting result comes from the GeForce RTX 4080 surpassing the flagship GeForce RTX 4090 in terms of market share for the very first time - though it's extremely close with the RTX 4080 sitting on 0.61% and the RTX 4090 sitting on 0.60%.
As AMD's total market share sees a pretty big decline for October 2023, the most popular Radeon GPU is still 2017's Radeon RX 580, delivering performance roughly on par with the GeForce GTX 1060. The GTX 1060 is still in the top five and will probably stay in the top ten for some time.
For the new RDNA 3-powered Radeon RX 7000 Series, the only GPU that makes the cut (towards the very end of the list) is the Radeon RX 79800 XTX.
Here's a look at the Top 20 GPUs according to the Steam Hardware Survey and Software results for October 2023.
NVIDIA GeForce RTX 3060 - 9.68% (+3.58%)

NVIDIA GeForce RTX 2060 - 5.93% (+1.37%)

NVIDIA GeForce RTX 3070 - 5.06% (+1.54%)

NVIDIA GeForce GTX 1060 - 4.98% (+0.41%)

NVIDIA GeForce RTX 3060 Ti - 4.83% (+0.90%)

NVIDIA GeForce GTX 1650 - 3.55% (-1.10%)

NVIDIA GeForce RTX 3060 Laptop GPU - 2.68% (-1.04%)

NVIDIA GeForce RTX 3080 - 2.58% (+0.47%)

NVIDIA GeForce GTX 1050 Ti - 2.39% (-0.65%)

NVIDIA GeForce GTX 1660 SUPER - 2.14% (-0.33%)

NVIDIA GeForce RTX 4070 - 2.08% (+1.16%)

NVIDIA GeForce RTX 3050 - 2.03% (-0.48%)

NVIDIA GeForce RTX 3070 Ti - 1.86% (+0.37%)

NVIDIA GeForce RTX 4060 - 1.75% (+1.23%)

NVIDIA GeForce GTX 1660 - 1.74% (+0.34%)

NVIDIA GeForce RTX 2060 SUPER - 1.69% (+0.26%)

NVIDIA GeForce RTX 2070 - 1.53% (+0.39%)

NVIDIA GeForce GTX 1660 Ti - 1.49% (-0.33%)

AMD Radeon Graphics - 1.47% (-0.36%)

Intel Iris Xe Graphics - 1.40% (+1.40%)