Ubisoft has taken to its social media channels to praise its developers behind Assassin's Creed Mirage on achieving the most successful launch on current-gen consoles for Ubisoft in terms of unit sales.
Assassin's Creed Mirage has been available for just six days, and the team has already released a statement congratulating the team behind the title and thanking gamers for their title's reception. Ubisoft thanked fans of the series for coming along for the 15-year legacy of the Assassin's Creed series and, in celebration, shared some statistics sourced from the first week of Assassin's Creed Mirage.
According to Ubisoft, players have already spent 479 collective years parkouring the rooftops of Baghdad; players have done the iconic leap of faith 60 million times; and last but not least, 1.2 million cats have been pet in-game.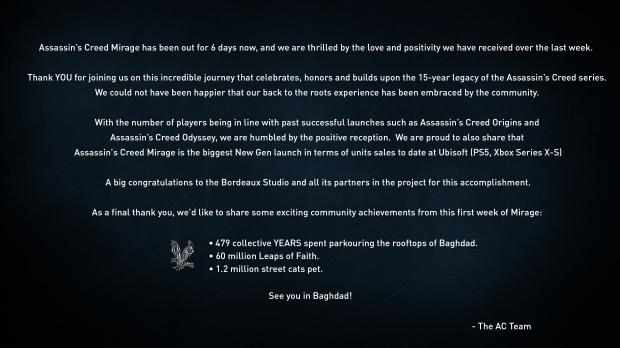 "With the number of players being in line with past successful launches such as Assassin's Creed Origins and Assassin's Creed Odyssey, we are humbled by the positive reception. We are proud to also share that Assassin's Creed Mirage is the biggest New Gen launch in terms of units sales to date at Ubisoft (PS5, Xbox Series X-S)," writes Ubisoft