MSI's Ventus range of GeForce RTX graphics cards is one of the company's most popular among consumers as they adhere closely to the MSRP pricing set by NVIDIA. Being more affordable is only one part of the picture; the Ventus range also offers excellent cooling and thermal performance - often comparable to higher-end models and variants.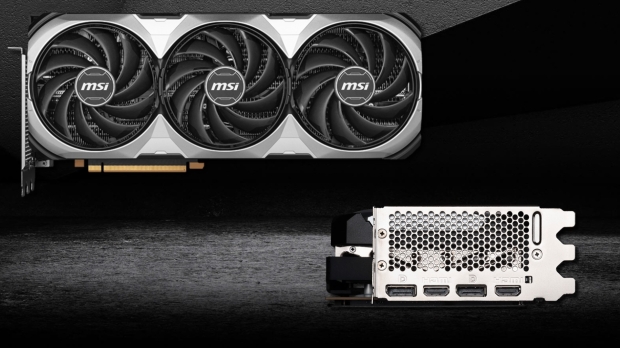 Today, we've got word that MSI has quietly updated some of its GeForce RTX 40 Series Ventus graphics cards with new 'E' models - apparently part of a new Ventus Essential series. They look identical to previous Ventus models, but sources say they might feature enhancements or revisions to the overall build quality and components used.
Changing the make-up or revising products over their lifecycle is not uncommon, and it's something we've seen MSI do in the past - and by the sounds of things, these new Ventus E variants are not cheaper or otherwise inferior models. However, there is one big change to the display output configuration on the MSI GeForce RTX 4090 VENTUS 3X E models.
Unlike the non-E variants, you get three DisplayPort 1.4 ports and a single HDMI 2.1 port; the new version updates this to two of each - so 2 x DisplayPort 1.4 ports and 2 x HDMI 2.1 ports. Interestingly, this change doesn't seem present in the GeForce RTX 4070 Ti and GeForce RTX 4070 models. Outside of this, the specs remain the same as previous models, with only a slight variance in weight.
MSI has put up the product pages for the new Ventus Essential range, and you can check them out below.