Kingston FURY has announced some new additions to its DDR5 memory lineup sporting stylish white heat spreaders, which would pair nicely with builds that incorporate the latest color trend.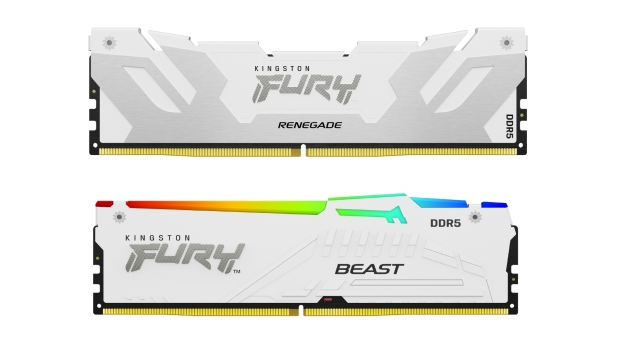 Kingston FURY BEAST DDR5 memory sports the new white heat spreader with Kingston FURY BEAST DDR5 RGB adding a dose of lighting with 18 built-in lighting effects that can be tweaked further via Kingston FURY CTRL software.
The main draw here is the additional speed that comes with making the jump to DDR5. Kingston FURY BEAST DDR5 supports plug-and-play speeds of 4800 MT/s, with Intel XMP 3.0 or AMD EXPO Certified kits offering overclocking up to 6000 MT/s. Kingston FURY BEAST DDR5 is available in 8GB, 16GB, and 32GB single modules, kits of two up to 64GB, with kits of four coming next month.
For those looking for maximum performance, the new Kingston FURY Renegade DDR5 memory offers low latencies and impressive speeds of up to 7200 MT/s. Kingston also offers Kingston FURY Renegade DDR5 RGB versions for extreme overclocking with added RGB lighting.
All Kingston FURY DDR5 memory is tested to deliver the speeds as advertised and is backed by a lifetime warranty. The main thing is that you're getting reliable Kingston FURY DDR5 memory, but now in white.
"We're pleased to expand the look of our Kingston FURY DDR5 lineup with the addition of white heat spreaders," said Kristy Ernt, DRAM business manager, Kingston. "As creativity flows and gaming evolves, we want to empower our users to choose the modules that best fit their individual style."
Here's a look at the full features and specifications.
Kingston FURY Beast DDR5 Features and Specifications
Greater starting speed performance: With an aggressive starting speed at 4800MT/s, DDR5 is 50% faster than DDR4.

Improved stability for overclocking: On-die ECC (ODECC) helps maintain data integrity to sustain the ultimate performance while you push the limits!

Increased efficiency: Boosted by double the banks and burst length and two independent 32-bit subchannels, DDR5's exceptional handling of data shines with the latest games, programs and demanding applications.

Intel XMP 3.0 certified: Advanced pre-optimized timings, speed and voltage for overclocking performance and save new user-customizable profiles utilizing a programmable PMIC.

AMD EXPO certified: AMD's Extended Profiles for Overclocking

Qualified by the world's leading motherboard manufacturers: Tested and approved so you can build and upgrade with confidence on your preferred motherboard.

Low-profile heat spreader: Newly designed heat spreaders in black or white combine bold styling and outstanding cooling functionality.

Plug N Play at 4800MT/s: Kingston FURY Beast DDR5 will auto-overclock itself to the highest listed speed allowed by the system BIOS.

Enhanced lighting with new heat spreader design (RGB): Game in style by customizing the black or white heat spreaders with the smooth, stunning range of 18 RGB lighting effects using Kingston FURY CTRL or the motherboard manufacturer's software.

Patented Kingston FURY Infrared Sync Technology (RGB): Vibrant RGB effects light in unison with Kingston's patented Infrared Sync Technology.

Capacities: 8GB, 16GB, 32GB

Speeds: 4800MT/s, 5200MT/s, 5600MT/s, 6000MT/s

Latencies: CL36, CL38, CL40

Voltage: 1.1V, 1.25V, 1.35V

Operating Temperature: 0 °C to 85 °C

Dimensions: 133.35 mm x 34.9 mm x 6.62 mm, 133.35 mm x 42.23 mm x 7.11 mm (RGB)
Kingston FURY Renegade DDR5 Features and Specifications
Engineered to Maximize Performance: With speeds up to 7200MT/s, Kingston FURY Renegade DDR5 RGB features premium components hand-tuned by engineers, rigorously tested for compatibility across the industry's leading motherboards, and backed by 100% factory testing at speed for a hassle-free overclock experience.

Tap Into Extreme Overclocking Potential: DDR5 ushers in a whole new era of memory technology to make extreme overclocking a more stable option than previous generations. On-die ECC delivers more reliable DRAM components, an on-board PMIC balances power when and where it's needed, and two independent 32-bit subchannels provide dramatic increases in data efficiency for multi-core processors.

Intel XMP 3.0 Certified: Intel Extreme Memory Profile technology makes overclocking a breeze with advanced pre-optimized factory timings, speeds and voltages for overclocking performance. Renegade DDR5 RGB features a programmable PMIC for XMP 3.0, supporting up to two customizable profiles to optimize your own unique timings, speeds, and voltages saved directly to the DIMM.

Qualified by the World's Leading Motherboard Manufacturers: Tested and trusted for your preferred motherboard so you can build with confidence.

Aggressive Aluminum Heat Spreader Design: Newly designed black & silver and white & silver aluminum heat spreaders with black PCB keep your rig running- and looking- cool to complement the look of your latest PC build.

Dynamic RGB lighting (RGB): Bring your system to life with 18 preset RGB lighting effects utilizing Kingston FURY CTRL or the motherboard manufacturer's RGB software with the sleek newly designed black & silver or white & silver aluminum heat spreaders with black PCB.

Kingston FURY Infrared Sync Technology (RGB): Ensure your RGB lighting effects stay in perfect lock-step with Kingston's patented Infrared Sync Technology.

Capacities: 16GB, 32GB

Speeds: 6000MT/s, 6400MT/s, 6800MT/s, 7200MT/s

Latencies: CL32, CL36, CL38

Voltage: 1.35V, 1.4V, 1.45V

Operating Temperature: 0 °C to 85 °C

Non-RGB Dimensions: 133.35mm x 39.2mm x 7.65mm, 133.35mm x 44mm x 7.66mm (RGB)