The display of Apple's iPhone 15 could be larger than the existing iPhone 14, if a new leak is correct.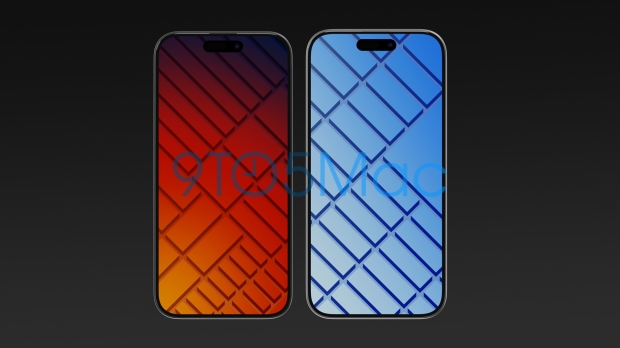 However, don't expect the screen to be much bigger, as the rumored increase - and remember, this is just a rumor - is very slight.
This comes from 9 to 5 Mac, who got hold of 3D CAD files that are purportedly for the iPhone 15, and indicate that the display is going to be 6.2-inches, just a tad bigger than the iPhone 14 which sits at 6.1-inches.
As you can see in the image directly above, Ian Zelbo turned the leaked CADs into pics of the iPhone 15 and 15 Pro as they'd look, assuming these design specs are on the money. Other noteworthy confirmations of previous rumors here include the Dynamic Island coming to all next-gen iPhone models, not just the Pro, and USB-C charging.
The question is if the iPhone 15 is getting an expanded screen to 6.2-inches, will the iPhone 15 Pro stay in step with that? We don't know is the short answer to that.
Previous rumors have suggested that Apple will keep the size of all next-gen iPhone models the same as the current handsets, but if this new info is correct, the smaller (6.1-inch) iPhones may get a bump to 6.2-inches. Or just the vanilla iPhone 15, with the iPhone 15 Pro staying at 6.1-inches, perhaps - while benefiting from super-slim bezels according to other recent speculation.
That last rumor further contends that the display might also have a curve at the very edge, so Apple is shooting for a premium appearance here, which would be no surprise for an iPhone Pro.
iPhone 15 Pro buyers could also benefit from more RAM, with the smartphone purportedly running with 8GB rather than 6GB as with existing models. That should help boost performance nicely along with the obligatory faster processor, if Apple does indeed go ahead with upping the memory configuration.
Apple is expected to launch its next-gen iPhone models later this year, likely in the fall. Until then, we can expect a steady stream of rumors floating down from sources here and there, all with one thing in common: they may or may not happen, as is always the case with whispers from the grapevine.