The NVIDIA RTX 6000 Ada workstation GPU isn't designed for gaming, but that hasn't stopped someone from putting its traditional 2-slot blower-fan cooling design to the test using the 3DMark Time Spy performance benchmark.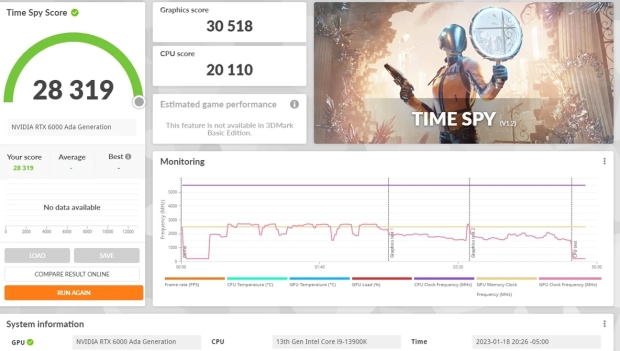 The 30518 graphics score represents a 72% boost over its workstation predecessor, the RTX A6000 Ampere-based GPU. The card is slower than the GeForce RTX 4090, but its intended use isn't gaming. According to the source, it reportedly hit closer to 36000 before a Windows update, so its performance could be much closer to the RTX 4090.
Specs-wise, the NVIDIA RTX 6000 Ada's 18,176 CUDA cores is an 11% increase over the RTX 4090's 16,384 CUDA Core count, and it also features more memory in the form of 48GB GDDR6 over a 384-bit interface. The card is also rated at 300W, which makes it an efficient powerhouse for workstation tasks.
Its price point of USD 6800 also means that it's more "for science" than "for Call of Duty." According to reports, the NVIDIA RTX 6000 Ada workstation GPU is designed to run 24/7 for ten years without breaking a sweat.
Redditor Healthy-Blood-54 posted the benchmark results, noting that temperatures hit 85C under full load, with the fans settling in at around 70%. And that's 70% blower-fan, so no doubt it would have been a little noisy compared to the quiet GeForce RTX 4090.
The rumored GeForce RTX 4090 Ti is said to feature a similar 18,176 CUDA core count, but as that will be built for gaming, it's expected to perform a lot better in equivalent 3DMark tests.