NVIDIA 'the beast' AD102 GPU: 18176 GPU cores, 48GB GDDR6X, 800W power
NVIDIA flagship AD102 GPU dubbed 'the beast' with 18176 CUDA cores, 48GB GDDR6X at 24Gbps, and 800W TBP. Monster GPU incoming.
Published Jul 25, 2022 7:03 PM CDT
|
Updated Wed, Aug 17 2022 12:04 AM CDT
3 minutes & 23 seconds read time
NVIDIA is closer than it appears to launching its next-gen Ada Lovelace GPU architecture, with a purported "the beast" GPU powered by the AD102 GPU and a new board design: PG137.
The new NVIDIA PG137 board design is different from the PG139 that will make up the GeForce RTX 4090, with leaker "kopite7kimi" teasing "the beast" GPU: PG137-SKU0. This is reportedly powered by the AD102-450-A1 GPU with 18176 CUDA cores, an insane 48GB of GDDR6X memory at 24Gbps, and around 800W of TBP.
NVIDIA's purported "the beast" GPU with the AD102-450-A1 GPU and its huge 800W of power should require dual 16-pin PCIe power connectors. Quite the insane power leap, but if NVIDIA is scared of AMD and its next-gen RDNA 3-based Navi 31 GPU and its chiplet design... NVIDIA is going to drive up to 800W to beat it.
We don't know if this will be the higher-end GeForce RTX 4090 Ti, because 48GB of GDDR6X memory is wholly unnecessary for PC gamers right now, and into 2023 and 2024. But a new TITAN graphics card makes sense, something I've said a few times now. 800W is serious shit, and if NVIDIA is going to push AD102 in 450W, and AD102 in 600W... AD102 in 800W is bonkers, and I love it.
We've been hearing rumors of 48GB of GDDR6X @ 24Gbps for a while, the same goes with a "test board of AD102" with "more than two 16-pin connectors" said the same leaker back in late-April 2022. At the time, I said: "This sounds like a next-gen Ada Lovelace-powered TITAN RTX, especially with 48GB of GDDR6X memory".
"Even the newest flagship GeForce RTX 3090 Ti rocks 24GB of GDDR6X, same with the card it replaced: the RTX 3090 also had 24GB of GDDR6X. But dual 16-pin power connectors, 900W of power, and 48GB of VRAM? Yeah, that doesn't sound like a GeForce... at least not yet, maybe in 2024+".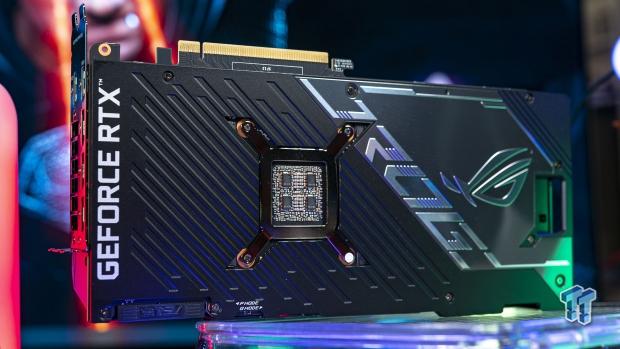 Related Tags