Lenovo teases GeForce RTX 3070 SUPER, after teasing RTX 3070 Ti
Lenovo outs another un-announced NVIDIA graphics card, first it was the GeForce RTX 3070 Ti, now it's the GeForce RTX 3070 SUPER.

Published Thu, Sep 3 2020 5:39 AM CDT
|
Updated Tue, Nov 10 2020 11:18 AM CST
Lenovo doesn't seem to be in too much trouble over the leaking of the GeForce RTX 3070 Ti graphics card yesterday, but now they're doing it again: the GeForce RTX 3070 SUPER with 8GB GDDR6.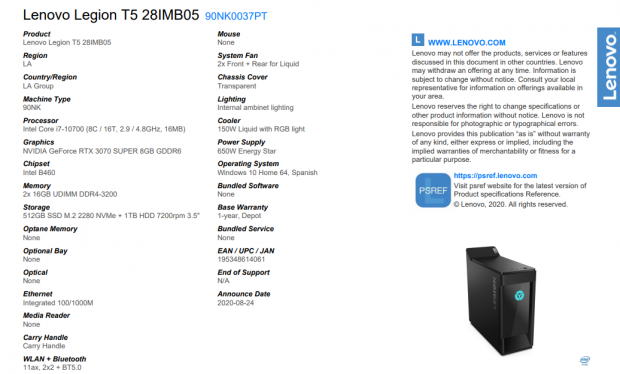 The purported GeForce RTX 3070 has 8GB of GDDR6, which is a huge drop from the 16GB of GDDR6 on the purported GeForce RTX 3070 Ti -- and the same as the regular RTX 3070. The new card was spotted in the upcoming Lenovo Legion T5 desktop PC.
I would take this with a grain of salt as I'm sure NVIDIA hasn't been providing the exact nomenclature of its graphics cards until closer to the last minute -- so maybe this is some guess work by Lenovo, and made its way online.
I don't think we'll see a SUPER or Ti variant until NVIDIA is threatened, and that isn't going to be a while.
GeForce RTX 3090: 24GB GDDR6X

GeForce RTX 3080: 10GB GDDR6X

GeForce RTX 3070 Ti: 16GB GDDR6

GeForce RTX 3070 SUPER: 8GB GDDR6

GeForce RTX 3070: 8GB GDDR6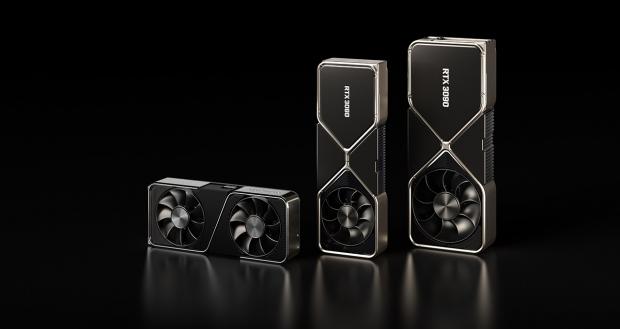 Related Tags