Xbox Series X SSD is revolutionary, changes Xbox gaming forever
Microsoft built a new custom SSD and a DirectX storage API for its next-gen Xbox, and both will empower developers like never before.
Published Mar 16, 2020 1:51 PM CDT
|
Updated Tue, Nov 3 2020 11:44 AM CST
15 minute read time
Microsoft's new Xbox Series X uses a 1TB PCIe 4.0 NVMe SSD to hit blazing fast speeds and open the doors to incredible new opportunities for game developers.
Today Microsoft revealed the Xbox Series X's full specs, confirming beastly hardware like a 3.8GHz Zen 2 CPU, 12.15TFLOP Navi GPU, and 16GB of GDDR6 RAM. The console's full might comes from the sum of its parts, the magical conjunction of hardware and software that allows serious performance boosts. One part, the console's new solid state drive, will help revolutionize console gaming as we know it.
The Xbox Series X uses a custom-made proprietary PCIe 4.0 SSD that's specifically designed to synergize with the rest of the system on a hardware and software level. The SSD itself is being made in partnership with Seagate and can deliver up to 4.8GB/sec compressed data transfer rates. That's 40x faster than the mechanical HDDs found in the Xbox One X. This translates to speedy load times like booting State of Decay 2 in 8 seconds versus the 30 seconds on the Xbox One X.
It isn't just raw speed that makes the SSD so special, though: The underpinning software stack that optimizes asset management and compression is also vital.
Microsoft built an all-new storage API within DirectX specifically for the Xbox Series X's SSD. It's called DirectStorage, and it's part of the new Xbox Velocity Architecture which marries the CPU, SSD, and RAM like never before.
The Velocity Architecture will also help reduce the bloated install sizes of today's biggest games. Velocity includes a robust and powerful new compression/decompression system that allows devs to shrink their games to compact sizes and massively reduce game storage footprints.
The Xbox Series X's new specially-designed DirectX storage API has been optimized to use only a single Zen 2 CPU core, freeing up the remaining seven cores for games.
Hardware Decompression - Hardware decompression is a dedicated hardware component introduced with Xbox Series X to allow games to consume as little space as possible on the SSD while eliminating all CPU overhead typically associated with run-time decompression. It reduces the software overhead of decompression when operating at full SSD performance from more than three CPU cores to zero - thereby freeing considerable CPU power for the game to spend on areas like better gameplay and improved framerates. Hardware decompression is one of the components of the Xbox Velocity Architecture.
The most transformative feature is expanded caching. DirectStorage allows developers to utilize SSD storage as a virtual RAM buffer for games. The SSD is used as a cache, allowing the 16GB RAM pool to offload--and even pull--extra power from the customized PCIe 4.0 SSD.
Armed with caching, compression systems, and a synergized API optimized to work alongside the SoC itself, the Xbox Velocity Architecture allows for massively improved asset fetching and processing, leading to ultra-fast loading times, more detailed game environments, and more.
Using DirectStorage, the SSD can now deliver assets, textures, and data to the Zen 2 CPU much more quickly, while also communicating with the system's 6GB of data-allocated GDDR6 memory pool (the Xbox Series X has 16GB GDDR6, but only 6GB of it is available to the SSD).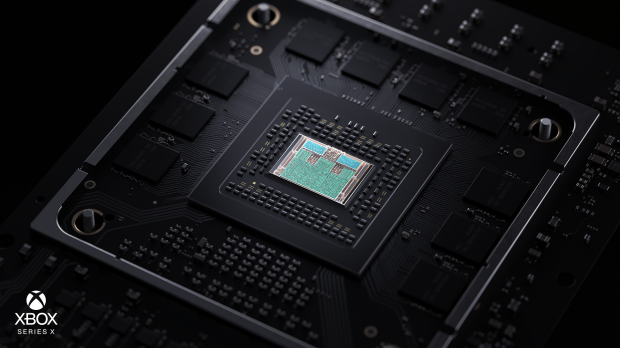 Read Also: Gears 5 runs at Ultra PC settings on Xbox Series X
"The CPU is the brain of our new console and the GPU is the heart, but the Xbox Velocity Architecture is the soul," said Andrew Goossen, Technical Fellow on Xbox Series X at Microsoft. "The Xbox Velocity Architecture is about so much more than fast last times. It's one of the most innovative parts of our new console. It's about revolutionizing how games can create vastly bigger, more compelling worlds."
This will translate to real-world gaming in a number of ways. Games will not only load faster, but the in-game environments will be more expansive now that devs don't have to clutter up the data pipeline. The faster the assets can be delivered and rendered, the more assets devs can pump through, and the better the games can look and feel. Games can now have more NPCs, more objects on the screen, and push out new effects without bogging down the Zen 2 CPU.
DirectStorage also frees up critical CPU resources which is tremendously advantageous for frame rates and processing the data itself. Coupled with variable rate shading (VRS), the SSD's software API will allow games to hit up to 120FPS.
"DirectStorage is an all new I/O system designed specifically for gaming to unleash the full performance of the SSD and hardware decompression. It is one of the components that comprise the Xbox Velocity Architecture.

"Modern games perform asset streaming in the background to continuously load the next parts of the world while you play, and DirectStorage can reduce the CPU overhead for these I/O operations from multiple cores to taking just a small fraction of a single core; thereby freeing considerable CPU power for the game to spend on areas like better physics or more NPCs in a scene. This newest member of the DirectX family is being introduced with Xbox Series X and we plan to bring it to Windows as well."
The Xbox Series X has truly been built from the ground up to be a harmonious, complementary system where every part works together to push next-gen perf. The SSD gives developers unprecedented freedom to utilize, render, and cycle their in-game assets, which will lead to more immersion gaming than ever before.
Xbox Series X is due out by Holiday 2020. No pricing has been announced.
Check below for confirmed specs and details, and a huge content listing of everything we've heard about Xbox Series X so far: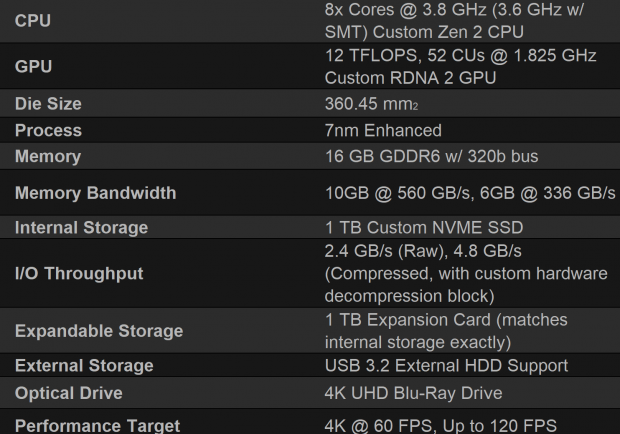 Xbox Series X confirmed details (Formerly Project Scarlett):
8-core, 16-thread Zen 2 CPU

12.15 TFLOP Navi GPU on RDNA 2 architecture

7nm+ AMD SoC

16GB GDDR6 memory

2x Xbox One X's 6TFLOPs of GPU perf

4x CPU power of Xbox One generation

Can deliver up to 40x more performance than Xbox One in specific use cases

Adaptive sync supported

Super-fast SSD that can be used as VRAM

Supports 8K resolution (likely media playback)

120FPS gaming

Variable refresh rate (adaptive sync/FreeSync)

Variable Rate Shading

Raytracing confirmed with dedicated raytracing cores

Backward compatible with thousands of Xbox, Xbox 360, and Xbox One games

New controller with a dedicated share button

Compatible with Xbox One accessories
Xbox Series X coverage:
Related Tags