Blizzard needs to go BIG at Blizzcon 2019
Blizzard has a rare opportunity to turn things around with Blizzcon 2019. They need to take it.
Published Oct 16, 2019 5:11 PM CDT
|
Updated Tue, Nov 3 2020 11:46 AM CST
4 minute read time
Blizzard is under an incredible amount of pressure right now. It's being challenged on all fronts: By gamers for the China fiasco, by its own internal developers for the same, and now by Riot Games. But they have one big opportunity to turn everything around--Blizzcon 2019.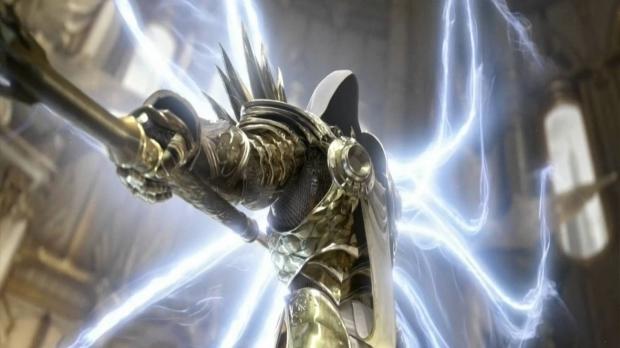 We've all heard about Blizzard's Hong Kong controversy. It caused a PR nightmare and even tanked developer morale. It doesn't help that Overwatch on Switch is a technical mess. Even as Blizzard faces turmoil on the inside, it's also being attacked on the outside by billion-dollar titans like Riot Games. Riot basically just challenged Blizzard to a duel by announcing no less than eight new League of Legends projects at the game's 10th anniversary event. Two games in particular are obvious jabs at Blizzard: a Diablo-like ARG codenamed Project F, and a tactical hero shooter called Project A.
Blizzard could turn everything around, though, and get the conversation back on track. Reports say Blizzard is planning some huge reveals at Blizzcon 2019 to distract the industry from recent controversy. Now with Riot's declaration of war, the pressure is on in full force. Blizzard needs to go bigger than it ever has before and hold nothing back.
So what's Blizzard got planned for Blizzcon 2019?
No one knows for sure, but we do know that Diablo IV and Overwatch 2 are in development, alongside a host of other new IPs.
We've been chronicling Activision-Blizzard's business plans for a while now, and combined with knowledge from industry sources, we can predict what Blizzard will show.
Diablo IV
First off, Diablo IV needs to be revealed. It's time. The game has been in dev since before 2016 when Blizzard first opened job listings for the game. Diablo IV has been rebooted at least once and started off as a third-person type of experience.
Now it's firmly entrenched as codename Fenris, sources tell Kotaku, and features a much darker and Diablo II-esque thematic scope.
Expect a reveal with possible cinematic footage, but I'd say Blizzard needs to go big here and reveal some actual gameplay too.
Overwatch 2
This one's kind of a surprise. Overwatch is a huge billion-dollar success that's helped Blizzard make serious cash without having to release any new games for years. Sources now say Overwatch 2 is happening.
Apparently Blizzard was originally working on a StarCraft FPS, but that game was cancelled and Overwatch 2 took its place. The sequel should use a new revamped next-gen engine and will undoubtedly release on PCs and consoles.
We again need a reveal and some gameplay footage for this to be effective.
New mystery IPs
These are harder to predict, but we could see one or two new IPs announced at Blizzcon 2019.
Back in 2017, then-Blizzard president Mike Morhaime said the company had more new IPs in development than ever before.
"We're also really excited about the future. In addition to supporting all of our live games we're committed to incubating new initiatives. We're also thinking about different platforms, especially globally. In terms of new IP, our pipeline is in a better position than ever before in our history," Morhaime said in a 2017 quarterly earnings call.
Blizzard co-founder Allen Adham also returned to help incubate these new franchises.
But these IPs might have shifted or been cancelled outright. Under Blizzard's new president J. Allen Brack, mention of the new IPs slowly fizzled. Throughout the last few quarters, Brack has changed his terminology when referring to Blizzard's upcoming games, slowly removing mention of fresh franchises.
Brack did recently say Blizzard is a "PC developer first," but that doesn't mean ports will stop. These games could come to PC before other platforms but expect console and even mobile versions to roll out
Diablo Immortal
Diablo could be great as a mobile game, but Blizzard was utterly lampooned for this announcement.
Google "don't you guys have phones" for more info.
World of Warcraft
New classic QoL improvements maybe, and we could even see a new expansion for the current WoW game.
Cross-play and monetization
All of these games will have two things in common: they'll support cross-play between PC and consoles, and they'll be monetized with in-game purchases.
Activision-Blizzard just went through a huge business restructuring that saw nearly 800 employees fired. The company will use those wages to fund its new business model to ramp up games development, but making games is only 1/4th of that plan. Most of it involves live services and monetization.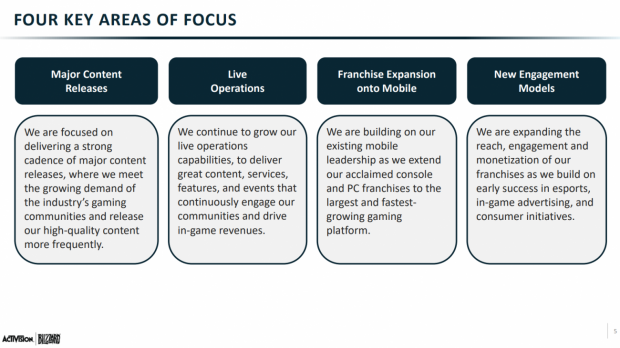 Here's the four parts of Blizzard's gameplan:
New game releases

Live operations (new content in games like WoW and Overwatch)

Mobile ports

New engagement strategies (monetization, cross-play)
Cross-play should be a huge part of Blizzard's games going forward. Allowing everyone to play together regardless of platform is a huge boon for monetization and engagement and will keep players playing for longer periods.
And of course, Blizzard being Blizzard, we should expect hefty microtransactions, battle passes, subscriptions--those types of schemes should show up. Hopefully it's only cosmetic-only mtX though.
Blizzcon 2019 begins on November 1, 2019 at 12:30PM EST.
Related Tags