Red Dead Redemption 2 may not ever get singleplayer DLC
Rockstar goes all-in on Red Dead Online, base singleplayer game probably won't get DLC.

Published Fri, Sep 27 2019 3:17 PM CDT
|
Updated Tue, Nov 3 2020 11:47 AM CST
Red Dead Redemption 2 may not get paid expansions or singleplayer DLC.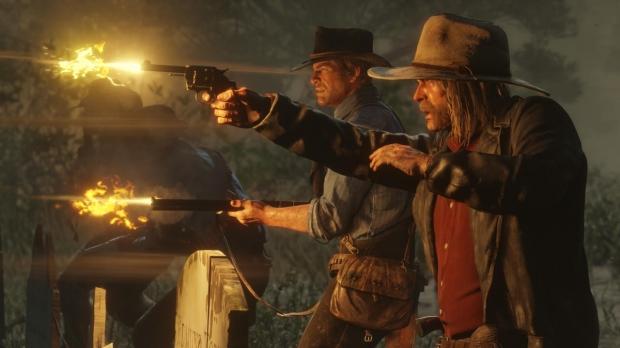 Rockstar games seem to be one-and-done when it comes to singleplayer, and we shouldn't expect any different with Red Dead Redemption 2. The studio takes years and years to craft sprawling, realistic worldscapes with big winding story arcs with definite beginnings, middles and ends. Starting with GTA V, all post-release content has been exclusive to a monetized online mode separate to singleplayer. After earning over $1 billion from GTA Online's microtransactions, this trend is now cemented in Rockstar's roadmap. If singleplayer is the cinematic film, then Rockstar Online (yes, there's an actual umbrella label for its online ventures) is the long-running TV show with tons of ads.
So it's no surprise that Red Dead Online continues the legacy by carving a clear line between singleplayer and multiplayer. And it's also not a surprise that Rockstar really isn't interested in paid DLC when it can earn untold millions (and sometimes $1 billion+) from online content.
It's all about expanding the game with free content that can be played over and over again, all while capitalizing on engagement and online play. Incremental free updates offer a more efficient spending economy that's instantly accessible at any time, and players are incentivized to spend small instead of in $10-20 chunks via expansions. To Rockstar (and many other devs and publishers), traditional expansions have become antiquated.
Now in a recent interview with VG247, Red Dead Online producer Tarek Hamad strongly hinted Rockstar has moved on from RDR2's singleplayer.
"We've said it before, but we all love single-player games, and Red Dead Redemption 2's absolutely massive story and equally massive epilogue are hopefully evidence of that."

"The team's ambitions for Red Dead Redemption 2 were sky high in every way, and when we are building worlds of that scale, the single-player experience almost always leads the way. Our ambitions for our online games are just as high, and with Red Dead Online we are continuing to build and expand to match the world we created for Red Dead Redemption 2's story, not just with the roles but other activities, new random events, characters to meet, new ways to engage with the world and further inhabit your character, as well as trying to improve the overall experience."
Whether or not Rockstar will surprise us with an RDR2 expansion remains to be seen, but the core story definitely has an ending. Singleplayer is a means of selling the game outright, and online modes are a way to monetize it further for anyone who wants to keep playing. But I doubt we'll see the two revenue streams cross again simply because it may not be worth Rockstar's effort.
Rockstar is also pretty busy in readying Red Dead Redemption 2 for its PC release. This comes with even more work as the RDO infrastructure has to be ready to accommodate a new platform. Rockstar just released its proprietary games launcher/storefront that could be the exclusive selling point for RDR2 on PC.
And we also know Rockstar is ramping up GTA 6's development, which could look absolutely insane on next-gen consoles.
Related Tags