After two months of monetization, Red Dead Redemption 2's online mode isn't making nearly as much revenue as Grand Theft Auto V's multiplayer mode...but this is to be expected.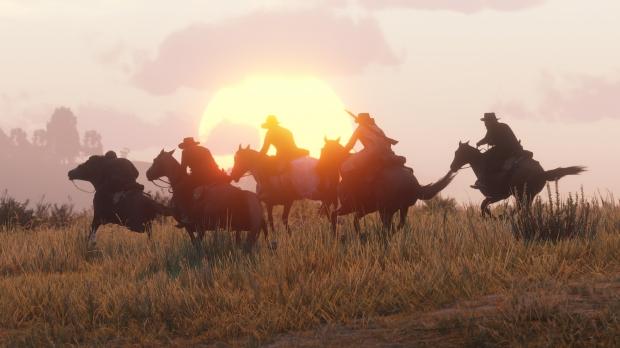 Despite selling 23 million copies and amassing over $700 million in three days of sales, Red Dead Redemption 2 shouldn't be expected to beat or even match GTA V. Take-Two certainly doesn't expect it to, nor does it expect Red Dead Online to overtake GTA Online's huge $1 billion in microtransaction earnings. But how well is Red Dead Online actually doing?
According to the latest findings from SuperData, Red Dead Online is earning 500% less than GTA Online. The game's monetization system, which sees players spending money for premium gold to unlock weapons, skins, and even emotes, hasn't caught fire the same was GTA Online did.
"Red Dead Redemption 2 Online (beta) fails to pick up momentum. RDR2 Online (beta) revenue fell by 14% month-over-month in January due in part to declining MAU levels. Combined sales from both RDR2 Online (beta) and GTA V Online, which makes about 5x more than RDR2 Online (beta) from in-game spending, were flat year-over-year versus GTA V Online alone last January," SuperData wrote in its latest report.
*Note that Red Dead Redemption 2 Online (beta) is still not fully launched, which may create an unfair comparison against full-fledged live service offerings such as Grand Theft Auto V Online.
Remember that Red Dead Online was never meant to eclipse GTA Online. It's simply meant to compliment GTA Online's earnings with a steady stream of monetized gameplay via Red Dead's multiplayer engagement. But Rockstar might have some hurdles to jump to engage players again.
The figures say RDO's playerbase is dropping, which is predictable given the dearth of live games on the market right now (RDO is competing with the likes of Fortnite, the hugely successful Apex Legends, and even EA's new game Anthem).
To win users over and keep them playing and paying, Rockstar needs to roll out some more engaging content. Common complaints include the lack of meaningful missions and objectives to keep things enjoyable--instead players feel the mode is a constant grind for resources. In short, Rockstar needs to infuse more game elements and dial back the service-and-monetization approach.