Modern Warfare F2P battle royale might happen
Modern Warfare could get a battle royale mode, but it won't happen any time soon.

Published Thu, Aug 8 2019 1:11 PM CDT
|
Updated Tue, Nov 3 2020 11:47 AM CST
While Infinity Ward hasn't specifically confirmed battle royale for the new Modern Warfare reboot, it's looking quite likely. But don't expect it at launch.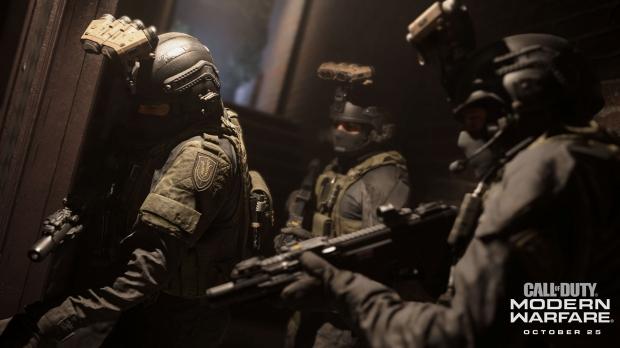 The new Modern Warfare is one of Activision's biggest investments since it started doubling-down on core franchises. The shooter will have a huge tail for post-release content that expands over time, as per usual, complete with monetization. That means plenty of opportunities for new game modes like a MW-specific battle royale. Now we have more clues that it could happen...eventually.
In a recent rapid-fire interview with Game Informer, Infinity Ward art director Joel Emslie hints the reboot could get BR of some sort. "We'll have to wait and see. I personally like the game mode," Emslie said with a knowing smile.
Battle royale won't be in at launch though. Infinity Ward confirmed the mode won't drop with the game in October, saying they're focused on Modern Warfare's core multiplayer first. Sure there's new modes like the huge 64-player Ground War and interesting options like the HUD-less Realism Mode.
With Modern Warfare's impending BR mode, Activision has an interesting opportunity to maximize exposure, accessibility, engagement, and potential monetization.
Unlike Blackout, which was locked behind Black Ops 4, MW's battle royale needs to be entirely free for all platforms--PS4, Xbox One, and Battle.net.
The idea came from Wedbush Securities analyst Michael Pachter, who told Activision to make Blackout free-to-play before MW drops. But the publisher could pull a switcheroo and instead roll out MW's BR mode for free, which will in turn pull more people into the ecosystem and even propel them to buy the base game.
Modern Warfare will ship with three main modes: the co-op based Spec-Ops, traditional PVP multiplayer, and a grim and haunting perspective-shifting campaign full of mayhem and drama.
Call of Duty: Modern Warfare drops on October 25, 2019 on PS4, Xbox One and PC.
Related Tags