E3 2019 - Infinity Ward says the new Modern Warfare is a spiritual reboot of the franchise, and aims to tell a more grounded, visceral, and impactful story.
Modern Warfare will have a harrowing and emotional campaign that exhibits the horrors of war. The line separating the good and bad guys has been blurred. Players will take on missions that stain their minds, and perspectives switch back and forth so you never really know who's the enemy. The game now lets you shoot civilians and treats these deaths as penalties in a new collateral damage system, but those around you react to your misdeeds--and your platoon might even turn on you.
At a recent E3 2019 Coliseum talk, Infinity Ward discusses how this story came to be, why the series is getting rebooted, and the main motivations behind this new gritty focus.
"Call of Duty has definitely put its big-boy pants on. That's what it really feels like. It's a grown-up Modern Warfare," said Infinity Ward art director Joel Emslie.
"The narrative these guys have brought to the game, they've tiered it up so high that you get an emotional reaction. Now we're not out to disgust. What I love about it is that it's intense, you get something out of it. It makes you start caring about the characters and makes them feel real."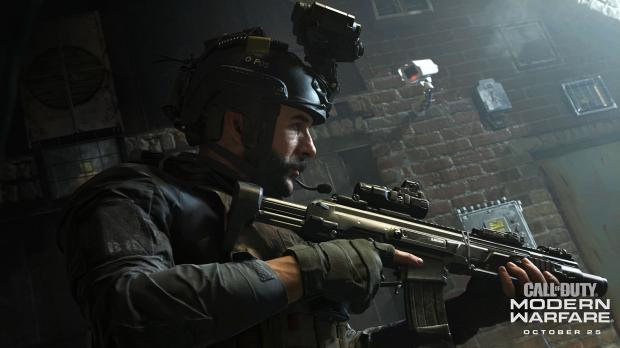 Infinity Ward discusses why the game is getting rebooted and teases new storytelling techniques that "haven't been done before," made possibly by its next-gen engine and technology.
"If we look at where we left off in Modern Warfare, the world had moved away in a pretty different place. Nukes had gone off, superpowers were invading each other, and so that storyline because it had gotten bigger and bigger and so bombastic, had started to diverge away from something that's really relatable," said narrative designer Taylor Kurosaki.
"So we decided to strip it back down, find what gamers and our team loved about the world and the characters, and let's make it really relatable and let's now with the new fidelity and performance tech tell a more human and relatable story."
The team also talked about how they can use new game-building technology like a powerful engine and photogrammetry to deliver more immersion, which adds more impact to every level, sequence, or fight. It's a big reason why their controversial Townhouse level was so effective at creating cloying claustrophobia and intensity.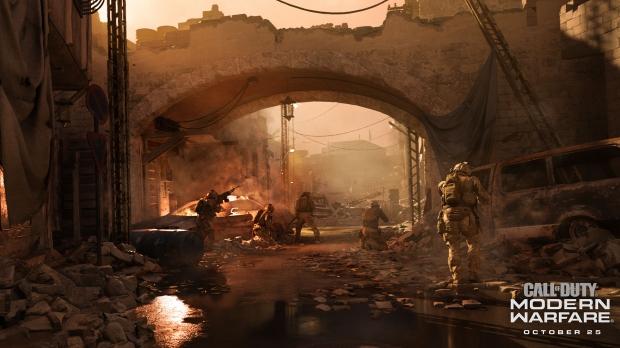 Infinity Ward revealed the main characters of both sides of Modern Warfare's story:
Special Forces
Captain Price (Barry Sloan) - Same character, new actor, commands special forces

Kyle Garrick (Elliot Knight) - Player character, former British Army officer working as counter-terrorism in London
Rebels
Alex - Player character on the other side, CIA operative

Farrar Kareem - Guerrilla commander
Other details revealed in the stream include:
Spec Ops is coming back to singleplayer and co-op

Juggernaut suits are back

Ghillie suits are in multiplayer

New actors, including Captain Price
Call of Duty: Modern Warfare releases on October 25, 2019 on PS4, Xbox One and PC.
Check below for more info:
THE RULES HAVE CHANGED.

The stakes have never been higher as players take on the role of lethal Tier One operators in a heart-racing saga that will affect the global balance of power. Call of Duty: Modern Warfare engulfs fans in an incredibly raw, gritty, provocative narrative that brings unrivaled intensity and shines a light on the changing nature of modern war. Developed by the studio that started it all, Infinity Ward delivers an epic reimagining of the iconic Modern Warfare series from the ground up.

WAR ISN'T BLACK AND WHITE.

In the visceral and dramatic single-player story campaign, Call of Duty: Modern Warfare pushes boundaries and breaks rules the way only Modern Warfare can. Players will engage in breathtaking covert operations alongside a diverse cast of international special forces and freedom fighters throughout iconic European cities and volatile expanses of the Middle East.

And the story doesn't end there.

THERE'S A FINE LINE BETWEEN RIGHT AND WRONG.

In Call of Duty: Modern Warfare, players will be thrust into an immersive narrative spanning the entire game. Experience the ultimate online playground with classic multiplayer, or squad-up and play cooperatively in a collection of elite operations accessible to all skill levels.

Prepare to go dark, Modern Warfare is back!