No Man's Sky's big new Beyond update drops in less than two weeks, bringing full VR support and a new online experience.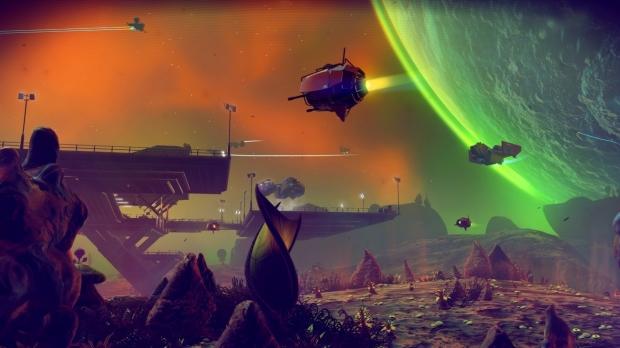 Ever since I started working at TweakTown my profile highlighted one of my gaming dreams: to see the weird sci-fi splendor of No Man's Sky in VR. That's going to happen very, very soon. Today Hello Games announced No Man's Sky Beyond will drop August 14 as a free update on all platforms, and will support VR on PSVR and Steam VR compatible headsets.
Beyond is the biggest thing Hello Games has ever done. It'll adapt the entire No Man's Sky experience into an interactive, galactic VR exploration extravaganza, and packs in No Man's Sky Online, a new kind of seamless multiplayer where gamers can join up and take on the cosmos. I have to admire Hello Games for making No Man's Sky into a live game that's literally not monetized with microtransactions. Not only that, but the team rolled out a ton of expansion-sized content packs and didn't charge for them.
Read Also: Sean Murray gives rare talk on No Man's Sky's triumphs, woes
Say what you will about the game's 2016 launch (we certainly critiqued it in our review), No Man's Sky has come a long, long way with its huge multitude of free updates. The game is now a comeback success story for the ages and is the direct result of strong resolve, dedication, and a lot of hard work.
No Man's Sky Beyond launches on August 14, 2019 on PS4, Xbox One and PC, and supports PSVR and Steam VR virtual reality platforms.
Check below for more information:
"Hello Games, an indie development team based in the United Kingdom, will release the free No Man's Sky: BEYOND update on Wednesday, Aug. 14 for Xbox One, PlayStation 4 and PC. No Man's Sky: BEYOND rolls three major updates into one larger free release, which includes No Man's Sky Online, a radical new social and multiplayer experience that empowers players everywhere in the universe to meet and play together. The BEYOND launch also delivers No Man's Sky Virtual Reality to supporting platforms, bringing the entire game to life in an immersive and enriched VR experience.
"Inspired by the adventure and imagination found in classic science-fiction, No Man's Sky presents players with a galaxy to explore, filled with unique planets and lifeforms, constant danger and action. In No Man's Sky, every star is the light of a distant sun, each orbited by planets filled with life, and explorers can visit any they choose. Players can fly smoothly from deep space to planetary surfaces, with no loading screens, and no limits. In this infinite procedurally generated universe, players discover places and creatures that no others have seen before - and perhaps never will again.
"The No Man's Sky: BEYOND update is the seventh major free update for the limitless procedural universe since the game's launch in 2016. BEYOND is comparable in size to the hugely popular NEXT update released last year."