Red Dead Redemption 2 PC teased in Social Club code?
Rockstar's social network might've teased a PC port of Rockstar's latest Western opus.

Published Thu, Jul 4 2019 2:13 PM CDT
|
Updated Tue, Nov 3 2020 11:48 AM CST
Social Club, the online network that ties together GTA Online and RDR Online, could be teasing a Red Dead Redemption 2 PC port.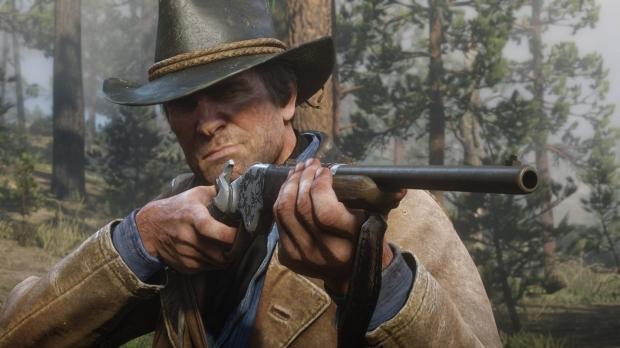 We know Red Dead Redemption 2 is coming PC. There's no way Rockstar and Take-Two would miss out on that fistful of dollars with another infamous year-long staggered release. The only real question is when? Possibly soonish, maybe even next year.
Eagle-eyed Twitter user JakoMako spotted a PC reference in the Social Club website source code. The code says RDR2_PC_Accomplishments:"Accomplishments", and PC in this case could mean Player Character, but the string is listed right next to a line for PS4 Trophies, hinting that it's an actual platform.
That's the only direct mention of PC in relation to Red Dead Redemption 2 in the code itself. To check yourself, right click and view source on the Social Club website, then navigate to the line:
This is admittedly shaky evidence on its own. But when combined with other info it makes a persuasive case.
Rockstar devs have accidentally tipped Red Dead Redemption 2's PC port too. First we had a Rockstar Leeds dev list RDR2 for PS4, Xbox One and PC. Then a Rockstar Toronto physics programmer listed the same, hinting the game's PC port has been in development since 2016.
So when can we expect Red Dead Redemption 2 on PC?
Maybe sometime next year to coincide with Take-Two's FY2021 timeline, or after April 1, 2020. Take-Two expects Red Dead Redemption 2 to perform lower this fiscal year, indicating the PC release won't happen until after April 2020. At the same time, RDR2 on PC would sell a lot less than the huge $725 million in console game sales made at launch.
Also don't be surprised when Red Dead Redemption 2 is exclusive to the Epic Games Store. Most of Take-Two's newest games have jumped over to the platform and the publisher no-doubt loves the 88% revenue split offered by Epic.
Take-Two won't reveal anything until Rockstar is ready, and the studio is famous for going years without saying a peep about future projects. RDR2 on PC will assuredly happen--there's literally no down-side--but only on Rockstar's terms and timing.
Related Tags