Microsoft confirms its successful and widely-copied Xbox Game Pass subscription is arriving soon on PC. But there could be a few problems that bar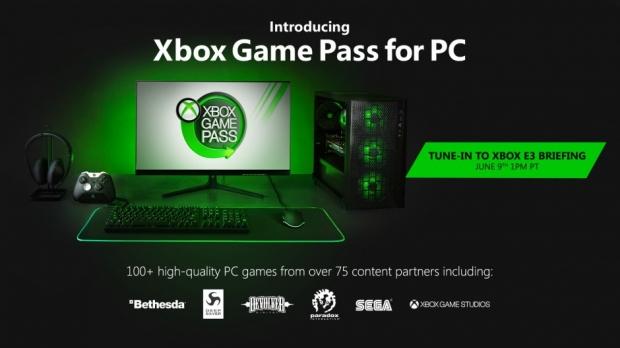 Xbox Game Pass is officially coming to PC, Microsoft revealed on a blog post. Game Pass on PC operates similarly as its console counterpart: it'll feature 100+ PC games that can be accessed for a set monthly price, but Microsoft says it's a "new experience".
Publishers seem a bit reticent to support Game Pass on PC, though. Microsoft only revealed a handful of well-known partners including Bethesda, Deep Silver and SEGA, but huge titans like Take-Two Interactive and Ubisoft are missing (Ubisoft has its own launcher and exclusivity deals with the Epic Games Store). The current PC Game Store Wars could ensure Game Pass' PC subscription misses out on some big games.
Right now the PC gaming landscape is being fragmented. Multiple publishers are signing exclusive deals with the Epic Games Store and skipping Steam in exchange for better revenues. There's so many stores to buy PC games from now, and it seems like every publisher has their own digital launcher--uPlay, Origin, and Battle.net to name a few.
This could pose a serious threat to Game Pass on PC as publishers opt not to bring their games to the service. The real deciding factor is where these games will be sold, and what the revenue split will be like. The main reason to add your game to Game Pass is to sell games. The service actually helps publishers sell old and new games by bringing expanded visibility in a low-cost, friction-less environment. As subscribers stop using Game Pass, which is kind of like a rental service, they're more likely to buy games they've tried via Game Pass so they can own them forever.
It all depends on the stipulations Microsoft puts on the publishers. Typically Microsoft makes money from Game Pass and every game sold on the Xbox Store as a result of the service's visibility factor. But if a game is sold on Steam and not on the Windows Store, for example, Microsoft won't make any money when a PC gamer buys a particular game they've been playing.
Microsoft could solve this with an easy fix. Every game offered on Game Pass get its own Windows Store listing and gamers could be incentivized to buy from that marketplace instead of Steam.
Some games, which are exclusive to the Epic Games Store, probably won't show up on Game Pass. Console gaming is a different, more closed environment that allows for tighter control. But PC gaming has tons of launchers, stores, and low-cost options to choose from. This variance could significantly effect Game Pass on PC's library selection and content offerings.
"Xbox Game Pass for PC will give players unlimited access to a curated library of over 100 high-quality PC games on Windows 10, from well-known PC game developers and publishers such as Bethesda, Deep Silver, Devolver Digital, Paradox Interactive, SEGA, and more," Microsoft wrote.
"And just as we committed on the console, it is our intent to include new games from Xbox Game Studios in Xbox Game Pass for PC the same day as their global release, including titles from newly acquired studios like Obsidian and inXile. We're working with over 75 developers and publishers to bring PC content to the service and we'll ensure the library remains curated and full of great PC titles across a variety of genres, with new games added every month."
We knew it was only a matter of time before Game Pass was coming to PC. It's a huge opportunity to tap a thriving billion-dollar market, and Microsoft has talked about a PC version many times in the past.
The $10 a month service, which offers access to a rotating lineup of 100+ Xbox games, has been hugely influential to the Xbox-as-a-service business model. Game Pass not only makes money via recurring subscriptions but also sparks full game sales and even acts as a springboard for Microsoft's biggest first-party games. Everything from game and hardware sales to services now feed into one another in Microsoft's cyclic engagement-driven games business--so much so that even its own games are additive to its subscriptions (and vice-versa).
Now that PC is part of the Xbox banner, the company is bringing service parity to all platforms.
Microsoft will reveal exact pricing info, release date, and library of games during its E3 2019 showcase on Sunday, June 9 at 4PM EST.