Premium subscriptions actually spark full game sales and microtransaction earnings, analyst firm SuperData reports.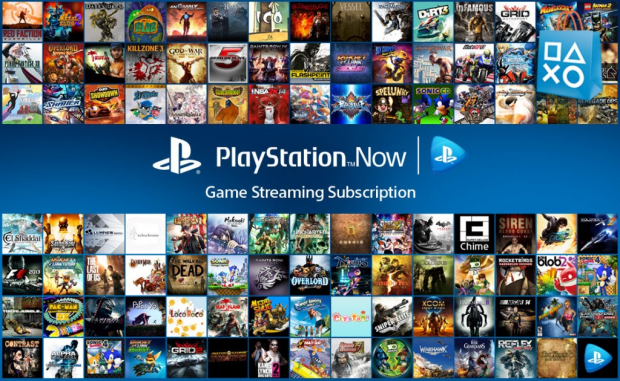 Publishers are all too happy to talk about digital earnings, engagement, and live services, but games-makers typically don't reveal specifics on their respective subscriptions. Major players like EA, Microsoft, and Sony are pushing deeper into subscriptions with initiatives like EA Access Premiere, Xbox Game Pass, and PlayStation Now, and these premium services are having a surprising effect: catalyzing game and digital content purchases.
Before we get into why this is happening, let's take a quick look at the figures from SuperData's latest report. In Q3 2018 (July thru Sept.), premium game subscriptions raked in $273 million across consoles and PC. PlayStation Now actually pulled in the lion's share of earnings at $143 million, or a whopping 52% of the pie. This makes sense given the PS4's massive 85 million strong install base, and the service's recent addition of game downloads.
(Continued below)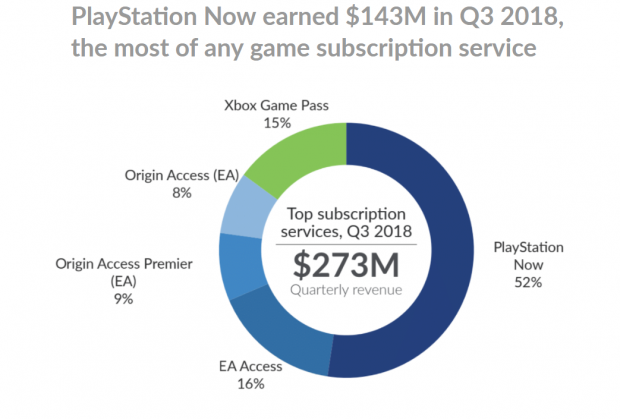 Here's a quick breakdown of how much each subscription earned in calendar Q3'18:
PlayStation Now: $143 million, 52% of earnings
EA Access: $43.68 million, 16% of earnings
Xbox Game Pass: $40.95 million, 15% of earnings
Origin Access Premiere: $24.57 million, 9% of earnings
Origin Access: $21.84 million, 8% of earnings
Now let's take a look at why this is happening, and what it means for the industry.
Subscriptions are digital-based and gamers who buy into the ecosystem are much more likely to stay within the online framework, which offers direct avenues to DLC, additive content, microtransactions, and add-ons. Subscriptions at their core are built around engagement insofar as pushing gamers towards a constant stream of games; there's always content to interact with, and in today's live service landscape, spend more money on.
In a very real sense these subscriptions are both a gateway and a destination to a deeply engagement-driven market.
Take Microsoft's Xbox Game Pass, for instance, which offers multiple first-party games that are monetized with various microtransaction spending opportunities.
These subscriptions also organically spark full game sales. Subscriptions are a kind of rental service and gamers are keen to own titles they enjoy playing--especially if they're properly engaged within the business model. Microsoft noted this effect when Game Pass launched.
(Continued below)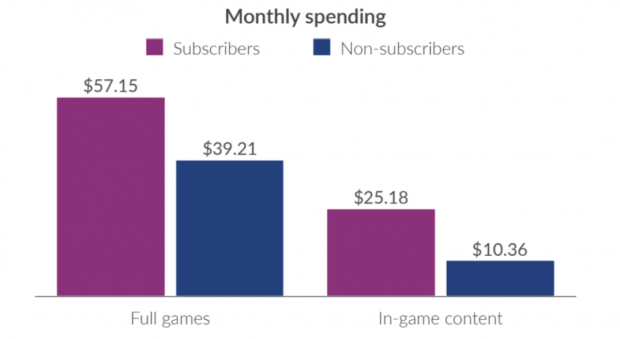 As a result, SuperData has found gamers who subscribe to services like PS Now, Game Pass, and Origin Access are much more likely to buy new games as well as spend on microtransactions.
"SuperData estimates that subscribers spend 45% more for games upfront than non-subscribers, and twice as much on in-game content when compared to non-subscribers. Cosmetics, Season Passes, and Battle Passes are the most popular in-game purchases among subscribers," the company wrote in its latest report.
This is fully by design and these online services have been specifically tuned to organically feed into one another in a synergistic mutualism of revenue generation. Each facet is just part of the whole that work in tandem with one another to keep players playing and paying over periods of time, and even if subscriptions lapse, full game sales may increase.
Both Sony and Microsoft are deep into subscription models--most of Sony's quarterly earnings come from its Games and Network Services, whereas Microsoft is mostly focused on targeted engagement models in the Xbox LIVE storefront and framework--but EA's splash into the market could signal big moves on the horizon.
Activision-Blizzard could jump into the mix at some point, ditto with Ubisoft and Take-Two Interactive. When that happens the industry could see more waves towards the digital-driven age of gaming.