In many ways Microsoft is the most fascinating platform-holder on the market today. The company has achieved a tremendous 180 from the disastrous Xbox One 2013 days, creating an interconnected service empire that puts players, games, and recurring revenues at the heart of everything it does. It's here where Microsoft's true strengths lie, and these newly built muscles will lift its first-party slate in a unique way.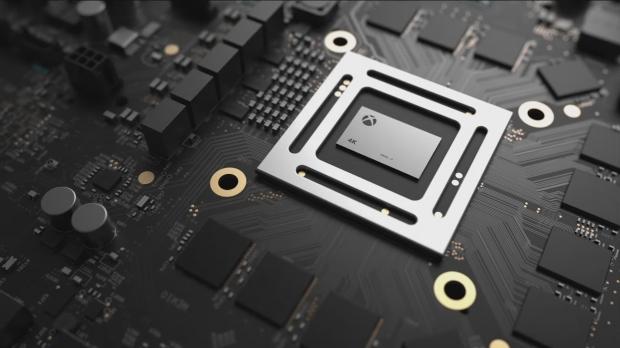 Microsoft doesn't play by the rules any more. The company re-defined its playbook to compete on a different level, one that sees Xbox shifting from a console to a service that bridges home consoles, Windows 10 PCs, and even mobiles. Connected via Xbox LIVE, gamers can now interact, play, and spend on all devices. The richly intertwined Xbox service webwork is arranged so that every part compliments one another: Mixer streaming organically feeds into game sales by sparking interest, Game Pass directly leads to full game sales on the Xbox Store as users buy the games they want to keep, and subscriptions propel more playtime with new free content and multiplayer-driven engagement. But there's one part of the pie that Microsoft has been missing: strong first-party games.
This is about to change, too. Microsoft bought up many stellar studios like Obsidian, Ninja Theory, and Playground Games to buffer its first-party slate. The games-maker is growing intensely and investing strongly into new IPs and games development in an effort to deliver stronger and more diverse first-party content. But rather than rely solely on full game sales digitally and in-store, Microsoft's first-party games are neatly folded into is successful subscriptions and provide a dual opportunity for revenues.
Microsoft confirms that all future first-party games will release on Game Pass, its $10 a month a la carte subscription. By paying a recurring subscription, users can play the newest Xbox games without actually having to buy them; access is given by buying into the service rather than buying the full-priced game. All first-party Xbox games are also coming to PC now too (even Halo 6, aka Halo: Infinite), so Game Pass' inevitable PC integration will spike these revenues even higher.
By giving gamers this kind of choice, Microsoft will see a unique forked avenue of long-term revenues over time. Game sales can taper off, but Game Pass is a means of continually selling older games by curating wider exposure via the service.
Not only does Game Pass extend revenues via its service-based approach of value-driven content, it actually fuels sales of new and old games alike. Users will download specific games they heard about or wanted to try, and often times actually buy them if they enjoy the experiences. Other times these users will just keep their subscription active to keep playing these titles--either way Microsoft wins.
This forward-thinking approach, which sees full game sales blended with long-term subscriptions, also makes Microsoft quite flexible.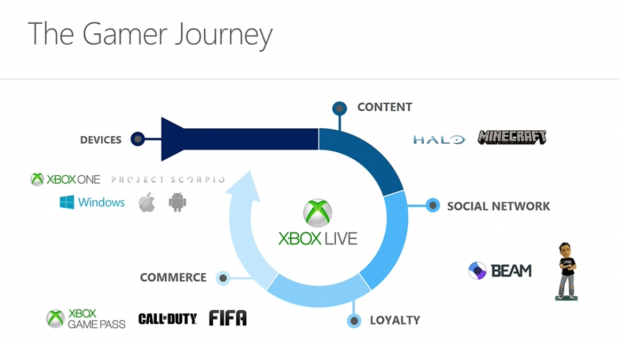 Xbox's billion-dollar engagement model is all about multiple moving parts that all shore up weak points.
Redmond has learned to adapt by necessity. Microsoft is now quite adept at compensating and offsetting its potential gaming faults. It's toned Xbox into a lean machine of muscle that's built to last, and just as muscle groups compensate for weaknesses, so too does Microsoft's multi-faceted business plan. This model is full of ways to safeguard against potential losses. Microsoft learned from its mistakes quite well, and even iterated on Sony's mistakes--the creation of Xbox Game Pass was a direct response to Sony's ailing PS Now service.
Microsoft's offset its weaknesses by embracing its strengths and following a plan of continual growth. With this plan in place, Xbox console sales no longer matter. Not selling X amount of games is no longer a big concern. The infrastructure is so wide now that it can compensate for its own weaknesses and ensure Xbox doesn't fall apart when it doesn't meet a specific metric.
The company's first-party games are often overshadowed by major third-party releases, and its own Xbox games typically get pushed to the back as marquee titles like Call of Duty storm the platform.
This actually happened during the 2018 holiday season; Microsoft saw a big 31% rise in software and subscription revenues in Fiscal Q2'19, largely driven by an unnamed third-party game (probably Red Dead Redemption 2 or Blops 4). Unlike Sony with its PS4 exclusives, Microsoft's own games didn't stand powerfully on its own platform.
But thanks to its uniquely threaded business strategy, this is okay. Even if Microsoft only pulls in 30% from every third-party sale versus the 100% it'd make from its own games, its compensated for this loss with a system that continually makes money.
Microsoft no longer needs to release system-selling first-party games simply because it's invested in a deep bedrock of services and content to fuel its infrastructure. Right now it can comfortably rely on third-party blockbusters as it builds its first-party slate, and even when big games like Halo 6 are ready, Microsoft still wins when its own titles are overshadowed as every game on the Xbox Store feeds into its churning engagement cycle.
Everything in the Xbox ecosystem feeds itself and pushes that billion-dollar wheel of earnings. Every third-party game sale, every Xbox LIVE party invite, every Mixer stream and Game Pass download. It's all designed to conform to a big cross-platform plan that's actually working wonders for Xbox.
With Xbox, Microsoft is now playing for the long game. Game Pass is so successful that other publishers like EA are copying the model, and the company is even pushing farther into game-streaming tech with its Project xCloud service. Once xCloud is ready, Microsoft will have an expanded online roadmap that truly connects these platforms together with cohesive, game-driven experiences.