Jedi: Fallen Order poster leaks ahead of reveal
Leaked key arts gives hints on Respawn's new Star Wars game.

Published Fri, Apr 12 2019 6:11 PM CDT
|
Updated Tue, Nov 3 2020 11:48 AM CST
Respawn's new Jedi: Fallen Order game is set to be revealed tomorrow, but a bit of leaked artwork hints at some interesting tidbits in the meantime.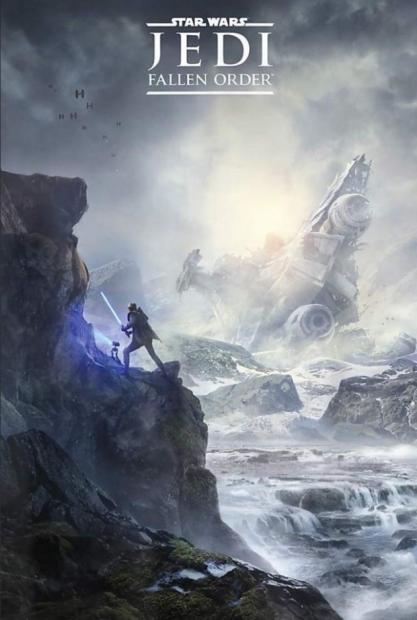 Jedi: Fallen Order has been in development as far back as 2016 and aims to restore the balance of the tumultuous galaxy of Star Wars games. We actually know a healthy amount of info about the game: it's third-person action-adventure, it's built in Unreal Engine 4 instead of Frostbite, and it stars a young padawan who's faced with impossible challenges. Set in a dark age when the Jedi were hunted down, Jedi: Fallen Order promises to explore the brutal timeline between Revenge of the Sith and A New Hope. But there's one thing we've been missing: something actual corporeal to lay our eyes on. Until now.
Thanks to a now-deleted Amazon listing, key art for Jedi: Fallen Order was accidentally leaked out. The artwork shows the padawan, who may be named Cal, with a companion droid amidst an epic sci-fantasy backdrop. A decrepit Venator class star destroyer looms in the background, promising galactic setpieces to bring that sense of wonder and exploration. We could spend most of the game alone, or at least a portion of it, and Respawn could bring a kind of Zelda-like discovery theme to the mix.
Reports indicate Jedi: Fallen Order will be like a mixture of Jedi Knight and The Force Unleashed, but with a more serious and somber tone.
Respawn has promised to respect the existing Star Wars canon with the game's storyline and even hired Fallout: New Vegas writer Chris Avellone to help pen the arc.
We also predict Jedi: Fallen Order will have an optional online multiplayer component that will be monetized via cosmetics. EA infuses live services into all of its biggest games, and this one should be no different.
Jedi: Fallen Order will be officially unveiled Saturday, April 13, 2019 at 1:30PM.
Sat, Apr 13, 2019

1:30 PM - 2:30 PM

Celebration Stage - Wintrust Arena

Join the head of Respawn Entertainment, Vince Zampella, and Game Director, Stig Asmussen, along with many special guests, to be the first to learn about this holiday's highly anticipated action adventure game, Star Wars Jedi: Fallen Order. Hear how Respawn and Lucasfilm collaborated on this original Star Wars story, following a young Padawan's journey in the Dark Times following Order 66. And of course, we'll have a few surprises in store.
Related Tags