In April, Valve's new enterprise-grade Vive Focus Plus brings high-end standalone VR to the commercial world.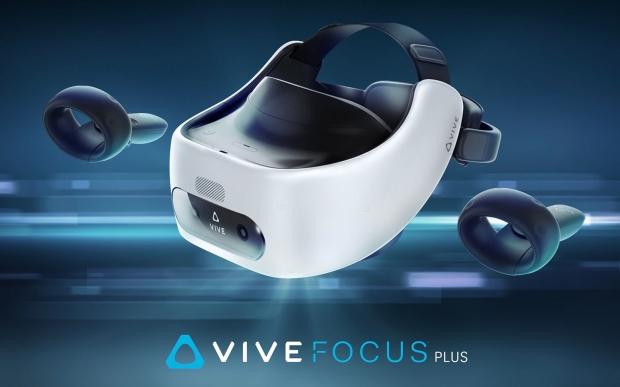 The Vive Focus Plus, the beefier cousin to the Vive Focus, is a portable but potent VR HMD built specifically for industry professionals rather than consumers. The comfy all-in-one headset is powered by a Snapdragon 835 processor and doesn't need a PC to operate, and is geared towards training simulations across multiple disciplines as well as interactive virtual conferences. It's also built for developers who need a real-time platform to test out builds of their apps, projects, games and other interactive VR media.
Now Valve and HTC reveal key pricing and specs of the Vive Focus Plus, confirming new boosted fresnel optics that boost visual clarity. The HMD sports a 3K resolution (2880x1600) AMOLED display with a 75Hz frame rate and a big 110-degrees FOV. Outfitted with camera sensors, the Vive Focus Plus offers six degrees of freedom for room-scale movement tracking, making interactivity in VR spaces more fluid.
The headset's guts are basically powered by a higher-end phone with a Qualcomm Snapdragon 835 SoC, 4GB of RAM, and 32GB of memory.
"With the unveiling of these enhancements for Vive Focus Plus, the VR industry is taking a big step forward with this new generation of full-fidelity standalone VR devices enabling total freedom of interaction and freedom of connection," said Alvin Wang Graylin, China President, HTC.
"We're thrilled so many developers and partners are supporting this product with exciting experiences across a wide range of use cases, showcasing the incredible opportunity for VR/AR to enter all facets of our lives"
The Vive Focus Plus marks the second major headset to target the enterprise sector; the first was the PC-powered Vive Pro Eye, a boosted Vive Pro with inside-out tracking made for enthusiasts and developers.
The Vive Focus Plus joins the galaxy of VR products including the Vive Pro, Vive Pro Eye, Vive Focus, Vive Cosmos, and Valve's own new Index headset--all of which are tethered around VR services like Viveport Infinity.
Valve plans to open pre-orders for the Vive Focus Plus on April 15, and it'll cost $799. Check below for full specs:
VIVE Focus Plus Specs
Display: 3K AMOLED (2880x1600)

Processor: Qualcomm Snapdragon 835

Audio: Built-in Speaker

Tracking: Inside-Out

Frame Rate: 75Hz

Field of View: 110-degrees

Battery: 4000 mAh

Controller: 6DoF

Data Connectivity: Wi-Fi 802.11 a/b/g/n/ac

Memory (RAM/ROM): 4/32 GB

Connector: USB Type-C

Charging: QC3.0

Encryption: File-based (same security as Andriod Smartphone)