New Vive Cosmos VR headset is modular and expandable
New Comsos VR headset can be powered by PCs and mobiles, connects to new Vive Reality infrastructure.
Published
3 minutes & 4 seconds read time
CES 2019 - HTC's new Cosmos VR headset can be powered by both a PC and mobile handset.
Meet VIVE Cosmos, VR made for everyone. Easy setup. Comfortable design. Modular capabilities. VIVE Cosmos goes beyond everything you could want in one device.
Today HTC announced its latest VR HMD called Cosmos, an interesting headset aimed at accessibility and comfort. The device looks like a mini Vive Pro and features inside-out tracking, but it's main selling point is a kind of expansive modularity. The Cosmos is primarily a dedicated headset for PC VR experiences and tethers to a desktop or laptop, but a smartphone can apparently be hooked up to it for on-the-go or mobile use (although Vive has yet to detail this feature). This could mean the Cosmos has varying power and perf, similar to a Nintendo Switch's docked vs undocked performance discrepancy.
"Cosmos is the newest VR headset in our family built with absolute comfort in mind. We really wanted this to be something that would make it easy to access your virtual world," HTC said in their recent CES 2019 stream. "In the coming months we'll have more to share on this product, including the kinds of form factors it can expand into."
Read Also: HTC's new Viveport Infinity is the 'Netflix of VR'
Here's what an official HTC press release said about the Cosmos:
Unveiled for the first time today, Vive Cosmos is the newest VR headset from Vive, offering absolute comfort, and ease of set-up and use-ensuring consumers can access their virtual world whenever their life may call for it. With no external base stations required, Vive Cosmos maximizes flexibility of usage space, whether at home or on the go, and has the capability to be powered by more than a traditional gaming PC.

"We found that over 85% of VR intenders believe that ease of use and set up is the most important factor to consider while purchasing a headset," said Daniel O'Brien, GM, Americas, HTC Vive. "We believe Cosmos will make VR more easily accessible to those who may not have invested in VR before and also be a superior experience for VR enthusiasts."

With the introduction of Cosmos, HTC aims to redefine how VR is accessed by offering a headset that is quick to setup and use and can be taken on the go to new play environments. Cosmos will be the first Vive headset to feature the "Vive Reality System," an entirely new design experience for VR.  

HTC will first offer developer kits of Vive Cosmos in early 2019, and more details on availability and price will be announced later in the year.
The Cosmos will also be the first headset to support the new Vive Reality interface, which is a kind of interactive VR home for users to explore, maintain, and curate.
This is a very smart move from HTC that should see its mobile handset business organically fold into the VR segment. It's also great for everyday consumers who don't necessarily need the full brunt of a PC-level headset like the HTC Vive Pro, and those who just want more casual type of experiences.
Bear in mind the Cosmos will sit along a fleet of new Vive hardware including the PC-powered Vive Pro and the all-in-one standalone Vive Focus, which is powered by a Snapdragon 835 processor.
No pricing or launch date has yet been revealed, but we think it'll be less than the $599 Vive Focus and the $799 Vive Pro.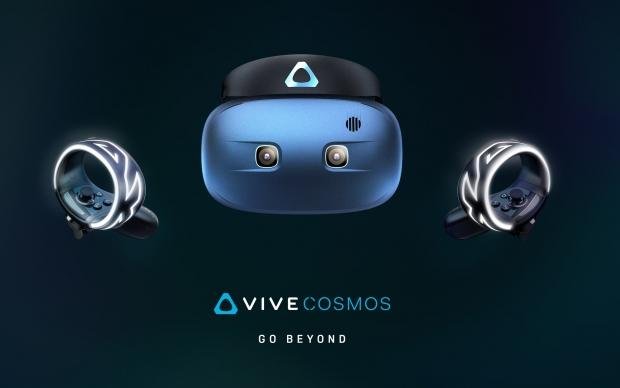 Related Tags