HTC Focus standalone VR headset splashes overseas
HTC follows Oculus with its own mobile SoC-powered wireless, self-contained VR headset.

Published Tue, Nov 14 2017 12:20 PM CST
|
Updated Tue, Nov 3 2020 11:53 AM CST
At the Vive Developer Conference in Beijing, China, HTC has formally revealed its new wireless standalone VR headset: the Vive Focus.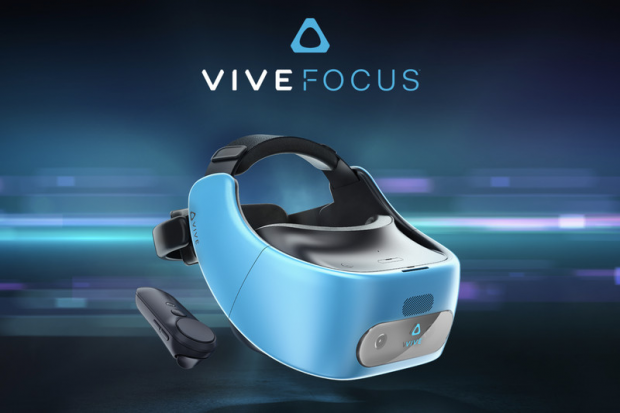 In terms of functionality, design, and internal specs, the HTC Vive Focus is quite similar to the recently announced Oculus Go VR headset (it also comes with a single controller for VR apps/movies/gaming). The Vive Focus features built-in six-degree-of-freedom (6DoF) positional tracking, alleviating the need for extra sensors, and is powered by a Qualcomm Snapdragon 835 processor. As such the Vive Focus is firmly cemented between mobile-powered VR and higher-end PC-powered headsets like its older sibling the HTC Vive VR.
Interestingly enough the Vive Focus can be linked to other Vive-branded headsets, including the bigger PC-powered brother as well as the smaller Focus. When linked users can interact in various ways like watching movies together in a virtual movie theater. Software-wise the new standalone headset is powered by the open Vive Wave VR platform that allows for easy integration across numerous partnered hardware peripherals as well as standardized software/applications. Online shopping should also be a big focus for the Focus, and it'll be interesting to see how it's integrated.
"Now you can essentially do most of the things that you could do on a high-end machine on a standalone," HTC Vive China President Alvin Wang Graylin affirmed to Engadget.
No release date has been pinned for the Vive Focus, nor has a price been revealed. Right now the headset is only planned for launch in China, but that will likely change in due time.
Related Tags