EA stock bounces back after earnings drop
Following a nosedive from missed guidance, EA's stock rebounds from Respawn's big successful BR game.

Published Mon, Feb 11 2019 9:12 AM CST
|
Updated Tue, Nov 3 2020 11:49 AM CST
Respawn's new Apex Legends battle royale game helps EA bounce back from a big stock dive.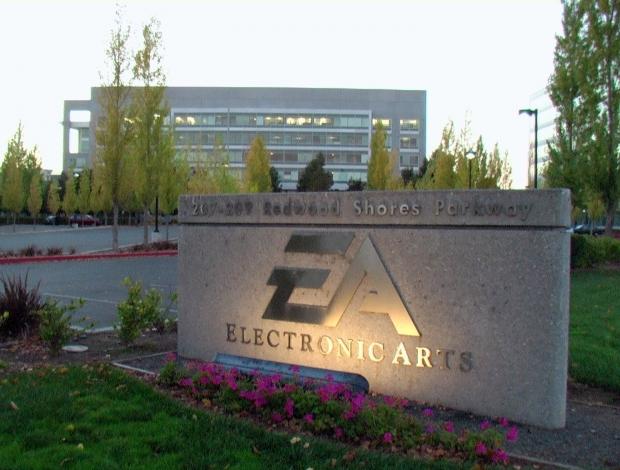 EA had a bad third quarter. Not bad for a games company, but bad for EA, who expects continual growth and hundreds of millions in earnings every three months. The company missed its forecasts by as much as $116 million on the heels of lower than expected Battlefield V sales, subscriptions, and delayed mobile games. This miss caused EA stock to nosedive by over 16%, dropping from $96.52 per share to $78.79 in a day.
But now the games titan's stock is back up to $97.60 per share, its highest point in the last month. EA likely owes this turnaround to Respawn's new smash hit BR game Apex Legends. The free-to-play game has generated considerable buzz across the industry, amassing 10 million players in just 3 days and pulling in untold monetization.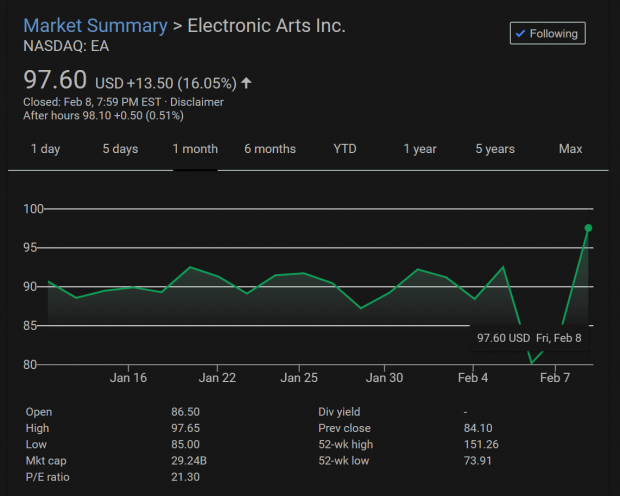 Read Also: EA has multiple new IPs in development
It's worth noting that games companies, like any publicly-traded company, see stock price fluctuations all the time. This is doubly true after quarterly earnings are posted, especially when publishers miss their fiscal targets as EA did.
EA has plans to re-organize its internal structures to prevent another such earnings miss. The company promises to re-evaluate specific decisions that led to the revenue drop, and tighten its belt when it comes to development, marketing, and other business strategies.
"We are a learning organization. Over the last six months, we've made organizational changes to shape our teams against our priorities for the future," EA CEO Andrew Wilson said in EA's Fiscal Q3'19 earnings call.
"We've made operational changes to better position ourselves to effectively drive live services and serve our player communities. We've made creative changes, including the formation of a Creative Council to strengthen our creative decision-making. And we will continue to make refinements in each of these dimensions as we focus sharply on execution across the company. The future of this industry is strong, and so is the future of Electronic Arts."
Related Tags